Thursday 7th February 2019
Paul Poulton reflects on examples of people finding treasure in unexpected places, and the importance of making the effort to find treasure in people.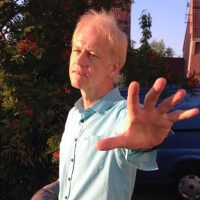 Paul Poulton
Short conversation:
"What's your favourite movie?"
"Muppet Treasure Island, I think."
"Really? What do you like about it?"
"I like Billy Connolly's portrayal of Billy Bones and I love Tim Curry's role as Long John Silver, but most of all I like the concept of finding buried treasure."
People have been looking for the real treasure (upon which the book 'Treasure Island' could have been based) in Cocos Island not far from Costa Rica.
The Island has a correlation with the book. Captain W Thompson buried the stolen treasury of Peru there in 1820. The inventory revealed 113 gold statues, many chests of jewels and swords with jewelled hilts, 1,000 diamonds, and hundreds of gold and silver bars.
There have been, so far, over 300 expeditions to the island; yet the exact spot wherein the treasure lies buried remains elusive.
In 2018 Matthew and Maria Emanuel from Staten Island found a stash of gold, diamonds and soggy $100 bills crammed into a rusty box buried in their back garden. The haul turned out to be worth an astonishing $52,000 (£38,000).
Also found in the buried box was a note explaining to whom the treasure belonged. So the Emanuel's returned it safely to its rightful owners. Maria explained, "A couple of people asked us, 'Why did you return it?' It wasn't even a question. It wasn't ours."
Andy (Mackenzie Crook) and Lance (Toby Jones) featured in the excellent and funny "Detectorists," a TV series that followed the woes and worries of two friends whose hobby was metal-detecting. Andy and Lance had a rather nice collection of ring pulls and bottle tops. I particularly enjoyed the series because I do know someone named Andy who struck it rich with a cheap metal detector. And furthermore, another local detectorist, found an ancient gold and silver haul in a field close to a studio that I've recorded songs in. The "find" was worth £3.3 million.
But in the TV episodes Andy and Lance find it far from easy to land a place in detecting history. They search frequently and fervently for treasure, but for the viewers watching the programmes it doesn't take too long to realise that it's Andy and Lance's friendship that is the true treasure.
We may walk through life with our material mind-set missing all sorts of treasure that is within our grasp. The largest clear cut diamond in the world is mounted in the head of the Sovereign's Sceptre and was found not by miners but by the site manager making a late afternoon inspection. Frederick Wells spotted something glinting in the corner of his eye, he thought it was glass but the sparkling object proved to be the largest gem-quality diamond ever discovered.
I attended my cousin Vilma's funeral and heard many tributes from people she knew and worked with. They described her vivacity and joy of life, perfectly capturing the essence of what "life with Vilma" was like. Yes, Vilma was treasure; being with her was sparkling and exciting. Perhaps when someone dies we realise who and what we had among us more poignantly than when they were alive.
Spending time digging for treasure is worthwhile. Someone who may at first appear simple or even dull-witted and uninteresting may yield riches that surprise us if we spend time with them.
The first century Gospel writer, Luke, spent a fair amount of time himself digging around. How, we may ask, did Luke get to hear about the Christmas story in such detail or hear about the boy Jesus in the temple? Luke gives his readers a clue by twice letting us know that Mary, Jesus's mother, "treasured up all these things and pondered them in her heart" (Luke 2:19, 51). Luke seems to be letting us know that the narrative is traceable to Mary herself as his first source. Mary had treasure within her heart, Luke dug it out and now we all enjoy the benefits.
We may have treasure all around us, digging it out is where the effort is required. Yes, there will be a lot of ring pulls, bottle tops and tat but there will also be some bona fide pearls.
Taking an interest in people, looking them in the eye and listening to what they have to say will pay dividends. Occasionally we'll also find someone, like Luke did, who has a reserve of wealth within them.

The opinions expressed in this article are not necessarily those held by Cross Rhythms. Any expressed views were accurate at the time of publishing but may or may not reflect the views of the individuals concerned at a later date.
About Paul Poulton
Paul
is a singer/songwriter, author and speaker. He records and tours solo and with his band, the
Paul Poulton Project
in the UK, US and Europe playing rhythmic and expressive songs. He has written four books including "Genesis for Ordinary People."
View all articles by Paul Poulton
We welcome your opinions but libellous and abusive comments are not allowed.