Thursday 22nd September 2011
CR spoke with Mike Pilavachi about this year's events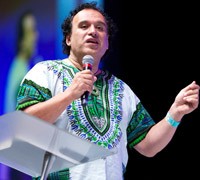 Mike Pilavachi
The summer of 2011 will probably be remembered for images of young people across the UK rioting, damaging property, stealing and attacking people as they rose up against society and authority. While the riots were happening, hidden from public view in fields around England, 33,000 young people were meeting at the Soul Survivor festivals, making first time commitments to God, worshipping him and being taught about having an attitude that serves others. The national news didn't pick up on this phenomenally hopeful and positive view of UK teenagers, so Rebecca Duffett caught up with Mike Pilavachi to bring it to people's attention.
Rebecca: How do you think all the festivals have gone this summer?
Mike: I'm delighted with how they've gone. If you'd have asked me before we started how I would have loved them to have gone it would have been pretty much like this. It's wonderful coming to the end of a summer and not having any regrets.
We saw loads of people give their lives to Jesus, which is always the best. Having the privilege of watching people respond to God's grace and his call on their lives is amazing and also meeting many of them. We've got lots of feedback from people saying they just met with Jesus. If it was only that, it would have been more than enough, but we saw lots of people encounter Jesus in a new way; being envisioned by him in the atmosphere at the festivals was great. It was good fun and very warm.
We make lots of mistakes, we always do, but thankfully none of the mistakes really mattered, because God's grace was bigger.
Rebecca: What were some of your highlights of all the festivals? Was there anything that particularly sticks out?
Photo credit: Paul Cornish
Mike: There's too many probably. Highlights were - as I've said, first of all seeing people, sometimes 200 come forward at the same time to give their lives to Christ and to respond. When you see that you can die happy. Also hearing many stories for example, there was one lad who broke his ankle on the Monday playing sport and he went to the hospital. They diagnosed it as a broken ankle. They put it in a cast. On the final morning we got the young people to pray for each other for healing. He came forward to the stage at the end, weeping and saying, I couldn't put my foot on the floor it hurt so much; but look I think I've been healed. Andy Croft who works with me said to him, well don't do anything drastic; go back to the doctor; go to the hospital and get it checked out. Well this kid didn't obey instructions and that night he arrived holding his cast in his hand. They'd taken it off. They'd sawn it off and he was jumping over people and it was obvious that a significant healing had taken place. I mean that was wonderful to see.
I met one youth leader, who the previous year brought 15 young people, all of them not Christians and they all became Christians last year. He told me that all 15 are back this year still going on with the Lord; that matters a lot. I mean there are lots of different things I could say but they are just some of them.
Rebecca: What was the main thing you wanted to tell the young people this year?
Mike: The messages were from the life of Joseph. The main one is God's in charge. Joseph learnt that. Everything seemed to go wrong for him from the moment he had his dreams as a 17 year old. You know he was sold into slavery; he was put into prison and was accused of a crime that he didn't commit; but God meant it for good as Joseph discovered at the end.
We wanted to say to the young people, you know God really is in charge. Romans 8: 28 'God works all things together for the good of those who love him, who are called according to his purpose' and that was the first lesson. Then the other lessons were from our point of view - what do we do. For Joseph he had these dreams, but he interpreted the dreams as a young man in a very individualistic way. God had to take him through the desert of his suffering, so that he would learn to serve other people's agendas. He had to be a servant in the house of Potiphar and then servant to Pharaoh. It wasn't about his agenda anymore.
Then Joseph had to interpret other people's dreams; for example, the waiter in the prison and then Pharaoh's dreams. The best way for our dreams to be fulfilled is when we learn to serve other people's agendas and not our own and interpret other people's dreams instead of just holding on to our own dreams. We really wanted the young people to get that. That God's in charge, but there is a way of walking with him that trusts him and that God takes us sometimes through periods of suffering in order for us to learn the lessons; it's about other people and not about us.
Photo credit: Hanna Bullock
Rebecca: Was that well received?
Mike: I hope so. I gave the messages so it's hard for me to tell. We had some great other speakers and what they had to say was well received and people have been emailing us since and leaving messages on Facebook saying what God spoke to them.
Rebecca: Would you say from the festivals that there's still a good feeling about young people? We've seen so much negativity in recent weeks.
Mike: Oh yeah well that was the bizarre thing. While we were at Soul Survivor B there were the riots around the country. We prayed, together we prayed, including everyone, including day visitors, including the team on site. We've had over 33,000 this summer and not a mention in the papers or on the news. Over 33,000 young people, full of hope, full of life, full of joy, coming to meet with Jesus and to leave wanting to serve his will. Yet a few hundred riot and that becomes the headlines everywhere. On one level that's to be expected. On another level people need to realise that there are an awful lot of young people around now who really want to make a difference in this world for good.
Rebecca: Tell us about Momentum. That seems to be a growing festival with more twenties and thirties coming through.
Mike: That was thrilling. We had a significant growth in Momentum and that seems to have gained momentum, if I can use the pun.
The journey we went on at Momentum from beginning to end was amazing. When they arrived you could feel that they'd arrived tired and many of them spiritually tired; some of them disillusioned, maybe with God or with church. Many of them were disillusioned with themselves. God's grace was abundant throughout, so that by the end we had such breakthroughs in the spirit and folk were receiving from him, hearing his voice again and left committed to serving him.
We're very excited about what is happening with Momentum. I think it's a key age group that we have to reach, because the church is haemorrhaging twenties and thirties.

The opinions expressed in this article are not necessarily those held by Cross Rhythms. Any expressed views were accurate at the time of publishing but may or may not reflect the views of the individuals concerned at a later date.
About Rebecca Duffett
Rebecca
studied Broadcast Journalism at Staffordshire University and previously presented the Cross Rhythms Community Choice show on weekday lunchtimes.
View all articles by Rebecca Duffett
Reader Comments
We welcome your opinions but libellous and abusive comments are not allowed.