Thursday 6th December 2018
Paul Calvert hears the stories of two residents, and visits an Israeli police station witnessing shelves of rockets that have been fired from Gaza.
Sderot
Sderot is a very interesting city as it is on the border with Gaza. It has felt the full force of rocket attacks from Hamas terrorists inside the Gaza Strip. Recently in a 24 hour period, over 400 rockets were fired from the Gaza Strip into Israel.
Imagine the fear you would feel when the siren goes off telling you that a rocket is heading your way. In Sderot the residents have 15 seconds to find a bomb shelter.
One thing that you notice when you travel around Sderot is that it is bomb shelter city. There are bomb shelters everywhere. We went to a children's playground and in the playground was a bomb shelter. It was made to look like a giant caterpillar but it had a purpose and that was to protect children if a rocket was to come in.
When I visited Sderot, Noam Bedein from the Sderot Media Center was the tour guide. He explained the situation in the Gaza border area and we as journalists got to ask him questions.
Noam told us that every bus stop had a bomb shelter next to it.
Bomb shelter in park
We went to a school and there was an arch built over the school, that was its protection from an incoming rocket.
At another school we saw bomb shelters in the playground. Children may be playing in their school and suddenly without any warning the siren goes off, so they have to run to the nearest bomb shelter and take cover.
The Iron Dome has been very successful in shooting down rockets coming across from Gaza. It is a portable device that shoots down rockets, helping to save lives in Israel. It is able to be deployed where needed, where the threat is the greatest.
Noam told us that 56 people have been killed by rocket fire since 2001 and thousands have been seriously injured; a whole new generation is growing up with psychological warfare.
Defences built over the school
Israel has fortified itself with thousands of bomb shelters, Iron Dome systems, training for residents and teachers, how to run for shelter in 15 seconds. Ninety seven per cent of rockets are being fired from among populations in Gaza, according to the Air Force Command of Israel. That means that the rockets are deliberately being fired towards Israel from behind homes, residential areas, schools, neighbourhoods, UN schools, hospitals, and Mosques. Because of their location it makes it very difficult for the Israeli army to deal with. If a terrorist is on a hospital firing rockets and the army fire back, there is a risk of civilian casualties, something the terrorists take into account.
Noam took us to a school where heard the story of a teacher, Miri Asulim.
"Shalom, I have been living in Sderot for 26 years. Last Friday night we came back from a Shabbat meal and without further notice we started having explosions of rockets from the Iron Dome with no alert system, nothing warning us. It randomly happened, 12 intercepts of the Iron Dome above their heads.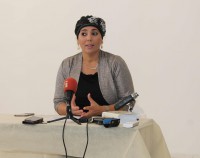 Teacher Miri Asulim
Four of my kids were with me at the time. My oldest son was covering one of the babies, and I was covering another kid. There was no bomb shelter nearby at that moment, there was nothing to protect them. The feeling of being there, that the purpose for this to be happening for us to be killed or murdered, that was the experience at that moment being over there and not having anywhere else to go.
The children were screaming, and there was chaos not knowing what to do. They were feeling like we were about to die any second. Three hundred meters from us there was actually a bomb shelter, but we didn't have enough time to reach it and we were literally covering ourselves on the ground itself. We were really helpless not knowing what we could do.

We welcome your opinions but libellous and abusive comments are not allowed.