Thursday 28th December 2017
Kat Mills on her journey with Autism.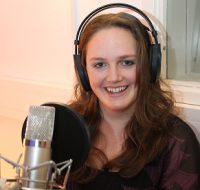 Kat Mills
After the busyness of Christmas, and with the New Year fast approaching we tend to move into the reflective task of reviewing the past year, thinking about what has happened, and maybe what we have learnt and how we have grown. The challenge is to think of what we want to do better next year. It can be easy during challenging or painful years to look back and just see the difficulties, sorrows and just want the year to be over.
I heard something this year that really challenged me on the way I look at the past. I was at a conference and the speaker was talking about the story of Joseph in the Bible. The story in a nutshell is that Joseph was one of 12 brothers and happened to be his father's favourite, which as you can imagine caused a lot of jealousy and hatred towards him from his brothers. The fact that Joseph could brag a bit, means he ended up in a right pickle when his brothers wanted to harm him and they ended up selling him as a slave to some Egyptians. Years later after many trials and tribulations Joseph becomes the second most important man in Egypt after Pharaoh. His brothers turn up desperate to buy food during a famine. After giving them a bit of a run around, Joseph finally reveals who he is.
It is at this point the speaker said that Joseph starts the conversation by stating the facts, "I am the brother who you sold into slavery." Yes it happened, it was horrific, and he speaks the truth, but what really impacted me was that later on in the conversation Joseph goes on to say it differently, "God sent me ahead to Egypt."

The harsh reality was that his brothers had betrayed him and sold him into slavery, but God had redeemed the past for Joseph. God needed Joseph in Egypt so that He could save many lives by His wisdom, and godly insight. God had turned the situation around for incredible blessing, but Joseph had to be willing to see through God's eyes, and eyes of forgiveness.
Joseph would have had every right to be incredibly bitter over his brother's actions, and even want to seek revenge for the agony they had caused and the way they had condemned him to slavery. He had been ripped from his family and his land. The reality of bitterness is it destroys the holder and not the people who caused the pain. The best description I heard of bitterness recently was that it's like taking poison and waiting for the other person to die! Had Joseph just lived in anger and pain there is no way he could have been so effective. His family reunion had seen relationships and families restored. By seeing how God had taken something meant for harm and turned it around helped him see things differently. This really spoke to me, and really challenged me especially after the year I have had.
It would be easy for me to look back at 2017 and consign it to the 'never again' pile with several months of sickness, being bed bound, surgery and my subsequent recovery. I missed a second summer in a row due to surgery and had an incredibly challenging journey with my son through diagnosis of Autistic Spectrum Disorder (ASD). I had to miss months of seeing people, or being able to join in. I had to cancel my 30th birthday party as I was too unwell. That outlook is pretty bleak, but this is where God has challenged me to see through His eyes.
It's now easy for me to look back at 2017 and see how God has been working. Although my son's journey has been challenging and at times painful, I have seen incredible breakthrough and freedom.
This time has set me on my own journey of discovery. I have always felt that I never fitted in and my view of the world was so alien to others. During this time it was like a light bulb had been switched on and I was given the key to freedom. I am currently in the process of being diagnosed with ASD too, and in addition to that I have sensory issues, and an auditory condition where I hear everything way too loud. For years I had felt like I was just being difficult and different, or as others had put it, 'hard work'.
Having some ideas and understanding that I was simply made different and have some invisible hurdles, has helped me take steps forward in understanding them. I am already seeing so much freedom, and restored peace and joy. What an amazing gift this year has been. Through the times of being bed bound and sick, God has been bringing a healing to the hurt from years of feeling misunderstood. He has been whispering and ministering to my heart and speaking true words that He 'made me fearfully and wonderfully', and that He has 'plans to prosper and not to harm me'.
I have been able to come into a peace and acceptance of who I am, and to delight in the positives of my creativity, and to put in the right support and boundaries in areas where I struggle. This has brought such a freedom and joy to our family unit as we are able to do things we hadn't been able to before.
It has taken me almost a year to be able to voice this in my writing and I am so excited because God has turned around the pain and being misunderstood into joyful acceptance and a desire to share that message with others - we haven't been made wrong. Differences are a beautiful expression of the way God makes us and true joy comes when we truly embrace who God made us to be.
So 2017 has been life giving and hope-full. I can continue my journey into 2018 beginning to thrive rather than just survive. So let's not live in a place of bitterness and hate, but be willing to surrender the past to God and allow Him to show all the blessings and beauty, and to bring a restored hope for the future.
Wishing you a blessed and hope filled 2018!

The opinions expressed in this article are not necessarily those held by Cross Rhythms. Any expressed views were accurate at the time of publishing but may or may not reflect the views of the individuals concerned at a later date.
About Kat Mills

Kat Mills
is a
Christian singer-songwriter
, choir director and worship leader from Surrey. Trained as a primary teacher she is currently a stay-at-home mum passionate in using music to connect with people and to share her faith.
www.katmills.co.uk
View all articles by Kat Mills
Reader Comments
We welcome your opinions but libellous and abusive comments are not allowed.