Kat Mills shares her own story of personal transformation, which has come about through the love she has received from God and others.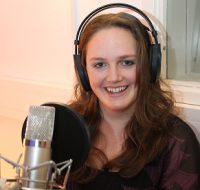 Kat Mills
A few months ago when I popped over to my neighbour for a cuppa, her boiler had broken and the repairman was still there. As I came into the lounge and sat on the floor playing with my son, I saw she had left the TV on. As we waited for her to come back I got drawn into a programme called Money For Nothing. I enjoyed it so much that when I got home I looked on series catch up and downloaded all the ones that were available and had a good catch up session.
A summary of the programme is that the presenter, Sarah Moore, turns other people's "trash into cash". In each episode she goes to a dump, (with special permission), and rifles through people's car loads and saves three items. Why? Because sometimes there is the tiniest glimmer that an object she has salvaged can be restored.
She risks sending two of the items to two different craftsmen with a budget, and one item she saves to work on herself. Then in the hands of the experts, old chairs get turned into a new bench, tables into skateboards and old saws into retro cheese boards. I am always in anticipation to see the final reveal, especially when there have been issues or a change of idea.
There is something therapeutic in seeing her rescue things. She takes the risk of investing into things that are falling apart, sees past the obvious damage and apparent uselessness and sees the potential. The transformations are amazing, and sometimes the profit is a big one.
I have always been someone who is different and who can come across awkward and clumsy. I have struggled with anxiety and depression and long term sickness, and at times feel broken and useless. Yet I have had people who haven't given up on me, who have seen past the difficulties, and the mess and loved me despite it. These people, like the craftsmen on the show, have invested in me and stuck with me even when things haven't gone to plan; they have believed in me, loved me and encouraged me through it all. These people now see some of the 'profit' of their investment in me and see the ways I now thrive when before I could barely survive. I am so grateful that they didn't write me off, or discard me like others did.
Just as the presenter didn't give up on the items she saved, and just as others didn't give up on me, I believe that God doesn't give up on us either. I believe that He loves us so much, no matter what we have done and no matter how badly we feel we have messed up. He doesn't write us off. I believe He sent His Son, Jesus Christ, to die for us and to rise again so that we have that choice of hope and joy through a new life with Him. I believe He took the biggest risk of all by planning the most amazing rescue plan and offering the most incredible sacrifice with no guarantee that we would respond. He did it because He loves us. Even if we don't love Him back, He loves us. Even if we don't choose to follow Him, He loves us.
God has made the most incredible investment into you and me. The thought that the Creator of the universe is interested in me is incredibly powerful and draws me in. He has chosen to love me no matter what. He has got my attention and spoken into the deep places of hurt and longing in my heart to be loved simply as I am.
As I have followed and trusted in Him, I have felt such incredible peace, strength and joy in my life. I have seen the ultimate restoration and transformation in my heart and in my life through God. Where there was mess and damage, He has restored me.
This inspires me to be look beneath the outward surfaces, beneath the dirt, the damage or decay and to be someone who loves, encourages, restores and sees transformation too.

The opinions expressed in this article are not necessarily those held by Cross Rhythms. Any expressed views were accurate at the time of publishing but may or may not reflect the views of the individuals concerned at a later date.
About Kat Mills

Kat Mills
is a
Christian singer-songwriter
, choir director and worship leader from Surrey. Trained as a primary teacher she is currently a stay-at-home mum passionate in using music to connect with people and to share her faith.
www.katmills.co.uk
View all articles by Kat Mills
We welcome your opinions but libellous and abusive comments are not allowed.