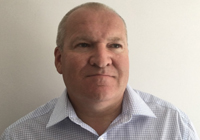 Mike Davies
I'd like to start by sharing two quite short but powerful stories. Both involved me so I know that they are true. The first evolves around a posting that occurred on Facebook, the social networking website. Someone had posted a rather abrupt message on a site regarding whether miracles happen today. I decided to start a dialogue. In such situations a word of knowledge is often beneficial, so after bringing this before the Lord, I had some specific details to send back - details that I could not have known unless the Lord had given them to me. If I replied to the man saying that he needed a miracle in his life it would have proved nothing as that would have been a fairly good guess on the basis he was looking through a healing and miracle site. So I delivered a specific word for the man and one of his children. The word was spot on. The man lived thousands of miles from me so totally unconnected. He stated that he had stumbled on the site through a friend. However, God managed to arrest his attention through a word of knowledge and his situation has now totally changed. We are now friends on Facebook!
The second involves a lady who phoned my office. Her life was in a mess. She lives in the North-West of England and found she had nobody to talk to. As a Christian she found some major issues needed to change regarding her home life - her story was quite overwhelming and to sum it up, she was not in a good place and really did need a good dose of the wonders of God. She needed a miracle in order for her life to change. As she prayed she believed the Lord had given her two words 'Inspiration' and 'Prayer'. She wasn't sure what to do with these words but they kept coming to her. During a casual conversation with a friend, who knew nothing about her prayer or the words received, reference was made to something totally unconnected. It was stated that a Google search can always find the answer to what you're looking for. Later in the day the lady typed 'Inspiration' and 'Prayer' into her Google search. The results page appeared with a few works and a phone number. She dialled the number immediately and on the rare occasion that I was in the office I answered the phone and she shared her story with me. She was unaware the phone was actually a number given out for those requesting prayer. We chatted and I prayed for her over the phone.
Now in the case of the man on Facebook he was totally amazed how something that he thought was totally by chance was actually directed by God. The lady who phoned the office was totally amazed that the phone number she dialed was connected to a Christian organisation dedicated to prayer ministry. In my discussion with both of them it emerged that both had cried out to God for help. Both were totally surprised how God had heard their cry and responded. Interestingly, I have tried the same search on Google and it didn't work.
You may now be reading this article wondering how on earth you came to visit the Cross Rhythms website, or maybe it was for a specific purpose like the purchase of a book, but you ended up reading this article. Well, maybe you should just take a moment to think about it. Is this something God may have planned for you? Is there an issue in your life that needs to change? Do you need a breakthrough in a certain area of your life? Our God is awesome and some of the things He does are too amazing for words. God is Sovereign and He can do anything but more often than not He draws someone alongside you so that they can walk it through with you. Sometimes in unusual ways, sometimes through existing friendships, but if there is one thing you can count on it is the Lord Himself.
My prayer is that when you read this article you will feel the overwhelming peace and presence of the Holy Spirit filling you with the love of God and leading you closer in your walk and relationship with Jesus.
We are living in a day when miracles, healings, signs and wonders appear to be on the increase. Why waste another day in desperation when you can simply just seek the Lord? The rest is then up to Him.
Please feel free to post requests for prayer here at Cross Rhythms or visit my COTN Healing site on Facebook.
May this day be a great day for you and a day full of destiny and new beginnings.

The opinions expressed in this article are not necessarily those held by Cross Rhythms. Any expressed views were accurate at the time of publishing but may or may not reflect the views of the individuals concerned at a later date.
Sign up now to receive weekly Life Files, direct to your inbox.
Reader Comments
We welcome your opinions but libellous and abusive comments are not allowed.