Friday 16th February 2018
Matthew 23:13-39, & 17:15-20, Isaiah 61

Nick Welford exhorts us to live as Jesus did, changing and challenging the systems and structures of the day.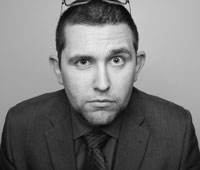 Nick Welford
Western Christianity worries me. It's not the stats or tales of decline, it's the way we have turned something quite organic into a series of hoops to jump through. It doesn't seem to me to fit with what Jesus had in mind.
Western Christianity has been ok at changing individuals' lives, but what of the systems and structures around us that reek of injustice and oppression? Most of us would agree that the political system is at best rife with abuse and at worst simply broken beyond repair, yet we rarely do anything about it other than moan.
Jesus changed individual's lives, of that there is little doubt, but he also changed and challenged the systems and structures of the day. He didn't just talk about it, he did it. This poor carpenter from rural backwaters changed humanity. And what have we done with that? Have we run with it, or are we guilty of actually building similar kinds of systems and clothing them in 'righteousness'.
I use to think Jesus hated the Pharisees. I thought he didn't have the time of day for them, it's kind of how it was taught from the pulpit. Then I started reading Jesus' words for them in different tones. I turned to the seven woes and read it as though Jesus was absolutely desperate for them to get it, to see Him for what He was, and is. I read it from the point of view of a parent longing to convince their child that they wanted only the best for them. I read it with loving desperation rather than righteous anger and I realised that Jesus flipping loved the Pharisees. Once I realised this it changed my view of all his interactions with them.
Here is Jesus desperate for the people who should recognise Him to get it. Frustrated by their stubbornness and their turning of the Kingdom of God into a vehicle for power. Imagine the changes if the Pharisees had got it! Of course this didn't stop Jesus challenging the structures of the day. The task at hand the same as it has always been, the same as it was for Israel, being blessed to bless, living free to share freedom with others, being good news to the nations.
God has always been consistent in this, from longing for the people to abandon sacrifices and love the oppressed and love them practically, meeting their needs, to choosing for Jesus to be born in to poverty. Jesus embodied this in his life, from taking the words of Isaiah 61 upon himself to going to the cross.
These are funny times, and people seem more aware than ever of the injustice inherent in our Western world. Brexit, Trump, May, Grenfell, and more, have seen an undercurrent of dissatisfaction in society. People seem ready to act. Do we share these feelings in the Church and Christian community? Shouldn't we? Shouldn't Christians be at the forefront of fighting for freedom for the oppressed?
I know it's scary. I know it seems impossible. I know we have spent our lives just doing enough to feel like we are somehow involved in the kingdom of God. But the kingdom has to be about more than just individuals, it has to be about both the collective society and the individual's freedom.
Jesus promised we would do greater things than He did. What if when He said this He wasn't talking about supernatural healings or prophecy? What if He was talking about the miracles of real change to society; of healing to the structures and systems that are used to enslave. It's no doubt a big task, but then if we had faith as small as a mustard seed...

The opinions expressed in this article are not necessarily those held by Cross Rhythms. Any expressed views were accurate at the time of publishing but may or may not reflect the views of the individuals concerned at a later date.
Sign up now to receive weekly Life Files, direct to your inbox.
We welcome your opinions but libellous and abusive comments are not allowed.