Tom Lennie threw some questions at American worship leader DAVID CROWDER.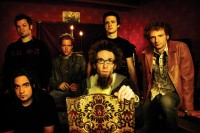 David Crowder Band
Tom: Can you tell us how you came to write that amazing acoustic song "All I Can Say" from your debut album and what is the response when you play it in a live setting?
David: I wrote it out of experience. My wife had a family member with an illness. It was not a great time and the song was our experience. The response I think that I see the most is freedom. It's freeing to know that all of life experience is under the gaze of God. There is nothing hidden and outside his presence, even when our life experience feels otherwise. And that it's not news to God that we feel disconnected from him - it doesn't throw him for a loop. This theme runs through our new album as well - asking questions about this disconnectedness and the realisation that we are in his very presence.
Tom: What have you - and band - been doing between the release of 'All I Can Say' and the new album?
David: Well, we play every Sunday at our home church in Waco Texas University Baptist Church. We've been travelling sporadically and we were busy finishing up school - the last of us graduated last December. Since then we've been travelling more and getting to see what God is doing in churches all over.
Tom: Do your live performances draw mainly believers or non-Christians?
David: Most of our time is spent leading the church in corporate worship through song. The enjoyable part is that we have a great response from non-Christians but we are in front of the church for the most part.
Tom: What initial feedback are you receiving on your 'Can You Hear Us' recording?
David: Well, we've had some great feedback from both reviewers and people that have been around our music for sometime now. I mean those friends of ours have gotten the word out like crazy. Our record released on 26th February and debuted number seven on the Christian music charts in America. That's the largest debut for a Sparrow Records new artist in the history of their company, so they are just flipping out as well. We've also had some lame reviews suggesting this is just Sonicflood/Passion rip off in a market inundated with modern worship. I have to admit that I thought it would be difficult to handle any negativity directed at this recording but it was actually pretty fun. We will soon have a "review of reviews" section on our website so I dare not ruin the enjoyment here. No one is safe!
Tom: Do you listen to much 'Christian' music?
David: No.
Tom: What are your plans for the coming year?
David: I have no big plans. We're going to continue travelling and investing ourselves in the church at home in Waco.
Tom: Any plans/ambitions to travel to Britain?
David: Oh for sure. . . well no immediate plans but many ambitions. We were able to come over last November and just had the best of times. Perhaps a relocation?

The opinions expressed in this article are not necessarily those held by Cross Rhythms. Any expressed views were accurate at the time of publishing but may or may not reflect the views of the individuals concerned at a later date.
About Tom Lennie
Tom Lennie lives in Edinburgh, has been a contributer to Cross Rhythms for a number of years and is the author of Glory In The Glen.



Reader Comments
We welcome your opinions but libellous and abusive comments are not allowed.