Tony Cummings spoke to Christian music pioneer JIMMY OWENS about his recent book with Paul Baloche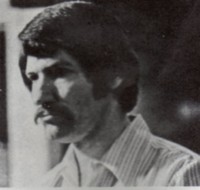 Jimmy Owens
Tony: Your recent God Songs book with Carol and Paul Baloche made some very interesting points about worship music. Overall, what is your perspective on how contemporary worship music has become a huge money making area for the Christian music industry? Is it a good or a bad thing?

Jimmy: Essentially, good! Money enables the promotion and dissemination of the worship movement. Millions of people are learning to worship God and many are being saved because of it. It's true that money-to-be-made attracts opportunists, but the Apostle Paul said that even though some preached the Gospel through wrong motivation, he was glad to see it preached. Those who really want to worship God will be led by the Spirit to recognise the good and reject the bad. Let the wheat and the tares grow together. God will use what is real and good, and sort out the rest.
Tony: If you had to select a couple of developments in worship music ministry over the last few years of particular significance, what would they be?

Jimmy: First is that worship has become dominant over entertainment in contemporary Christian music. When people are led to express themselves directly to the Lord, God answers Spirit to spirit. As AW Tozer wrote, the purpose of God in redemption is "to make worshipers out of rebels." And people who become converted in a worship experience start out their new lives as worshipers.
Second, and this is on the negative side - some worship concerts have reverted back to the entertainment mode, with more and more performance-oriented music and less and less reverence and true worship. Earth-shaking sound systems drown out the audience so that they give up trying to sing, and just become spectators. With all the trappings of entertainment (even groupies) some of it seems more about the music than about the Lord. This has happened over and over through the centuries in church history and has had to be set right from time to time. That's where the Gregorian chant came from. That's why Matt Redman's church dropped the band for a while to regain perspective, which led to Matt's writing "I'm coming back to the heart of worship." But this situation is correctable once people recognise the problem.
Tony: Looking over your particular musical legacy with those groundbreaking musicals like Come Together and The Witness, how do you think their content stands up today where the Church has largely embraced pop culture?
Jimmy: Carol's and my intention has always been to see the Church embrace pop music styles, because they are the most effective communicators to a generation. Even King David and other psalmists in the Bible called for their lyrics to be set to popular melodies. (Look it up in our book!) Musical styles change constantly, but the principles of good music remain the same. Some songs become out of date quickly, while others need only a change of arrangement to keep them as good as ever. Come Together and The Witness have two different musical styles with different purposes. The Witness tells the story of Jesus in a sort of "Broadway musical" style. Groups are still performing it after 25 years, because that style is still accepted. Come Together was intended to lead Christians into understanding and experiencing together the three basic ministries of a believer: to the Lord (worship), to one another (fellowship and service), and to the world (evangelism). It used the same instrumentation as today's basic modern worship band: keyboards, guitars and drums. We like to think that the lyric and narrative content stands up because it was mostly timeless to begin with. The music was current in its day, and some of it still is, but some of the songs would need replacing now. Others, using the same chord charts, but improvised in today's styles, are still effective.
Tony: You are not exactly a young man! Are you in a state of semi-retirement?
Jimmy: Carol and I are ostensibly "retired" only in the sense that we no longer have an organisation or a staff, but we still work almost full time, mostly writing. We've just finished God Songs with Paul, and Carol has just placed her first Christian novel with an agent and is working on a sequel. We have other writing projects waiting for us.
Tony: What is your absolute all time favourite worship song or hymn?
Jimmy: "O Worship The King". Robert Grant's craftsmanship reminds me of the shortcomings of my own. His lyric still makes my hair stand up! Carol's favourite is "O For A Thousand Tongues To Sing", especially the last verse. It's electric! There are wonderful contemporary songs, too. I don't know if I could pick a favourite.

The opinions expressed in this article are not necessarily those held by Cross Rhythms. Any expressed views were accurate at the time of publishing but may or may not reflect the views of the individuals concerned at a later date.
About Tony Cummings

Tony Cummings
is the music editor for Cross Rhythms website and attends Grace Church in Stoke-on-Trent.
We welcome your opinions but libellous and abusive comments are not allowed.