Wednesday 16th March 2011
Tony Cummings reports on the band PHILMONT who battle on after being dropped by EMI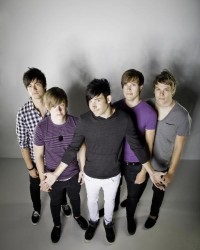 Philmont
Philmont are a pop rock influenced band out of Charlotte, North Carolina who have had a bit of radio exposure on Cross Rhythms. Their "Back Down" and "The Difference" tracks from their 2009 album 'Attention' received airplay and "I Am" from last year's 'The Transition EP' is about to get radio play. Cross Rhythms spoke to the band's frontman Scott Taube on the Rimmerama programme and began by asking Taube whether their EP title meant that the band were in a state of transition. "Yes, I think every band should be maturing and transitioning all the time. As a band we have been through a lot since our last release. We were a four piece band and we are now a five piece, so lots of lineup changes. Then on top of that, songwriting wise, it's been a handful of years since we wrote the songs for the last record. So I would like to think there is something more mature, but still good fun and rock and roll."
There might be changes in lineup and a greater musical maturity but Philmont's spiritual focus remains unchanged. "Ministry wise, our hearts are still in the same place. We are still passionate about reaching youth and it's our focus. I think with the songwriting maturing, it doesn't necessarily appeal... I don't think it alienates that audience. We are still focused on the same kids and songwriting is just a little more substantial."
Philmont was formed by Scott Taube, Josiah Prince, Abe Hege and Matthew Arcaini in the summer of 2005. They recorded an independent debut EP 'Take Cover' in December of that year. One year later, Philmont traveled to Eudora, Kansas to record their 'Photosynthetic' EP at Black Lodge Studios with Ed Rose producing. Matthew Arcaini, who left the band after 'Take Cover', also produced a track on 'Photosynthetic'.
The project was released independently in March 2007. That July, after adding Justin Sams on bass, the band performed at the 2007 Cornerstone Festival, the famed Christian rock fest run by Jesus People USA. There, they were spotted by representatives of EMI-CMG. After showcasing for the label group that autumn, Philmont were offered a recording contract with Forefront Records. Hege unexpectedly left the band just before the signing took place and Todd Davis, who had played in a band with Josiah prior to Philmont, was recruited on short notice. Philmont signed the deal a few days before Christmas 2007.
The band's label should have taken Philmont up to the next level. But struck by the downloading revolution and a dramatic downturn in CD sales, the whole American record industry was running into a brick wall. Philmont's short stay with EMI CMG started off well. Top producer Rob Hawkins (Fireflight, Nevertheless) was brought in and brought out the musical muscle of the band. But then with record companies everywhere pulling in their financial belts EMI CMG decided to launch the band with a six-song EP. The 'Oh Snap' EP was excellent and got some enthusiastic reviews with Cross Rhythms' Martin Smith commenting, "Scott Taube's successful combination of witty and passionately spiritual lyrics are of a potency much akin to Relient K's Matt Thiessen (just see "My Hippocratic Oath"). With a duration of less than 20 minutes, this six-song item is over not long after you pop it into your CD player. Philmont's career will be far longer lasting."
'Oh Snap''s five tracks were released again as part of the 'Attention' 12-song album. But even though the band toured supporting acts like Family Force 5, Fireflight and Pillar 'Attention' didn't break through and the band were dropped by EMI. Philmont added Josh Guion as a touring bassist in late 2009, moving Justin to rhythm guitar and Scott to vocals-only. In a post on the official Philmont blog on 3rd March 2010, Todd Davis announced his departure from the band, describing the events of his final show with his fellow bandmates. After Todd's departure, Philmont recruited Nashville drummer Scott Sellers as a brief fill-in before announcing permanent drummer Jeremi Hough, as well as the promotion of Josh Guion to band member.
And so with a new lineup of Scott Taube (vocals), Josiah Prince (lead guitar, keys), Justin Sams (rhythm guitar), Josh Guion (bass) and Jeremi Hough (drums) the band were able to face head on the challenge of being dropped by EMI CMG. Explained Scott, "We were aware the whole time that the industry had a real financial problem and was figuring out how to survive and adapt. It came down to knowing that we felt called to do this and we were wondering if the label would pick up our second record. We talked and prayed as a group and came to the conclusion that God wanted us to do this, so this was what we were going to do. For us, label stuff is just details. That second record option didn't come around so we were able to get creative and reach out to our fan base to put out an EP that we were proud of. So I think it all worked out."
Scott explained the genesis of Philmont's latest CD 'The Transition EP'. "We had been saving money, cashing in favours and recorded the six songs. We got to the end, had a release date and then realised we didn't have enough money to finish mixing and mastering. There's a website called www.kickstarter.com. Basically it is a tool for creative people to fund creative projects. We weren't sure how it would work, so we put it out there at $4,000 goal to finish the record. We gave it 30 days and hit the goal in a week. It was great to see our fans show up and support us, getting behind us."
So how did it feel to be an indie band again? "I think it's in equal parts stressful and exciting. I've always been the kind of person you would describe as being stressed out and not healthy! But it's good to have creative control over everything. But if you don't do it, it won't happen. I like to think we were a pretty hardworking indie band before we signed. So it was great to get back to those roots and put in a ton of work to hopefully see a lot of return."
Scott concluded his interview with an insight of life-on-the-road for a touring independent band. "We had some dates fall out on this tour, and they got filled last minute. Subsequently there was less cash. So it came down to if we have a good turnout we may break even, if not we might take a hit and it's a nine hour drive. I can say that God has always provided a way and it has never made sense. There is no way I should be doing what I am and be able to eat tonight. It's a miracle. But we try not to focus too much on money. It's a weird balance, because if you don't focus on it you may not be able to get a flat and you'll be broke. But if we put too much emphasis on it, then you'll miss out on some great ministry opportunities."

The opinions expressed in this article are not necessarily those held by Cross Rhythms. Any expressed views were accurate at the time of publishing but may or may not reflect the views of the individuals concerned at a later date.
About Tony Cummings

Tony Cummings
is the music editor for Cross Rhythms website and attends Grace Church in Stoke-on-Trent.
Reader Comments
We welcome your opinions but libellous and abusive comments are not allowed.