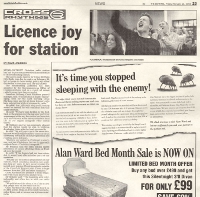 Local paper The Sentinel covered the extension of the pilot scheme licence for Cross Rhythms City Radio - 14th February 2003
Cross Rhythms was founded in Plymouth, but in 1998 re-located to Stoke-on-Trent.
In October 2001 two significant things happened. In response to the national Experian report labelling the city the worst place to live in England and Wales, the first united prayer meeting across the city took place and Cross Rhythms heard that we had been successful in our application to be part of the Government pilot scheme for Community radio, (then called Access radio).
From these small beginnings came a seven year journey of humility, repentance and prayer across the churches and church leaders of Stoke-on-Trent and North Staffordshire based on 2 Chronicles 7:14, 'if my people, who are called by my name, will humble themselves and pray and seek my face and turn from their wicked ways, then I will hear from heaven, and I will forgive their sin and will heal their land.'
Cross Rhythms City Radio was launched on 101.8FM in February 2002 from one of these 2C7 corporate prayer meetings.
In the subsequent years God led both Cross Rhythms and the leaders of the 2C7 movement to greater engagement with the city and its leaders.
At election time the candidates were invited to the corporate prayer meetings, where they would not only share their vision for the city, but also their prayer requests. The editor of local paper, The Sentinel, was also invited to share his prayer requests for the city.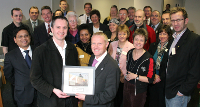 Community Celebration event 'Building on Foundations' 2005
Simultaneously Cross Rhythms was interviewing the same people on the station; all of us working for the welfare of the city. For three years, out of relationships formed, we held end of year Community Celebration events
At Cross Rhythms we have seen God build a 'model' of Christian broadcasting in Stoke-on-Trent; one that is a bridge between church and community; that works for the welfare and prosperity of the city and it's people and works in partnership with local church.
We have seen that model multiplied with other stations in Plymouth and Teesside and radio programmes in other nations like Thailand and Bethlehem.
In joining the Cross Rhythms Media Training Centre, you will not only learn about radio, but radio in the context of its city and what God is doing here to see His Kingdom come and the land healed.
For more information on the Stoke-on-Trent corporate prayer journey please read the book by Robert Mountford, Heal The Land.
For more information on the Cross Rhythms 'model' of Christian broadcasting, read Jonathan Bellamy's House of Lords speech.

More in Cross Rhythms Media Training Centre..