Philip Laing completed the Developing Radio Production Skills Course (Level 3) in August 2015...
In the new year of 2015 and having decided that I wanted to do Sound Production at higher education at College I decided to look at what opportunities there were for work experience. When my parents were helping in this process we stumbled upon Cross Rhythms and their media missionary courses in radio production, as well as the other courses they provide. I thought the opportunity was great work experience in a real media environment and the opportunity to be around and work with other Christians. With this I felt that I should apply to see what would happen and if God wanted me to come to Cross Rhythms. The very next day after I had posted the letter, I received an email from the HR Manager Angela Selby who said that Cross Rhythms would love to have me and when could I come down for an interview!
As I was finishing my sixth form studies at the time the only time I could fit in was in the Easter holidays in April. So the process really began there and I came down from Scotland to Stoke-on-Trent. The people were so lovely that I met. Everyone was so enthusiastic and full of life and I spent three hours at Cross Rhythms talking to everyone that I would have direct contact with during my course. I also planned ahead of time a question that I thought would be intriguing about how a community Christian radio station would answer: ďWhere do you see the development of radio in the next five yearsĒ. Now this was a question that I was very passionate about especially with a Christian voice in the secular market place. I found that people were also excited about what God was going to do in the next five years with Cross Rhythms.
So I left feeling encouraged that God was in this next step between leaving sixth form and starting college. I felt that this Radio Production course would provide with me with new knowledge in preparation for my Sound Production course. My month at Cross Rhythms went so fast and it was over before it even began! The course had many different elements within it from writing reports to producing a half an hour magazine programme. I leant about radio transmission and the various types of radio signals used. I wrote a report on various types of radio programmes that are used within radio and producing a whole magazine programme from start to finish! This was probably the highlight of the course, producing content that was aired on Cross Rhythms itself. In this part of the course I had to research, record and produce the programme, which was about the latest music on Cross Rhythms, as well as some of the latest releases at the time.
As the course also had emphasis on being a missionary in the media sector I also had weekly discipleship sessions. I would receive a discipleship training session at the start of the week and then would complete a reflective journal on what God had taught me through that training during the week and how it had helped in my work. I found these sessions very encouraging as they helped focus my week. I found that when I reflected I saw how God had been working various principles that I had been taught. These discipleship sessions were also accompanied by daily prayer in the morning with all of the employees at Cross Rhythms, which helped to shape and focus our day. There also was a once a week prayer and praise session on the Monday morning as well which was used to help us with our week ahead.
I would recommend the work experience and courses provided by Cross Rhythms as it allowed me to work in a Christian environment while getting points towards a recognised course. The production work that I created was actually used on the radio station and I also helped to edit various programmes for broadcasting and syndication for other radio stations. I had an excellent time learning and gained great skills towards my new course at college, as well as working in a radio environment.
Macaulay Jones completed the Developing Radio Production Skills Course (Level 3) in January 2015...
After finishing college, I decided to take a gap year before going to University the following summer. This opened up many different opportunities for me to try new things, develop skills and gain experience. I began work as an intern at my local church, which also involved the chance to complete a Radio Production course at Cross Rhythms. From the environment of the office to the content of the course, I really enjoyed my time there and can say I have learned a whole lot of new things.
It was amazing to see how everything, the blessings, the work still in progress, the waiting, was brought back to God in prayer and thanks. This is something I particularly felt made the environment such a pleasure to work in, and completely inspiring, as it has enabled me to develop in my own faith. This also came with the discipleship training, which came along side the course, focusing on how to apply Christian values to media as well as our own lives, and how different listeners on the radio may respond to that.
I have so many highlights from completing the Radio Production course. One of my favourite aspects was being responsible for taking over part of a Saturday morning breakfast show. I was able to arrange and organise questions for an interview with Matt, who headed up an event called Woodland Warrior, and conduct this in the studio to go out on air the next week. This not only widened my understanding of piecing together the content of a show, and how carefully it is selected, but also developed my confidence, being able to present it myself for the first time.
It was also really great to learn a wide range of key radio terms, which was completely new to me. Acoustics, frequency, and normalising are just a few included within this. I enjoyed learning about what they meant, and the importance of their application to producing a good sounding show. After studying acoustics, we were able to go out into various locations to evaluate their effectiveness if an interview was to be conducted there, allowing me to apply what I had learned in a very practical way. This also came with my personal favourite part of the course, in which I produced a 28-minute Magazine programme. For this, we studied the range of elements that can be included in a Magazine show, and then were given the opportunity to establish our own. This involved creating a theme, a range of content to fit this, finding various music beds, recording, and piecing it all together through Adobe Audition. This was software I had not used before starting the course, so it was brilliant having the chance to discover its features and learn how to operate it, and then go on to use it in a really effective and practical way. I loved applying what I had learned into my own work.
I had a lot of fun throughout the four months spent at Cross Rhythms. Working with Jake, who was also completing the course not only developed my teamwork abilities when completing projects together, but also made it thoroughly enjoyable. I will never forget the laughs we had recording the quiz in the studio, that would be featured on my show. Also, I had the chance to work with an amazing team of people at Cross Rhythms, always encouraging, and although each unique, and working in different departments of media, all living for the audience of one. The course has given me an amazing opportunity to work in a radio environment; enabling me to gain experience in an area I did not imagine being involved in., which is truly great. I have gained new knowledge, and so many skills that I can apply to media work within and outside of radio as well. Working at Cross Rhythms has greatly helped my spiritual growth, and been a great step in encouraging the development of my faith in putting God at the centre of everything I do.
Jacob Eagles completed the Developing Radio Production Skills Course (Level 3) in January 2015...
As I was beginning my second year on an internship with my Church, my pastor and I decided it would be good for me to get some experience working in a local Christian media organisation. Through our connections with Cross Rhythms, we were made aware of the various courses that they offered within the radio station and I signed up to the four month Radio broadcasting course.
From the very start the whole team made me very welcome and have shown a genuine care and encouragement throughout my time with them. Each working day started with a time of Prayer and Worship, which I have been greatly blessed by, and have clearly seen how the team are completely reliant on God for every part of what goes on in the station.
The course itself has been both exciting and challenging. There was a perfect balance of theory and practical content, with opportunity to practice the skills we learnt about. All of the course content was interesting and engaging; teaching everything from how radio transmission works, to constructing a radio show itself from the ground up. The facilities at the station provided the ideal environment to learn in, with up to date Adobe Audition software for editing and working with audio, as well as two studios, with classic broadcasting desks, to record live and pre- recorded shows. I particularly enjoyed the units on the course where I was able to use these studios and gain some experience planning, presenting and editing my own radio show content.
I feel that I have grown in confidence during this course, as I was challenged in my weaker areas and been given the chance to try things that were new to me. Despite this there was always someone around to help and direct me in times where I was unsure or struggling, suggesting improvements to guide me to successfully complete the work.
Part of the course included a number of discipleship training sessions that proved to be very valuable. We would have time to learn and consider various aspects of being a disciple in media and how that works, with the chance to share and discuss the topics together. I found this to be a very important part of my learning at Cross Rhythms, highlighting the importance of keeping God at the core of all areas of our lives, including what we say and do through media platforms.
I feel very fortunate to have had the opportunity to join the Cross Rhythms team during the course duration and have not only had the chance to learn and develop new skills, but to have also been challenged and grown in my faith.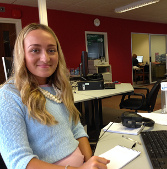 Stephanie Keeling completed the Developing Radio Production Skills Course (Level 3) in August 2014...
Working with Cross Rhythms was something I felt strongly about for a few years before I started the training course because of the values and ambitions of the radio station. Although I wanted to work with Cross Rhythms, I knew that University was the right step for me in terms of my journalistic ambitions. After two years of study I kept thinking about the work of Cross Rhythms and I decided to ask for work experience with them. After an interview with the team they offered me a Media Training course in Radio Production and I jumped at the opportunity. The environment at Cross Rhythms is amazing because not only is it a professional working environment, it is also underpinned by Christian values, which has enhanced my learning experience and has helped me to grow in my faith. Cross Rhythms helps you to develop your strengths and weaker areas in radio know matter what previous experience youíve had or havenít had.
As well as the Media Training course, they offer discipleship training, which has helped me to develop in my faith and understand how Cross Rhythms applies Christian values to their work in the media and how it applies to the kingdom of God.
Throughout my four weeks at the radio station Iíve had the most amazing time and Iíve had so many awesome opportunities and experiences. One of my favourite parts of the course was getting to interview Jermain Jackman (winner of The Voice UK 2014) and being given the freedom to choose the questions and conduct the interview myself. This has definitely helped me with my confidence and allowed me to get over my fears of phone interviews.
Another highlight was representing Cross Rhythms at the One Event, which is a Christian conference. At the event I was able to prepare and conduct interviews with Christian artists and various other famous faces, which were then featured on the breakfast show at Cross Rhythms.
One thing that stood out to me within the course was the confidence and enthusiasm that the team had in me. This really helped me with my confidence and enabled me to be more adventurous and come up with ideas and share my thoughts on different aspects of the course.
As a whole the course has given me a great knowledge of what itís like to work in a real industry setting, but more importantly what itís like to have God as the central focus to everything you do.
The course has given me an amazing opportunity to put my radio skills to the test with my own thirty minute programme that got aired on the radio station. I also presented the breakfast show one Saturday, along with a regular news feature that went out in the day time shows.
At Cross Rhythms you get to work with amazing people, all with different qualities, but all with a God outlook on the media industry. The Cross Rhythms team allow you to get stuck in with everything and anything, but they ultimately give you the skills and knowledge to push forward in the media industry. The course, along with the discipleship training has defiantly confirmed my enthusiasm for media and has shown me how it fits into the Kingdom of God. It has played a massive part in developing me spiritually and in a media setting and I canít wait to push forward and carry on developing and growing in media and my faith.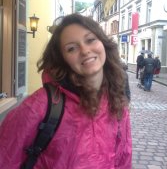 Emily Graves completed the Radio Production And Broadcasting Course in December 2012...
This course appealed to me rather than going to university because it involved learning in a real life radio environment with a passionate team who are dedicated to reaching young people in the local area and the UK. The course included a wide range of topics to study within the qualification which were practical and not exam driven. Alongside the course was the opportunity for discipleship. This offered the opportunity to learn about how the Kingdom of God works through media. I chose this course because I felt that I would have a much better experience at Cross Rhythms and I couldnít have got the same experience at university.
I have so many highlights from the course!! One of my favourite units was about how to make a discussion programme. For this I had to research all about the role and then organised and ran a 30 minute live discussion with the Police Commissioner candidates.
Through the course I got a real insight into everyday life at a radio station and how it all works. It gave me the opportunity to learn new skills including editing features using audio software, doing interviews and more. You get to work alongside a group of passionate people for God and the media who are great teachers and who will go that extra mile to explain to you various concepts, equipment, procedures, and make you feel part of the team for the time you are there. You will also get the opportunity to meet and speak to a whole range of different people when completing the units through doing interviews and the discipleship sessions. If you have the opportunity to do the course then go for it!
The course encouraged my passion for working in radio and I now know that itís what I want to do. It also encouraged me to see how God is in everything and is in the media just as much as anything else.

More in Cross Rhythms Media Training Centre..