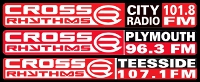 Cross Rhythms has been presenting a relevant Christian worldview that can stand up in the wider marketplace outside the church since 1983.
Cross Rhythms started as a half hour radio show on the Plymouth Sound Independent Local FM Radio Station. Thirty years later it has matured into the UK's first full time Christian FM radio station and the UK's first Community Radio station. Cross Rhythms City Radio 101.8FM began in Stoke-on-Trent in 2002 and in collaboration with other groups, it has seen sister stations begin to emerge – the first being Cross Rhythms Plymouth 96.3FM and Cross Rhythms Teesside 107.1FM.
The stations don't sound like 'church on air'; they engage in the marketplace of our UK cities, building bridges between local church and the wider community, bringing kingdom influence into the influential sectors of local education, politics, entertainment, arts, health, media and business. Feedback shows they are heard in taxis, hairdressers, doctor's surgeries, petrol stations, dentists, building sites, bars, council offices and even Muslim owned shops and cafes.
Radio projects are now also developing to reach youth in Bethlehem, India and Thailand and Cross Rhythms weekly syndicated radio shows go out on more than 50 stations worldwide.
Cross Rhythms experience in music journalism goes back to 1990 when Tony Cummings, with a lifetime experience of music journalism (Record Mirror, Black Music, Billboard and What Hi Fi) started a Christian music magazine. Cross Rhythms magazine ran until the summer of 2005. Following the unprecedented success of the Cross Rhythms website re-launch the pioneering decision was taken to cease publication of the national Christian music magazine, after more than 15 years publication. The Cross Rhythms website has published over 20,000 reviews, 3,000 music articles, 17,000 news stories and 18,000 artist profiles.
Launched in September 2012, the Cross Rhythms Media Training Centre, based at the Cross Rhythms HQ in Stoke-on-Trent, is an OCNWMR accredited base to train, equip and disciple the next generation of 'media missionaries'. Young people from across the UK explore a 'call' to serve God in media, gaining accredited qualifications in a variety of media courses, as well as invaluable work experience in a live FM radio and media setting and discipleship training.

More in Cross Rhythms Media Training Centre..