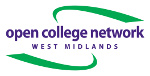 Open College Network West Midlands award credits. A credit is a way of measuring, recognising and valuing your learning.
The level, given on the certificate for each unit you have achieved shows the stage you have reached in your learning. (It is important to remember that there are different qualifications sizes at each level. Qualifications may therefore be comparable in terms of the level at which they have been achieved, but they may not be equal in terms of size. For example, a Level 1 Award is comparable to a GCSE grade D in terms of level, but it is a smaller qualification.)
Level One
This is comparable to NVQ Level 1, GCSEs D-G and Foundation Diploma
Level Two
This is comparable to NVQ Level 2, GCSEs A* to C and Higher Diploma

More in Pre-apprenticeship Programme..