Shiya completed the Receptionist Skills course in July 2014...
I studied the Receptionist Skills Level 2 course at Cross Rhythms. One of the true joys of my life and career has been trying out new things. I've loved every step of this journey I'm on. I love researching, analyzing, practical skills, it all energizes and inspires me.
Human beings are by their very nature creative. I'm happy to know that my personality has not been restricted or put into a box.
As a student of Cross Rhythms I'm proud to give my testimonial. I would like to quote Antoine de Saint-Exupéry: "If you want to build a ship, don't drum up the men to gather wood, divide the work, and give orders. Instead, teach them to yearn for the vast and endless sea."
The Receptionist Skills course helped me to understand about the value of the role of a receptionist. I learned essential skills for good customer service which is essential for life skills. The balance of the units and the work experience was really good. I learned from everyone at Cross Rhythms. Tutors and mentors supported me so that I had a good working experience. It was a privilege to get this opportunity which has helped me for life. God showed mercy on me in letting me join the pre-apprenticeship course, this course gave me a new life.
As I thank you for the gift of life, I also thank you for the gift of wonderful people I have met along this journey. Some of them inspire me, stretch me, challenge me, love me and encouraged me. All of them helped me to realize how meaningful and beautiful my life is. I love them so much. Bless them Lord with good health, security, wealth, success, peace and joy!
James completed the Music Journalism course in June 2014…
Before I started the Pre-apprenticeship course in Music Journalism with Cross Rhythms, I always had a passion and knowledge for music, so I wanted to put my skills to the test. I was brought up with a background of soul music so I understood quite a lot about the history of music. When I was a teenager, music influenced me in a very big way and it kept me on the right path. At the time some of my mates were rappers and emcees so I began to promote for them, which brought me into actually being an artist myself with recording and writing my own tracks. I have been doing music for three years. It has been a struggle, but like anything you have to have faith and keep on going no matter what. The reason why I chose to do this Music Journalism course was because I wanted my family to be proud of me and to refresh and learn more about music in every aspect.
Cross Rhythms has helped me in a major way: they have built my confidence back up and I thought the way of teaching was excellent. Having this accreditation will start my career in Music Journalism. I have some voluntary work with some radio stations and online blog sites. I would like to say thank you to everyone at Cross Rhythms. I was accepted there and had a lovely reception. I would highly recommend them.
Rebecca completed the Radio Production Skills course in June 2014...
Rebecca says: "I enjoyed attending the course. It gave me confidence and I met new people and gained a qualification."
Sarah, the manager from Unity Residential Care Services who referred Rebecca to us says: "In addition to this I would like to extend my sincere thanks to the team at Cross Rhythms for their continued support in assisting Rebecca to complete the Pre-apprenticeship course. All too often young people who have difficulty in maintaining educational placements break them down without achieving and I believe that without the support from Cross Rhythms Rebecca would have given up and not seen the course through to the end."
Stephanie completed the Customer Service and Business Administration course in February 2014...
The reason I chose to do this pre-apprenticeship course was because I wanted to improve on my customer service skills and gain administration skills so I could move into that line of work more easily. I was advised to look at Cross Rhythms training programmes as they offered a place in there organisation where I could learn and develop employable skills. But before this I had been trying to get a job in administration for a while and with no luck I realised it was because I lacked the skills and experience needed.
After being accepted onto this course I quickly began to gain valuable knowledge immediately. I was trained in Cross Rhythms Direct shop throughout my time there and dealt with customers' orders through the online shop, the phone and through emails. This enabled me to develop multiple ways of communicating effectively to ensure the best possible customer service is given. One of the weaknesses I continuously faced before doing this course was my lack in confidence, through practicing how to serve customers I believe I am now a lot more confident which makes me much more employable in the workplace today.
I do strongly believe that the course has offered me a wide range of administration skills that I did not have before and I thoroughly enjoyed being educated in this area of expertise. Hopefully, this course has given me want employers are looking for.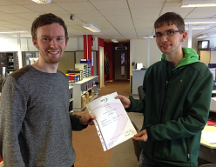 Jordan completed the Developing Radio Production Skills course in June 2013...
In college I did Music Technology. I've always greatly enjoyed the productive side of my work, putting things together, mixing & mastering sound levels and making sure it all sounds as good as can be.
After leaving college, I was stuck in terms of where I could go next. I'd opted out of the university option, and every workplace I applied to turned me down. My advisor at the JCP did her best to help me find something to do, placing me first on the Prince's Trust programme in Burslem, and then finally finding the pre-apprenticeship course at Cross Rhythms. After informing me of the course, I became very enthusiastic towards studying it, knowing it was exactly the kind of thing I was looking to do.
I enjoyed the practical side of work at Cross Rhythms, particularly the task of producing an advertisement promoting Cross Rhythms' breakfast programme. Tutor and Programme Controller Chris Mountford stated it was good enough to actually use on the radio, and sure enough, that's what ended up happening!
Another thing I liked about the units was how easy it was to transition between studying and in-course work experience, to the point where halfway through the course I was able to edit audio whilst writing an assessment about what I was editing.
What was greatly helpful about the work experience was that despite working to relatively strict deadlines with editing programmes (as you would expect in a radio station), there was no immediate rush, nobody breathing down your neck pressuring you to get this done by this time, and that done by that. Provided what needs to be done is done in time, you can take your time with your work, go over it five or six times to make sure everything's at a level you're completely happy with. Or you could take the opportunity to work ahead, and see how many programmes you can get completed in a day.
Being somebody with a learning disability, I find certain aspects of education (particularly written work) difficult. In previous education, this has dragged my overall work quality down to a barely-pass level, which given my merit-to-distinction quality practical work is very disappointing. At Cross Rhythms, however, help was available whenever I needed it, my tutor would not only explain everything in a way I could understand, but also help me look over my work and tell me what I was missing, or what could be reworded better.
The course was mixed in with work experience, which suited my 'learn by doing' approach to a T. The hours are that of a normal workday, and the workload mixes evenly with the education, neither getting in the way of each other.
Since completing the course I have stayed on at Cross Rhythms as a volunteer. Hopefully, I can use what I learned here to continue my work in media by undergoing a full apprenticeship in radio production elsewhere.
Jordan voiced and produced a radio advert for the Stoke-on-Trent City Centre Partnership and City Council, to promote the local Christmas lights switch on event. This event was sponsored by the local newspaper, The Sentinel. When they heard the advert they loved it so much they plugged it on Twitter, Facebook and their website!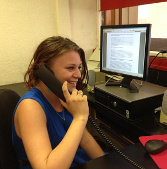 Alarna completed the Receptionist Skills course in July 2013...
The reason why I chose the Pre-apprenticeship course was because I wanted to gain more experience in customer service as well as gaining confidence with dealing with customers and delivering good customer service. I chose to do a Pre-apprenticeship as I learn better from hands-on experience and this course offered this.
The units that were covered in the course all had an input into the practical side of being on reception. The balance of the units and the work experience was really good. I liked having the responsibility of being on reception and having the independence. I thoroughly enjoyed doing the course at Cross Rhythms because I felt welcome and if I ever had any problems the staff were always prepared to help me.
Doing this course has given me confidence to apply for jobs as I feel, with the experience that I have gained, employers will give me more of a chance as I feel my age sometimes creates a barrier as employers feel I don't have the ability to work well and discard me as an applicant.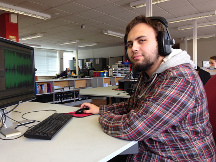 Steven completed the Developing Radio Production Skills course in October 2013...
I always had an interest in music and media but never knew how to really pursue my interest.
When I heard that the Cross Rhythms radio station was delivering a course in developing sound and audio production I thought it would be able to help me get an insight into the radio and audio production industry. My local job centre put me in touch and things developed from there.
At first I believed that the course might only help me in a few aspects of what I was looking for but as time went on by I learnt how the skills and abilities I was learning could be used in many aspects of the media industry.
During the course I made many new friends and at the same time they and the course helped me develop as a person and I became more confident not just in the work I was producing but overall.
I believe that the experiences I went through on this course are also helping me in my current job as a steward. Although they are completely different in name and description they are very close in some of the skills and abilities needed for instance teamwork.
I have developed on many fronts and enjoyed doing so and since the end of the course I have also requested to work as a volunteer. The atmosphere of the office is very comforting and relaxing and the people are nice, if I had to give a short quote about the course it would be something like "one of the greatest times of my life and I would do it all again".

More in Pre-apprenticeship Programme..