Reaping the whirlwind of secular humanism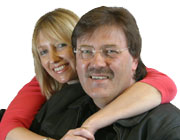 Chris & Kerry Cole
What are the consequences of a generation that has been fed a philosophy of individualism, materialism and hedonism? Answer: Emotionally wounded people, addicted, aggressive and angry. Their parents have denied God, moral absolutes and the importance of family.
Many of us burn with a desire to make a positive social impact on the world around us, to combine our business builder's brain with a social worker's heart and launch innovative projects to help our fellow man.
I have had the privilege of meeting like-minded men and women over the years who have shared a similar vision. With strong character and generosity of spirit we have built together.
What follows is a brief account of the unique nature of three organisations that have chosen to unite together to give momentum to each other as we reach for the same goal: the betterment of society. The three organisations are Cornerstone Vision - involved primarily with marketing; Gilead Foundations which is focused on rehabilitation from addictive conditions; and Cross Rhythms, who focus on broadcasting and contemporary Christian music.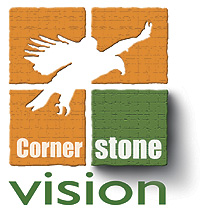 Kingdom Partnerships – a Key to Societal Reformation
The Marketing Partner
Cornerstone Vision is a Plymouth based publishing and advertising sales company offering businesses, community organisations and charities an affordable route to market through advertising and editorial in local, regional and national magazines and newspapers.
Cornerstone House was founded by Chris and Kerry Cole in 1985, growing over the next 15 years to become a regional Agency specialising in Media Buy, Printing, Leaflet Distribution and Direct Mail Fulfilment. Chris and Debbie Girdler launched Vision Communications in 1991, focused on Publishing, Corporate Communications and PR.
Chris Cole and Chris Girdler met when they both served on the board of Gilead Foundations charity, which operates a very successful residential rehab centre in Devon.
Cornerstone Vision was established in 2000 following the amalgamation of Cornerstone House and Vision Communications, which brought together decades of experience of serving the commercial and charitable sectors. Ian and Karen Pilkington had been with Chris & Kerry at Cornerstone House since 1991, and came into the new Partnership in 2002, now acting as MD and General Manager, responsible for the day to day running of the business.
Today Cornerstone Vision is a one-stop resource in Plymouth for publishing, advertising sales, design and print, as well as a range of marketing services. The Company's own publications reach 75,000 homes in the city every month with good news and features, seeking to bless the city through positive editorial, and seeking to encourage the local economy and help local businesses to thrive, through targeted local advertising.
As part of the collaboration of The Word In Action, Cornerstone Vision represents 'the shaft of the arrow' between Gilead Foundations and Cross Rhythms. We aim to serve both ministries with our marketing services and God-given skillsets where we can, as they each pursue their visions and callings, reaching into society with a media-message of real hope backed up by the ability to deliver release and sustained healing to the lost and the broken.
In Plymouth, Cornerstone Vision supports the local Cross Rhythms radio ministry, undergirding core costs through subsidised sharing of resources, as well as admin and technical support. The radio station is regularly featured in the company's monthly publications.
Rehab Comments on Marketing
Gilead says: "Using their marketing and communication skills, Cornerstone Vision have raised £150,000 to help with our building project. They care deeply for hurting and broken people. If they weren't called to be a marketing agency they would have longed to run rehab themselves. Instead of that they work strenuously to promote us."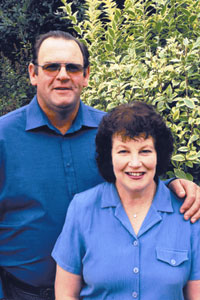 Ian & Bron Samuel
The Rehab Partner
Calling Gilead Foundations 'Residential Rehabilitation Centres' sounds so dry and stuffy when you know the inside story.
Gilead specialises in providing a warm, caring environment where people can literally find themselves lifted out of a filthy gutter and into the healthy, fresh air of a 300 acre organic dairy farm situated in the rolling green hills of Devon. The farm-based centre combines stunning physical surroundings with the security of a genuinely loving, family-based community.
Ian and Bron Samuel have headed Gilead up since they founded the work more than fifteen years ago. They and their dedicated team welcome broken and hurting people with open arms, and there are many testimonies of people who have literally been loved back to life and milked a few cows on the way!
Through a comprehensive rehab programme, which deals with the whole person and not just the presenting problem, turbulent lifestyles are restored to stability and men and women are given hope for a potentially bright future. Since 1991, Gilead have been able to help hundreds of people from all over the UK. According to Gilead's own follow up research, people who complete the rehabilitation programme have a 86% success rate measured in terms of staying 'clean' and established in life after two years. This is significantly better than the national average.
As a tried and tested model, Gilead has the potential to be duplicated not only throughout this nation but also overseas.
Expansion is being undertaken and three beautifully appointed and designed accommodation blocks have their foundations laid with the first house completed in 2013. Gilead was recently positively featured in a recent BBC news programme. In 2009, Gilead won a major financial award of £200,000 from the Communities and Local Government fund, towards the completion of the first bungalow. They are currently working hard with Cornerstone to raise finance for the remaining two. After five years of restructuring the Charity Gilead Foundations Charity now works hand in hand with the Risdon Enterprise Community Interest Company providing therapeutic help to the students who attend the Charity.
Media Comments on Rehab
Cross Rhythms says: "With so many lives being desperately caught up in addictions we are anxious to promote Gilead's work and ethos on every media platform we have. It is vital that the church at large in this nation wakes up to see the dying on their doorstep and the solutions God is providing. Those new accommodation blocks cannot be built and filled quick enough."

The Media Partner
Cross Rhythms has at its heart a desire to pump a contemporary expression of the Christian message through whatever media channel it has.
Rooted deeply in the foundations of the good news of the gospel, Cross Rhythms aims to rock the religious socks off a world that thinks that even if God does exist He's forsaken them. It does this with fabulous broadcasts nationally on FM radio stations and internationally online. Cross Rhythms launched the UK's first FM community radio station in Stoke-On-Trent in 2002. Following excellent evaluation through the Ofcom pilot scheme opportunity was given for Cross Rhythms to collaborate with groups in other cities. Accordingly in 2007 Cross Rhythms Plymouth 96.3FM began broadcasting followed a year later by Cross Rhythms Stockton on Tees 107.1FM. In July 2008 Cross Rhythms Coventry were also awarded a licence, and Cross Rhythms has a goal of ten such stations across the UK. From the 60's to today God is raising up generations who engage with the musical styles of the day. Read Cross Rhythms CEO, Jonathan Bellamys article about the Jesus Music Revolution to find out more.
Cross Rhythms has a truly outstanding and widely acclaimed website. In 2008 the site attracted nearly 900,000 unique visitors. 70% of those individual visitors are under 35, showing how effective the ministry is in engaging with a hard to reach, largely unchurched youth audience.
For Cross Rhythms there are no limits to how and where they pour their message out. They are willing to labour hard in order to crack open multi media platforms knowing that God has a mass of people all over the world who are greatly gifted to contribute to the river of good news.
Says Chris Cole, who founded Cross Rhythms with his wife Kerry: "We are passionate to see breakthrough in media for the gospel. The masses need to hear there is a God who loves them. There is a message to respond to and there is a great life to live."
Cross Rhythms is apostolic. It believes there needs to be a reformation of a generation. It knows that it can then help to lift to prominence the message from the Prophet, Pastor, Teacher and Evangelist, to help bring about this reformation.
A humble, labour intensive ministry, much misunderstood, underestimated and under resourced because sadly so often people like to support what goes on the stage and not the building of it.
Marketing Comments on Media
Cornerstone Vision says: "Our company was originally set up with the sole purpose of financing the breakthrough for Christian media. Cross Rhythms was birthed out the original vision given to Chris Cole to 'reach thousands…no, millions for Christ through media', and was carried by us for many years. It is now its own entity. Cross Rhythms is a voice in the nation which bridges church and community, marketplace and ministry, and so we are passionate that it succeeds and have laboured sacrificially to that end. We long for other Christian bodies to understand Cross Rhythms' apostolic call to help build The Kingdom of God and make it known.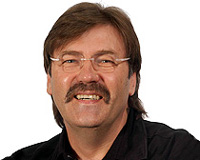 Chris Cole
Kingdom Partnerships – a Key to Societal Reformation
The Three Way Partnership
The synergy of Cornerstone Vision, Gilead Foundations and Cross Rhythms means that the combined strength of the three ministries well exceeds the sum of their individual effects.
The relationship between the three is based in the same deep foundation of The Gospel of Jesus Christ. Each respects the other and honours their unique gifting and speciality.
Chris Cole speaks for all three partners in this Kingdom Collaboration when he says: "We deeply value each other. We know that the unity forged when we combine becomes a powerful force directed at the same target, which is 'lives changed for the better'.
I believe these three organisations, working together in a spirit of co-operation and respect for each other, represent a unity that the church in this nation needs to wake up to and that the world is literally dying to see. I am proud and passionate of the faithful, time-tested relationships we have and I long to see the greater effects that such goodness can have on our society. To be effective we need each other, and we are delighted to travel together as we strive for the same goal. May we be a weapon of mass construction."
Chris Cole has recently been appointed a Fellow of the Royal Society of the Arts.

More in The Word in Action..