Supplementing its satellite radio station, Cross Rhythms launched a second station, Cross Rhythms City Radio, broadcasting on FM to Stoke-on-Trent and Newcastle-under-Lyme. Here's a fly-on-the-wall report of the launch on February 28th. Words by Tony Cummings, pictures by Ian Homer.
Cross Rhythms
11.48am Martin Purnell is a radio presenter but currently he feels more like a roadie as he manhandles sound deck, mini disc recorder, amplifier and seemingly miles of cable into Longton Methodist Central Hall where tonight's 2C7 prayer meeting is to be held and where, at 9.00pm, Cross Rhythms City Radio will begin live broadcasting. He finds the door of the Choir Room in the bowels of the building where he is to set up his equipment.
12.29pm It's been a gruelling few days for Cross Rhythms general manager Jonathan Bellamy. The launch of any radio station is problematic but getting Cross Rhythms City Radio up and running by the advertised launch date had only a few days ago looked impossible. Delays in the authorities giving Cross Rhythms its frequency details; the non-arrival of key pieces of vital technical equipment; the unrelenting financial pressure as Cross Rhythms pushed to find enough "Friends" to finance its expansion; all could have scuppered the launch. But as Jonathan makes the 21st phone call of his day, checking with volunteer Russell Shenton about the details of the giant screen video equipment to be operated at the Longton launch, it's clear that his enthusiasm remains undented. "God's all over this," he enthuses before launching into yet another phone call.
2.11pm Sam Oliver is hunched over the sound desk, soldering a spaghetti-like morass of wires. He's on the second floor of Conway House, Hanley, a building which is soon to house the whole Cross Rhythms ministry but which, until June, is still the home of BBC Radio Stoke. For the moment, Cross Rhythms has one solitary radio studio at Conway House. Sam and his technical whiz confederate Peter Leach had hoped to have this studio up and running by launch date. But a non-functioning studio transmitter link has scuppered that plan. Not that Sam's workload looks any less easy. The first week of CR City Radio broadcasts will now emanate from Cross Rhythms soon-to-be-vacated HQ in the UCB complex in Hanchurch in the south western edge of Stoke-on-Trent. Sam and Peter have another week to get this temporary studio operational.
3.46pm Hunched over a desk seemingly two feet deep in papers, CDs, mini discs and more papers, Cross Rhythms programme controller Steve Perry gives a final check to Selector, the artful computer programme which shuffles the selected album tracks into coherent programmes. Steve, a wise old radio head aged 28, is the man given the unenviable task of driving the launch programme through its morass of outside broadcast live bits, recorded bits and in-the-studio live bits.
5.20pm Two minutes after Martin Purnell has finally got the sound engineer's "one twos, one twos" coming loud and clear through his sound desk his mobile rings. Cross Rhythms CEO Chris Cole is wanting a progress report. "The ISDN line isn't working properly and I'm only getting mono." As the planned live portions to be broadcast are to feature speech and crowd, they both agree they can live with this latest technical problem.
7.15pm Crowds are flocking, with tangible anticipation, into the Longton Central Hall. "Repentance, humility and prayer," reads the strap line on the 2C7 map many hold. Clearly, such a prospect can draw a crowd in Stoke-on-Trent.
8.10pm From Longton Central Hall's raised platform, Robert Mountford brings a gripping history of Longton - the factory owners growing rich on the toil of the men, women and children in the "pots and the pits"; today's deadening pall of social deprivation and apathy; the presence in Longton of one of the biggest spiritualist churches in the UK. Suddenly we're all praying against "the giant of idolatry" that has gripped the area. We repent from the idolatry in the Church - the personality cults, the materialism, the worship of worship. Over on my left a bespectacled lady weeps.
8.56pm Chris Cole is introduced to the platform. He tells the crowd Cross Rhythms have not been called to be Christians playing at media, or evangelical entertainers, but to be missionaries to our culture. "You may not like all the music we play, we seek to be relevant to today's youth culture. But we hugely value your prayers." As he speaks, 10 yards above him Jonathan Bellamy and Russell Shenton gaze at a monitor which is counting down the seconds to 9.00pm. Three minutes eleven, ten, nine...
8.59pm Chris Cole glances behind him and sees that the countdown numbers are now up on the giant screen. He says, "So if you want to, count down these last few seconds to the start of what I believe is an historic broadcasting moment. 10, nine, eight..." As the number goes down, the shout from the crowd gets louder. As it reaches one a roar, a huge cacophonous roar, bursts forth from the crowd. The cheering and stamping and clapping goes on and on. Over the tumult Chris Cole strives to make himself heard.
Stoke On Trent: Holy place - on the river
Stoke-On-Trent, the city chosen for Britain's first FM Christian radio station, is a place with an intriguing history.
In a recent survey Stoke-on-Trent was named as the place in England and Wales where people least wanted to live. High unemployment, high urban deprivation, high crime, Stoke-on-Trent is an unlovely sprawl of traffic-snarled streets, mean terraced houses and concrete anonymity. A city cobbled together by bureaucrats out of six towns - Hanley, Stoke, Tunstall, Burslem, Fenton and Longton - it today still remains in the shadow of the industrial revolution. Then, the city suffered with downtrodden workers, child labour and pottery kilns spewing forth life-shortening filth, a place of chronic alcoholism, coarse language and casual brutality.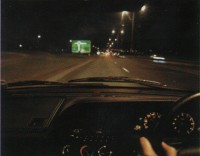 Amazingly, though, Stoke was also a place where spiritual light would, sometimes, pierce the darkness. Its very name when translated from the Celtic and Anglo-Saxon means "the holy place on the river." It's proven to be prophetic. Between 1760 and 1790, John Wesley visited Stoke-on-Trent 15 times and strong churches were built up amongst those Wesley called the "poor Potters". In the 1880s a young evangelist, Gypsy Smith, asked General William Booth, the founder of the Salvation Army, to send him "to the nearest place to the bottomless pit." Booth sent him to Hanley, Stoke-on-Trent. And it was in Stoke that the fiery preacher saw thousands won for Christ.
Now today something spiritually new is stirring again in the city. Christian radio pioneers United Christian Broadcasters have been based in the city since 1986. Cross Rhythms joined them there in 1997. And most excitingly of all, the Saltbox Christian Centre, a visionary organisation committed to networking Christians and church leaders across the Potteries, has overseen monthly prayer meetings for Stoke-on-Trent. These meetings, named 2C7 (after 2 Chronicles 7) are a phenomenon. With no advertising they are now drawing 700 Christians from over 60 different Stoke-on-Trent churches, to call on the Lord in intercession for the city. It was at the 2C7 meeting in the cavernous edifice of Longton Methodist Central Hall that Cross Rhythms City Radio was launched.
"We're broadcasting live from Longton Methodist Central Hall, with over 500iChristian people gathered together. You're listening, across Stoke-on-Trent and Newcastle-under-Lyme, to the UK's very first Access Community Radio Station... This is Cross Rhythms City Radio 101.8FM -the new sound on the street!" Another roar bursts forth louder, if possible, than the previous one. The Delirious? track "Did You Feel The Mountains Tremble" is introduced and the words of Martin Smith's classic anthem are shown on the screen. Every man and woman in the hall sings at top volume. Many present FEEL the mountains trembling.
9.00pm The crowd stand transfixed by a video put together by Russell Shenton. One image, an aerial shot of a city with an epicentre spreading outward in ever widening circles, perfectly catches the vision of a militantly Christian radio station covering the whole of Stoke-on-Trent. The crowd breaks out in a fresh bout of spontaneous cheering.
9.15pm From the platform a slightly dazed looking Chris Cole makes his last link. "We're running straight through until midnight on Cross Rhythms City Radio with this launch programme. So now its back to Steve Perry and a great song from The Tribe called 'Frantik'. Take it away Steve."
9.15pm Back at Hanchurch, Steve Perry touches the screen on the studio computer and the first socking notes of "Frantik" crack over the studio monitors and out to the city of Stoke-on-Trent. The Manchester musicianaries spell out the truth. "Too many times I focus on myself, look to the inside and all the times I fail, oh I look at you, your face and all my failings pale into insignificance."
12.08am It's past midnight but nobody wants to go home. The Hanchurch Christian Centre complex has a definite party atmosphere. Chris Cole is on air pushing out hot cuts from the Newsboys, Creed, Jennifer Knapp, dba and P.O.D.. Jonathan Bellamy arrives, not with champagne, but sandwiches and coke. On air, Mike Farrington gives a powerful testimony of being called to broadcast. Throughout, the phone lines are busily flashing and a stream of messages from listeners are being read out on air. "You're coming through loud and clear in Cobridge." "I was at the prayer meeting tonight. I'm really praying for what you're doing though I have to stop listening now as the music's doing my head in." "I want to become a Friend of Cross Rhythms." "What was that track you played by the DNA Algorithm with Daniel Bedingfield?" "I'm so excited about what God's doing here in Stoke-on-Trent." Tonight, this very special night, we all are.

The opinions expressed in this article are not necessarily those held by Cross Rhythms. Any expressed views were accurate at the time of publishing but may or may not reflect the views of the individuals concerned at a later date.
We welcome your opinions but libellous and abusive comments are not allowed.