Tony Cummings spoke to the Japanese musical phenomenon known as the IMARI TONES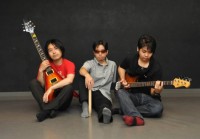 Imari Tones
You couldn't make it up - a Christian heavy metal band based in Yokohama, Japan! The Imari Tones aren't a new phenomenon either. They have been active for seven years and their latest album 'Victory In Christ' shows that Tak "Tone" Nakamine (vocals, guitar), Yuki "Hassy" Hashimoto (bass) and Hide "Jake" Yamazaki (drums) are powerful communicators of spiritual truth. So how does a band of outspoken Christians operate in one of the least-Christian nations on earth? Tak spoke to Cross Rhythms about the Imari Tones' spiritual challenge. "It's certainly difficult in Japan, to be a Christian rock band. It would have been easier if we were an acoustic pop band. We know that. But this is not something we planned. It just happened this way. Basically we are just a rock band. But we are a band with a mission. Only God knows the whole plan but we are trying to change our country Japan in a drastic way. We want to spread Jesus here in Japan. But the most important thing for us is to play the best music for God."
The Imari Tones have a long and involved musical history. Explained Tak, "Our official profile says the band was formed in 2004. That's when we became a 'REAL' band. However, the music itself existed earlier than that as my solo (experimental) recording project, which began in 1998."
The independent releases 'Through The Garden Of Gods' (recorded 1998), 'Prototypes' (1999), 'Kodomo Metal' (1999) and 'Entering The New World' (2001) were followed by the "official" birth of the Imari Tones - "imari" referring to the Japanese porcelain art which was produced in the 17th century and also to Tak's wife who is called Imari. The group released the albums 'Hero Of The Lights' (2004), 'Heterogeneous Species' (2005), 'Reluctant Savior' (2005), 'Color Of Hers' (2005), 'Fireworks' (2005) and 'Japanese Pop' (2006). But then the group underwent a monumental change. Explained Tak, "We were not a Christian band back then (hey, it was in Japan and we were ordinary Japanese people. How could it be possible?). However, I think we had some spiritual purpose, like, 'We gonna save the world with our music!' LOL. But we didn't know exactly what it was. But then we found someone called Jesus. In December 2007, I met a Christian singer/songwriter and I was so impressed by his music. The message about Jesus made perfect sense to me and I became a Christian. I said to the band, 'Okay, now we gonna play Christian rock' and other guys said, 'Okay maybe. . .well it's not bad. . .Oh my God, hallelujah Jesus!' It was like that."
With their new approach to music and indeed life, the band released the albums 'Welcome To The School' (recorded in 2008) and 'Victory In Christ' (recorded in 2009 and 2010). Now another album 'Japan Metal Jesus' is planned for 2012. Tak spoke about the 'Victory In Jesus' project. "It was after our first USA tour that some inspiration came to me. It said, 'Now you can make a REAL hard rock album for God'. We wanted to do our best songwriting, most difficult song structure, most skilled playing, and we wanted to do handcrafted independent recording. And that is what we did. People seem to love 'Faith Rider' and 'Love Is To Do Something No One Dares To Do'. But from my point of view my favourites are 'Precious', which has nice riffs and nice rhythm changes. And the message the song has is so positive. It's an Isaiah 43:4 song. Everybody writes songs based on that verse, but our version sounds different, I think.
"Then there's 'God Kids'. It's a result of mixing different styles. It's got a hard rock sound but songwriting is more like a guitar-pop and indie-pop. It's saying, 'Don't preach, I just want LOVE!' It's a song about being like kids before God. It's something like a Luke 18:16 song."
The recent Japanese tsunami tragically catapulted the nation of Japan to world attention. How did the Imari Tones respond to the tragedy that blighted their nation? "We were in the midst of preparations for a tour of the USA when the earthquake and tsunami happened. It was our regret that we could not visit the Tohoku region (the area hit by tsunami) quickly, because of the tour. But we did some benefit activity at every concert we did in the USA. We asked people to donate to a Christian organization working on tsunami relief in Japan. Also, in a spiritual manner, we felt God's plan. We have been praying for a change in Japan. And this thing happened. We were puzzled because we wanted a change, but not in this way. But it's true at least after March 11th, Japan is changing in many ways. People need God more than ever. I read the book The Bell Of Nagasaki and I felt the same thing the author felt about the atomic bomb. The Tohoku region was not hit because they were bad or sinful. Tohoku was hit by the tsunami because they were beautiful people, as a holy sacrifice, to make this country better. I want to think that way, because I want to believe in God's plan."
Tak's final comments were on the Christian life. "Serve each other. Forgive each other. Trust each other. We are far from perfect, very weak and small, but we are all children of God! So believe in each other, all the time. And, have fun just like you are in Heaven!"

The opinions expressed in this article are not necessarily those held by Cross Rhythms. Any expressed views were accurate at the time of publishing but may or may not reflect the views of the individuals concerned at a later date.
About Tony Cummings

Tony Cummings
is the music editor for Cross Rhythms website and attends Grace Church in Stoke-on-Trent.
Reader Comments
We welcome your opinions but libellous and abusive comments are not allowed.