Thursday 10th January 2019
Paul Poulton on whether Piers Morgan is always right, and asking God the big questions of life.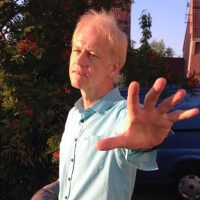 Paul Poulton
The TV programme Good Morning Britain recently held a survey asking "Is Piers Morgan Always Right?" Lord Sugar responded with a tweet, "Piers once thought he was wrong but he was mistaken."
Over 39,000 people taking the survey thought that Piers was always right, even more thought he wasn't always right, (the fools).
The survey seemed to arise when Piers Morgan claimed the band Little Mix was using sex to promote their song, 'Strip'.
The publicity for the song shows the women naked with insults written over their bodies. The band themselves claim the imagery represents their flaws and "how far they've come" on a journey towards "self-love." Piers, never short of a comeback, stated that the US band Dixie Chicks first came up with the idea anyway, and he would prefer if Little Mix used their talent, rather than their nudity, to sell records.
Piers' occupation is a tough one: having the correct view on so many subjects can't be easy. In one way he has an extremely hard job on his hands.
Sometimes I, myself, have thought I was correct but bitter experience taught me that I was wrong. I find myself saying "I can't believe it" and yet thinking "but it's true."
Making an error of judgement is human: John Lennon's aunt Mimi was dismissive of John's talent for music telling the young Lennon that "The guitar's all right John, but you'll never make a living out of it." Dick Rowe an A&R man for Decca Records is reputed to have said "guitar bands are on their way out" and consequently did not sign the Beatles. Unfortunately Piers wasn't born when these fallacious statements about the Beatles were made or he may have been able to help put Aunt Mimi and Dick right.
But it's not just the music industry that is littered with mistakes; human error is distributed evenly in every area of life. Perhaps we are not supposed to be right in everything! And maybe believing that we are right and that everyone is entitled to a slice of our opinion is what the proverb warns us of when it says, "Pride leads to disgrace, but with humility comes wisdom."
I've heard some people say that they wish they could have an audience with God and ask Him a big bunch of questions; they would then get the correct answer to many of life's big questions.
But that doesn't seem to happen, even in the Bible people rarely get to know everything they have questions about. God's answers can seem elusive and He often speaks to people in dreams. Why not face to face? He did with Moses, but not me or many other people I know.
I had a dream the other night about someone I know and when I woke up I noticed that my heart was touched regarding that person. As I went through the day I still had the soft heart towards that person that I had in my dream. Then I realised they were actually quite a valuable person in my life.
Dreams have the power to change our emotions. That's probably why God speaks to us in dreams because our intellect can't get in the way. He uses dreams to go straight to our heart. When I'm awake my own thoughts and intellect may stop me being kind to someone who has hurt me in the past. But when I'm asleep my reasoning is safely out of the way and my heart can change.
King Solomon was wise, even wiser than Piers Morgan, surprising though it be. As a young man Solomon was given a choice to ask for anything from God. Solomon decided to ask for wisdom to govern the people correctly. God then said, "Since this is your heart's desire."
I can't help but notice that God asked His question to Solomon in a dream. He went straight to Solomon's heart and found the answer He was looking for. Solomon ended up with the wisdom he asked for and much more besides. Perhaps if Solomon had been asked the question while he was awake the answer may have been different.
We may want to ask God a whole lot of questions, but it seems that God is really interested in asking us questions, and He often asks them straight to our heart.

The opinions expressed in this article are not necessarily those held by Cross Rhythms. Any expressed views were accurate at the time of publishing but may or may not reflect the views of the individuals concerned at a later date.
About Paul Poulton
Paul
is a singer/songwriter, author and speaker. He records and tours solo and with his band, the
Paul Poulton Project
in the UK, US and Europe playing rhythmic and expressive songs. He has written four books including "Genesis for Ordinary People."
View all articles by Paul Poulton
Reader Comments
We welcome your opinions but libellous and abusive comments are not allowed.