Wednesday 21st December 2016
Where is disappeared Christian lawyer Jiang Tianyong? Release urges China to reveal his location and make assurances he is not being tortured.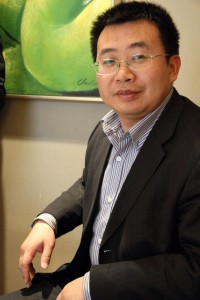 Jiang Tianyong
It's one month since Chinese Christian human rights lawyer Jiang Tianyong went missing (Nov 21). Release International is calling on China to declare where he is being held and to give reassurances that the missing lawyer is not being tortured by the authorities. Release partners fear he may already have been tortured.
The outspoken lawyer disappeared on his way home from visiting the wife of another imprisoned attorney, Xie Yang. The official Chinese media says Jiang is accused of handing over state secrets to foreigners.
He was held at a secret location in one of China's so-called 'black jails', an unregistered detention centre. He has been denied any legal representation. Although the authorities claim to have released him, his whereabouts are unknown and his family have not been told where he is.

Clampdown on lawyers
Jiang Tianyong, who's 45, is the latest in a long line of lawyers to be 'disappeared'. Since 2011, China has been clamping down on lawyers, who have legally defended human rights cases and opposed tearing down church crosses and demolishing churches.
Since July 2015, China has rounded up and detained more than 230 human rights lawyers and activists. State-controlled media has mounted a high-profile campaign against them, branding them as both corrupt and criminal.

Human rights campaigners Lie Feiyue and Huang Qi were also seized in November. Many of the lawyers who were rounded up were standing up for justice because of their Christian convictions.
China's Legal Daily website reports Jiang is accused of being 'in possession of documents containing state secrets' and claims he 'illegally handed over state secrets abroad.'
The Chinese authorities accuse lawyers of spying or acting against national security to take them out of circulation and silence them. By charging Jiang with offences against national security, the authorities can detain him without notifying his family or letting him see a lawyer.
Torture
China's Legal Daily said he had 'confessed to the crimes'. But the UN say Jiang's disappearance may be linked to a meeting with UN officials in August and warn he could be at risk of torture. Both his wife and Release partners believe he may already have been tortured into making a false confession.
'Forced confessions are common, and in the case of Christian lawyers, often extracted under extreme intimidation and torture,' says Paul Robinson, the Chief Executive of Release International, which supports persecuted Christians around the world.
'Jiang has courageously stood up in the courts to call for justice. He has worked lawfully within the Chinese legal system at great risk to himself. What does this say about a nation when it kidnaps, intimidates and even tortures its human rights lawyers?
'Release calls on China to disclose where Jiang is being held, to allow him legal representation and to assure the international community that he is not being tortured into making a false confession.'
Predicted his disappearance
In an interview with Release International before his first disappearance in 2011, Jiang shared his concern for other lawyers who were being intimidated. He described the key role played by his Christian faith in risking his life to stand up for justice.
He also predicted his own disappearance and asked for Christians to pray for him and his family.
Release Chief Executive Paul Robinson says: 'It's deeply worrying to see a nation such as China rounding up its lawyers, and claiming it is doing so to uphold the rule of law.

'Release is adding its voice to the growing numbers calling for the immediate release of Jiang Tianyong. As a growing world power, China should embrace, rather than oppose, those who stand up for justice and righteousness under the law.'

The opinions expressed in this article are not necessarily those held by Cross Rhythms. Any expressed views were accurate at the time of publishing but may or may not reflect the views of the individuals concerned at a later date.
About Release International
Through its international network of missions
Release
serves persecuted Christians in more than 30 countries, by supporting pastors and Christian prisoners, and their families; supplying Christian literature and Bibles; and working for justice.
View all articles by Release International
We welcome your opinions but libellous and abusive comments are not allowed.