Australian musician, ALISON POOLEY, tells how she was touched by a '80s worship chorus.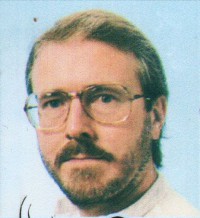 Dave Bryant
The warm air hung heavy over the congregation. A myriad of lights from surrounding tenement blocks began to appear, seen through the open-sided meeting place. We all stand, unaware of the surroundings or the sweating bodies, in an atmosphere charged by a sense of God's presence.
Chinese and European alike; long-term workers, ex-drug addicts, the poor and those of high rank. Jackie Pullinger's message had demanded a response. To be "willing slaves" was deeper and more demanding than even partial service to Christ. It meant, as it were, "to have one's ear pierced with an awl" - life-long servant hood. Symbolically, touching our earlobes, we made our commitments standing together.
John Perry, out in Hong Kong for five weeks to perform, teach and lead worship, began to sing that evening the lovely Dave Bryant chorus "Such Love". As I listened my mind raced back over the events, which had caused me to give up a safe orchestral musician's existence in London to join YWAM that September in Hong Kong. Then, as the song progressed, the words came suddenly alive. As I looked around at those gathered I could see the visible results of those moved by God's love, who had become willing to share their lives and endure hardships for the sake of others. As the song continued, the lyrics reminded me that I needed to have total trust in God. He would not fail me in those circumstances, far away from family and friends.
Finally, I was prompted to place my violin down and to symbolically turn my back on it, knowing that if God wanted to fully use me He would have to give it back to me. He did so.
Though my seven months in Hong Kong, several spent with St Stephens' Society, working with Jackie Pullinger and her team among the addicts and outcasts of the city, the song stayed with me.
Little did I realise then that 18 months and several continents later, I would be back in England as a fledgling "musicianary" even, on occasions, working with the same John Perry! So many things had their beginnings that night in Hong Kong when "Such Love" began to play.
SUCH LOVE
Dave Bryant
Your love has conquered, has set us free
To become all you've called us to be
Healing the wounded, making us stand
Bringing peace and a sword in our hand
And no power in the universe
Can't separate us from the love of God
We're yours forever with nothing to fear
Willing slaves to the love that brought us here
Such love, such grace
Makes the pieces come falling into place
Breaks through the darkness
Turns on the light
Making blindness give way to sight
® 1982 Thankyou Musk, PO Box 7S, Eastbourne, BN23 3NW.

The opinions expressed in this article are not necessarily those held by Cross Rhythms. Any expressed views were accurate at the time of publishing but may or may not reflect the views of the individuals concerned at a later date.
About Alsion Pooley
Alsion Pooley is an Australian-born professional violinist currently living in North London.



Reader Comments
We welcome your opinions but libellous and abusive comments are not allowed.