Friday 13th November 2009
Tony Cummings reports on urban gospel singing sensation JADE HARRELL
Jade Harrell
Only a handful of debut albums make the impact that 'Class Reject' by Jade Harrell has made since its US release on 2nd June. Maybe it was the fact that it was on the new label Revolution Art owned by hip-hop pioneers Grits that attracted urban music fans' attention. Maybe it was the accompanying press release telling us this 20 year old Dallas-based talent had begun her solo career at age five and by the time she was 13 was singing background vocals for various artists. But most likely it was the sheer quality - and diversity - of 'Class Reject' that attracted critics' praise and considerable airplay. From sassy urban beats, to club grooving electro and even an old school Motownesque track Tony Cummings is convinced could make it on the Northern Soul scene, 'Class Reject' is packed with good stuff. Mike Rimmer met up with the singer in Nashville and began by asking her whether she had been a "class reject". Jade responded, "I just did not fit in. I had some good days, but I had more bad days. 'Class Reject' actually came about from that, and also I'm thinking 'Ok, I'm a Christian'; so I've faced a lot of persecution from the world because sometimes being a Christian is not easy. It's not easy to come out 'I'm a Christian', because the world would watch every move that you do and would say 'Oh, that ain't too Christian'. So just because I am a Christian and I am a child of God, I'm automatically rejected by the world, and just having experience of life - life is just like a big class room - so, I'm a class reject! So that's how the title came about."
Her album was produced by the president of Revolution Art, Mo Henderson. Said Jade, "Morris Henderson - an awesome dude - he's like my second dad, he really is, I love him to death! And after he came up to me (we hadn't even worked together for a year) we started working together, exclusively in the studio, nothing else. Sooner or later, Coffee and Bonafide (Grits founders Stacy Jones and Teron Carter) came along and said, 'Bring her on to the new label' and I was like 'Me? You want to work with me?' So it was just a blessing and they were like, 'Yeah, we want to bring you on board' and I was like 'Great! I'm finally going to be a solo artist.' It's been a long time coming. It was hard making that transition from background singer to solo artist, it really was. And I was just honoured that they would even think of me because there are a million other artists out there, but they chose me."
One of the unexpected musical twists and turns on 'Class Reject' is the reggae-orientated "Rain". Jade spoke about the song. "My cousin's best friend was killed in a car accident, she was only 16 or 17 years old. A helicopter came to fly her out, then the helicopter crashed, killing everybody. For a long time my cousin was just blaming everything on herself. She'd say, 'If I'd told her to stay home, nothing would have happened', but I'm just like 'Babe, sometimes you don't understand why God allows some things to happen, but even though there's rain, even though there's pain, don't be afraid to let go because God is in the rain'. And it was amazing, because I hadn't even talked that much to her, but she said 'Jade, even in the midst of all of this, there's something God is showing me, there's a purpose there for my life, and I'm not too young to serve the Lord.' Because you never know when it's going to be your last day. That's the message in the song, even if there's rain, even if there's pain, don't be afraid to let go, don't be afraid to be vulnerable with God because he's in the rain, in your worst times, he's in there."
Another hot track on the album is a duet with Ayiesha Woods, "Who You Are". "It's basically talking about when I look in the mirror what can I see? It's such a beautiful thing. How a caterpillar turns into a butterfly - because as I said, I didn't fit in at high school (or elementary or middle school either), so I had no clue who I was. I didn't like who I was, so I made up these different personalities that I thought would kind of work but it never did. As I got to know the Lord and I got to know myself, that's how I became comfortable with who I am. The song is basically saying, 'Hey, do you know who you are, because it's a beautiful thing to know who you are - when you look in the mirror do you like what you see?' It's very empowering - I love it."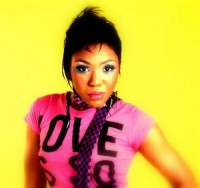 Another unexpected track on 'Class Reject' is a cover of the old Doobie Brothers song "What A Fool Believes". Explained Jade, "My producer Mo came up to me and he was like, 'We should do a remake of 'What A Fool Believes' by the Doobie Brothers'. I said, 'I know who the Doobie Brothers are, that is weird. Do you think I could pull that off?' He said, 'Let's try it'. And it came out really good. I didn't murder it. I turned it into a girlie song. I made it a chick song."
Equally impressive is Jade's dance-orientated "Me And My Radio". "That was a track we got from a producer in Detroit. I was listening to it and thinking, 'This is okay. I've never really written to anything like this.' It's really a techno/dance/electronica type song and me and my producer got together and had ideas, and that's how it came about. It's just like talking about not having to conform to the ways of the world, and not having to go in clubs just to have a good time, because Club Jade pops up in my room almost every night - strobe lights and everything. So it's really about me being confident enough in myself to have a good time by myself - I really don't have to compromise anything about myself to have fun."
Jade grew up in Middleburg, Florida, a rural community close to Jacksonville. She giggled, "I grew up with chickens in the yard, dirt roads, real country. . . One time there was a baby alligator under my mum's car. We were taking out the trash and the next thing you hear is 'Sssss', and I'm like, 'Oh my gosh, what is that?' So we called Animal Control and they came and got it by the tail and the mouth, and they asked if I wanted to pen it up, but I said, 'No, get it out!'"
Both of Jade's parents are committed Christians. Remembered Jade, "We grew up as Missionary Baptists and then as we got older we moved to a non-denominational church. My mum was a church clerk, she's the first ladies' assistant and she's in the church all the time, so I have a strong Christian background. I started taking it very seriously aged about five - ever since I can remember, really. You wouldn't think five year olds would know enough about it, but I honestly did not want to go to Hell. So I wanted to do it - I really felt compelled. And then as you get older and you move into the teenage days - 12 or 13 - you want to try some new things. You try to rebel a little bit. So that's when I went into my whole rebel stage, when I was going to church because I had to. I think I started getting truly serious in my relationship with God when I was about 15 or 16, because that was when I was going through a lot of things in school and I did not fit in. I'm telling you that right now. I was the girl to pick on, you know, and it took a toll on my self-esteem a lot, and I found myself being alone a lot and that's when I started to get to know God. As I got to know God, I got to know myself, and that's when I became really serious about it."
Jade is determined that her music will reach beyond the confines of the Church. She said, "I could just sit here and have a bunch of beads and cool songs that a bunch of Christian kids would like. But I feel I really want to get this group over here who don't know Christ. I really want to appeal to them and pull them in. Songs like Beyonce's have a nice beat to them, but they're talking about how you want to do what the world does, and you know you can't. You want to straddle the fence but you don't want to falter. I know so many kids like that. Even kids that are not Christians, but they know there's something more, there's something better for them. They don't know where to look. I feel like I just want to reach out to those lost kids and relate to them. I definitely want to build bridges, rather than sit here and shove Jesus down people's throats - that's not how you get to everyone. I want to be like, 'Hey, this is Jade, and this is what God is doing in my life', and show the cookie, crazy eclectic side, and they'll say, 'Oh that's nice' and they'll want more. And the more they want, the more I can yell back - you have to give the baby milk before you give him meat. So, just slowly, gradually, open them up to that side."
Jade feels that she has a particular insight into the trials and challenges of teenage girls. "I would say that when you're praying to God for strength, be careful how you say that, because sometimes you pray and ask God for something, and it doesn't come in the way you want it, it comes in tests and trials sometimes. I've been through some stuff where I've really had to develop some tough skin. And it's got to the point where, as I've gotten to know myself more, and know what Jade likes, and who Jade is, I've better understood why people picked on me - it wasn't because there was anything wrong, it was just because I was different. Sometimes kids can be so cruel - they see something different, they automatically intimidate it. By understanding that now, I can better take criticism, I can better take it when someone says, 'I don't like that about her'. And I'm surrounded by guys too, like Grits, like Stacy Jones - they give it to me straight all the time, all of them. So they're pretty good at setting me up to have tough skin, and I'm just blessed to be around people like that."

The opinions expressed in this article are not necessarily those held by Cross Rhythms. Any expressed views were accurate at the time of publishing but may or may not reflect the views of the individuals concerned at a later date.
About Tony Cummings

Tony Cummings
is the music editor for Cross Rhythms website and attends Grace Church in Stoke-on-Trent.
Reader Comments
We welcome your opinions but libellous and abusive comments are not allowed.