With the release of the 'Subscribe To The Vibe' album! Britain's top nightclub ABUNDANT showcases a bevy of top dance produces. DJ Coopoid reports.
Ikon: aka Paul Cooper
Abundant is probably Britain's premier sanctified dance club, with over 300 clubbers attending each monthly event. It was recently featured in a double page article in one of the more respected national daily newspapers; its third birthday was celebrated in July; the club will again be running a venue at the Greenbelt festival this August; and an album has recently been released to capture the vibe of the club on CD.
'Subscribe To The Vibe' is a fulfilment of the dreams of Abundant's founder Steve Baker, who's been a Christian for about five years and a DJ for 10. He runs the club with a team of about 10 people and is now in partnership with the Dbass record label, which was formed a little over two years ago by Tim Riches from the band Synergy. This was the fulfilment of a long term dream of Steve's as he had been, in his own words, "keen to integrate my life in (he dance scene with my faith."
The point of the album, in Steve's words, is to "basically try and create the vibe of the club. We talk a lot about vibe: it's basically an atmosphere or feeling where people can really enjoy themselves and have a safe place of expression. The album tries to combine the dance floor sound with the gospel sound. Taking God onto the dance floor!
'The tracks on the album," continued Steve, "have been written by DJs at the club and other producers who have a working relationship with the club, while a lot of the vocals have been done by the Voices Of Praise gospel choir based in Leeds."
Eastbourne-based singer Steve Marriot-Johnson did most of the solo work, a large portion of vocal arranging and not an[inconsiderable amount of lyric writing for the album, making the whole thing a collective collaboration of talent from over 15 individuals! Here's the lowdown on many of them:-
STEVE MARRIOT-JOHNSON
Steve Marriot-Johnson is probably a new name to even the most avid of Christian music fans. However, it's by no means his first release, as he's gained a wealth of recording experience around the studios of the Sussex coast, singing on all kinds of different projects.
This has been the most exciting and fulfilling session yet, as Steve enthusiastically explained. "They're the first gospel tracks I've been involved with and I love it. It's fantastic - it's where l come from, it's my background. Unfortunately, with most of the music business, I get involved with singing about other things, which is great and I love doing that, but this is closer to my heart and was a fantastic experience."
Listening to 'Subscribe To The Vibe', you can really tell that Steve was singing with a lot of passion. So what made it different from any other recording session? Steve continued, "It was really an expression of my faith and all the songs were saying things that are close to my heart. I felt for the first time in music that I was being released in God really, and in the Spirit. The energy that was in the studio while we were recording was just fantastic. You could really feel the Holy Spirit there. I would love church to be like that, with all the uplifting dance music!" I think Steve's not alone there!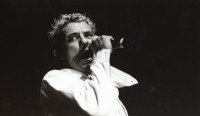 Quipo: aka Cameron Dante
There was a tight deadline for producing the album, so the vocals were recorded rather swiftly in the Leeds Dbass studio, laying them down on top of the pre-produced instrumental tracks. Spending just one day (or one night) on each cut, sometimes the lyrics were made up on the spot, as Steve recalled, "Because we made this album on a shoe string budget (though I'm really pleased with the quality and the packaging), some of the songs were written in the studio. We got the music and thought, 'Oh no! There are no lyrics for this!', so we made them up in the space of about two hours or something. However, some of the songs I wrote at home in Eastbourne."
Steve continued, "My inspiration came from my own experience with God and examining who I am in Christ and thinking who God wants me to be. They're all very positive lyrics."
Track four on the album, "Set Me Free" by Myth particularly means a lot to Steve, as he explained. "We actually did that track at about four o'clock in the morning. I wrote it in London. It talks about the time when I'd just become a Christian but hadn't really thought about what it meant. I had a pretty heavy drug problem amongst other things and I prayed, 'Lord, I really want to sort this out. I don't want to be dependent on these drugs any more. I want to be dependent on you.' At the end of the next day I realised that I hadn't taken any drugs. I'd forgotten about them, and so I was healed. That was probably the most special time of my life, a time that I'll always remember when I knew God to be real and just pretty wonderful all round! So the song goes, 'Set me free/In chains I stood before my maker/Head in a mess, heart full of distress/Someone to trust, someone to care/Who understands and breaks the chains that bind.' I hope that as people listen to it, whatever they're going through, they can really feel a sense of God setting them free."
T WAC and QUIPO
The name T Wac first appeared on the Preacha 12" release of "Bring Me Joy" as a remix name for Cameron Dante and fellow Message Tribe member Zarc Porter working together. It means The Wide Awake Club! Quipo is the remix name Cameron has given himself and Matt Wanstall. It is simply Spanish for equipment.
Steve Baker met Cameron soon after he became a Christian about two years ago. Steve recalled, "We shared dreams and there was a natural synergy between us as we'd had similar experiences in our lives. Since then we've been trying to find some way to work together and I'm really pleased he's now been able to do some stuff for us."
Cameron continued the story, "I was approached by Rebecca, who runs the PR and management side of Abundant. We get on well and she told me they had a certain amount of time to put a project together. It was done very quickly: in the studio one night; mixed it the next day, sent it off! It was great working the Voices Of Praise though. They're so fired up for God. Especially Steve Marriot-Johnson who sang on 'Warning'. He's an amazing guy!"

We welcome your opinions but libellous and abusive comments are not allowed.