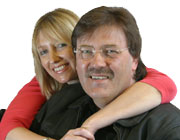 Chris and Kerry Cole are the Founders of the Cross Rhythms media ministry and have been married for over 33 years; they have three daughters aged 28, 25 and 15. Kerry has spent most of her time supporting Chris and home schooling their children.
They founded Cross Rhythms in the mid eighty's. Initially financed from their marketing company Cornerstone Vision, Cross Rhythms has grown to be recognised as one of the pioneering media initiatives proclaiming Christ into the mainstream marketplace. They were awarded the first Community radio licence by the government in 2001 and have been outworking a vision to pioneer a 'new apologetic' for Christian media in the marketplace. In later years through collaboration with a group called Spirit of Plymouth the Cross Rhythms Plymouth FM station was launched; and in collaboration with Tees Valley Christian Media the Cross Rhythms Teesside FM station was launched.
The success of Cross Rhythms has been firmly routed in a prophetic word given by the Lord to Chris Cole in December 1981. This success, therefore, can only be credited to the initiative of Jesus Himself and the faithfulness of the Cross Rhythms community which God has built.
This 'prophetic word' was that Chris would be used 'to bring thousands, no millions to Jesus Christ through media' and it was given by Dr. Fred Ladenius, a man instrumental in helping Chris through his conversion experience.
At the same time the Lord used a song from Bob Dylan's album 'Slow Train Coming' to deeply minister to Chris. This track, 'Gotta Serve Somebody', powerfully rooted Chris's heart into the value of the Jesus Movement - a deeply significant movement that birthed contemporary christian music, culturally relevant music carrying Christian spiritual content that Christian youth (and the not so young) of today are now listening too. It is this music that is at the heart of the creative expression within the Cross Rhythms vision.
Chris passed on the mantle of Cross Rhythms CEO in October 2005 to take up the position of UK Director for GOD TV, which he left in June 2010 and advised as a consultant until the end of 2011. He remains as Co-Chair of Cross Rhythms and Trustee of Gilead Foundations Charity. Chris and Kerry are based in Plymouth, Devon.
You can read the full Cross Rhythms History in the Vision and History section of the website.