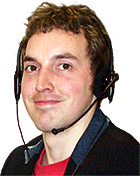 Cross Rhythms is a registered charity.
There are many areas of activity in which Cross Rhythms accepts volunteers, these include:
Volunteering at Cross Rhythms not only enables you to have a positive impact on the local community and thousands of people via the Cross Rhythms website and radio station, but there are many benefits for you personally too - learning/developing new skills, developing new interests, boosting your career options, meeting new people and gaining new experiences, having a sense of achievement and motivation.
On the job training is given.
All these voluntary roles are based at our HQ in Stoke-on-Trent.
Please note, opportunities for volunteers come and go. They are not always available.
Cross Rhythms is a Christian organisation and the work environment reflects our Christian values.
If you are interested in becoming a Cross Rhythms volunteer, please send your enquiry, letting us know which roles you are interested in, along with a CV and two references to:
Human Resources Manager
Cross Rhythms
PO Box 1110
Stoke-on-Trent
ST1 1XR

Or email: hr@crossrhythms.co.uk

More in Voluntary Opportunities..