Susanne Martin interrupted the busy schedule of dance music maestro ANDY HUNTER to talk about his new projects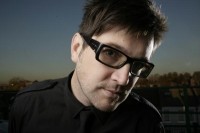 Andy Hunter
Britain's turntablist, producer, artist and now film music composer Andy Hunter has been making worship music suitable for the clubland dance floors for over 10 years and has even had a selection of blazing beats that have made it to movie trailers and video games. He's not stopping any time soon. Last summer he returned to the studio to record his latest album 'Colour'. I met up with this dance culture renaissance man before a gig in Angel Islington to hear all he's been up to since his last eclectic release three years ago.
It turns out that over the last year Andy has been particularly busy. As well as recording 'Colour' (out now through Integrity-Provident) he moved up from trailers and got further into movie magic by recording the score for a new docufilm, Expelled. After explaining to him who John Williams is (the biggest name in epic movie soundtracks, such as Star Wars, Indiana Jones, E.T., etc.), I asked Andy if he fancied himself to be a big time silver screen composer now. "No, I wish. I don't think we got paid as much as he did," he said. "But we did the whole hour and a half movie. The film is showing as you write the score, and then you can literally, if you want, put like a kick drum in a certain place, say, when they knock at the door. It's quite good fun! Hopefully we should be putting an album out of the soundtrack in the next month or so on iTunes. It won't be your typical Andy Hunter sound; it's all kind of mellow. It's quite a depressing soundtrack actually, it's all in minor and stuff like that."
In his own studio he's been getting quite deeply philosophical with everything from street lamps to the environment for his new album that, from the title, is clearly inspired by colour. Andy explained, "Every song has been inspired from a colour and an aspect of colour, which represent something of God. They represent something of his personality and something about his creation in nature. And also the third angle was really the colour of culture, you know, and different nationalities. That again is the creative God and that's what really inspired the music that I wrote for the album."
To give me an example of the colour theme Andy described how he made the jump from light pollution to the colour orange to the track "Stars". "I've got an amazing view from where I live," he said. "You can just see street lamps which are all orange, and I was just thinking about those and the colour. I was thinking that everybody lives under those street lamps and we follow them home at night and we go into our houses. But really there's this whole universe, this whole starry night sky above this ceiling of orange. I was thinking that wouldn't it be great to break through that ceiling to see the universe and how big it is and how awesome it is compared to our lives and see the wider picture." Obviously a deep thinker, I wondered whether he believes that the music actually communicates that inspiration to listeners. "You know, people listen to music on different levels," he replied. "I think some people just enjoy the music and that's it for some. Some people listen more in depth. For me, I listen to music really closely and I like deep music. So I think people who are a bit more switched on will maybe pick up a certain theme. They won't know that 'Stars' is based from orange but that's just where it came from as a writer. But I hope some of the tracks carry a depth to them that people in different stages of life can relate to and experience something new perhaps."
A little visit to YouTube will reveal that Andy and co-producer Robbie Bronnimann (the DBA man) weren't just philosophising while making 'Colour'. They were also messing about with Robbie's collectable robots. "He's a real anorak," said Andy. "He's got these old Japanese 1960's robots and they're worth like silly money because people collect them. We actually got quite a good following asking about them. Obviously in the last episode Robbie ended up as a robot. It's very significant. . . You have to do something to break the monotony spent living in each other's pockets 18 hours a day, or whatever it was!" Fair enough.
Away from the studios Andy has also been doing his usual touring this year and ended up in Cairo's garbage cities at one point. "I went to do a benefit concert which was really eye opening. I've always wanted to do something in terms of the poor. But I didn't want to just go; I wanted it as something to do as a musician, as that's what I do. So I went out and there was this doctor who basically had a clinic on a bus and went to these places just outside of Cairo called garbage cities. There are literally thousands of people living on garbage sites. And these guys, if they get an infected foot, they could die because they have no medicine. But this clinic offers free medical things for kids and basically saves lives. The people are so poor you just don't take it in because, you know, it's just brutal. But the weird thing was that we were doing that and staying in a five star hotel at the same time. The actual benefit gig was for tons of rich people, because obviously the poor need to get money so you're going to go to the rich. So it was all at this fantastic hotel. Obviously in Cairo the rich are really rich, and the poor are really, really poor. So it was quite an eye opener, quite incredible and weird all at the same time. But a good experience."
Over the next few months Andy will be back touring the world, hammering out his new tunes for the clubland cognoscente. "We've already released the single 'Stars', and that's doing very well in the club charts at the moment. So yeah, I'll just be keeping busy and trying to get down to the beach when I can with the weather like this."

The opinions expressed in this article are not necessarily those held by Cross Rhythms. Any expressed views were accurate at the time of publishing but may or may not reflect the views of the individuals concerned at a later date.
About Susanne Martin
Susanne Martin
is studying journalism at Staffordshire University.
Reader Comments
We welcome your opinions but libellous and abusive comments are not allowed.