Wednesday 8th February 2012
AUTHENTIC MEDIA's Malcolm Down talks to Tony Cummings about his company's European representation of Provident Distribution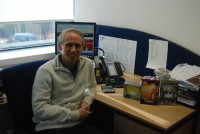 Malcolm Down
Such is the tangled web of name changes and corporate takeovers that is the past 50-year plus history of Authentic Media the full significance of the announcement that from January the Milton Keynes-based company will be marketing throughout Europe one of the biggest catalogues of American Christian music may have taken time to sink in. However, what Authentic Media's UK representation of the vast Provident Distribution catalogue means is that a company who were once Britain's largest supplier of Christian music has re-entered a marketplace it once dominated. With numerous high profile acts like Casting Crowns, Michael W Smith, Darlene Zschech, Fred Hammond, Addison Road, Jamie Grace, Leeland, Skillet, Matt Maher, Sara Groves and many more covered by the Provident/Authentic deal, which began on 1st January, now seemed an appropriate moment to talk to Authentic's publishing and music manager, Malcolm Down.
Tony: How would you summarise Authentic's history since it was purchased by Australia's Koorong Books Pty Ltd?
Malcolm: It's been a real rollercoaster of a journey. When Koorong purchased Authentic and the music was sold to Kingsway we had to say goodbye to colleagues with whom we'd worked for up to 10 years. We were left with five people and no office with meetings held in the local Starbucks! After a nine month spell in temporary offices we moved into our current office/warehouse in October 2011. We now have 14 staff.
Tony: Tell me a bit about yourself.
Malcolm: I joined Word as it was in those days in 1993 as a sales rep. It was the time when the company was owned by Thomas Nelson. Before then, I worked for the John Lewis Partnership, following a short career in the leisure industry. I'm now the publishing and music manager which basically means I oversee all the new releases be they books, music or DVDs. The one exception is the Paternoster imprint which is managed by Dr Mike Parsons.
Tony: There was a period after the Kingsway buy out when Authentic seemed to be working exclusively with books. Was it always the company's intention to return to the music arena?
Malcolm: Yes. I remember discussing the subject with our MD Rob Bootes fairly soon after we re-located to temporary offices and he said at the time that we would consider it if the right opportunity came along.
Tony: Was the re-acquisition of the Veggie Tales CDs and DVDs an important step for the company?
Malcolm: Absolutely! For two reasons, firstly Veggie Tales is a primary brand which the company had been associated with ever since the first video was released in 1993. Secondly it announced to the trade that Authentic were not just a book company and were prepared to expand back into their traditional media product lines.
Tony: How long did negotiations go on with Provident prior to Authentic taking on the catalogue?
Authentic Media HQ, Milton Keynes
Malcolm: I'm not exactly sure of the time-frame although I know Paul and Rob Bootes had been discussing the possibility with them for a few months beforehand. We took on distribution for Europe first in July 2011 and I think the success of that arrangement was a key factor in being awarded the UK distribution deal for 2012.
Tony: Are there any plans for Authentic to expand further into music with either the representation of other US catalogues or even beginning to release UK origin projects again?
Malcolm: Who knows? Watch this space!
Tony: Provident is obviously a vast catalogue. Who are currently the key artists whom you feel every retailer needs to be stocking?

We welcome your opinions but libellous and abusive comments are not allowed.