Wednesday 12th November 2008
Tony Cummings talked to some of the people behind the pioneering Christmas card/CD released BEACON MUSIC
Continued from page 1
"That is where a carol can reach out. It still gives out the Christ in Christmas message but in a way that can touch even the most hardened of hearts. I believe there is something about music that is spiritual. What I mean by that is that sometimes a tune or a song can make the hairs on the back of your neck stand on end. . .you can't see it, but you can feel it. The thing is you don't have to be a Christian to experience it. So in a word, what other way to communicate the love of Christ is more loving than through a carol? People are receptive to music and so are more likely to be responsive to the lyrics within. I think the card was so successful last year for that reason. A lot of non-Christians received it and I know of some who thought, Och well, I'll just shove it on to get us in the mood, and then they found themselves sitting quietly listening. . .again and again. Carols are simple, loving and make Christmas unobtrusive. Christmas can be complicated and I think what carols can do is strip it back to its true meaning in the way God intended."
Joyce McDill
Another of the haunting carol renditions on the album is "In The Bleak Midwinter" where Shoormal are led by Joyce McDill. Joyce spoke about her musical background. "I was surrounded by harmony singing all through my childhood. My parents sang in an acappella quartet which specialised in male voice hymns with my mum taking the first tenor and my dad singing bass. They performed in churches throughout Shetland regularly until they were well into old age. My big sisters also sang together at home in close harmony. On the Shoormal CD 'Turning Tide' there is a hidden track at the end of the album. It was the Bigton Quartet recorded when my dad was in his 80s and the others in their early 70s."
Shoormal's keyboard virtuoso Gregg Arthur spoke to Cross Rhythms about his faith and why he thinks carols still connect with a modern audience. "God has often used music to speak to me and I'm so thankful that he's allowed me to be active in a music scene. Through all of this, he's given me the privilege of singing gospel songs to many hundreds, if not thousands of people at folk festivals, concerts and gigs. I am convinced that music touches folks in a deep way that is difficult to describe. The first time I just knew I was saved was singing 'river wash over me' at a youth weekend, for example. It's great that we, in the UK, still have Christmas. It's not just a 'holiday season'. But from sometime in October, folks are bombarded with the ugly commercial advertisement machine - you know, the sleigh bells, sugary, sickly images of the perfect family, the perfect meal, the perfect house, the luxury gift - but it's all so unattainable and very unrealistic for so very many.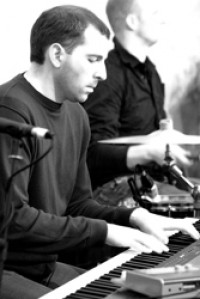 Gregg Arthur
"When it actually comes to Christmas I think folks do look for a perfect gift and deep down they know it's not going to come from the gift catalogue. If they let themselves listen, they'll find the answer in the carols, which are retelling the Gospel story. Carols are inoffensive and accepted because they are part of the tradition of Christmas but the true message of Christmas is plainly there. I pray that whoever listens to the CD will reach out to God. He wants to bring them into his real and perfect family through his perfect gift of his Son."
Freda admitted that there was a considerable surprise element about the whole Beacon project. She explained, "I was directly involved in several tracks but the full recording project was distributed between three engineers. Although I had complete trust in them and all the other musical participants, I had no idea how they had arranged their delegated carols. It was a real challenge to attempt to produce a CD of traditional carols and make them sound fresh, and yet as every track arrived, I felt each carol sounded new. I waited in anticipation and received them back, from the various sources, one by one and it was indeed like opening a gift each time. I listened, track by track, as each was individually delivered and realised a very varied, unique and special album was evolving. Listening to the full compilation for the first time in Gregg's studio, with a few of my Shoormal friends, was emotional and left us feeling quite stunned at how things had come together so well. The performers, recording engineers and designer had pulled out the stops and created a wonderful piece of art for the Beacon Music Trust in a way that had originally felt impossible."
Eddie Macguire spoke about the hard slog of getting the Christmas cards/CDs out to the public. "The vision called for us to work through churches, and we offered boxes of 500 cards/CDs/envelopes for £250 plus carriage. The math says that we only needed 200 churches throughout the UK to catch our vision. However, I was contacting all these churches via email, with just an idea and a promise. I look back on some of the emails, as I tried to keep churches on board, and I can see how much I was back peddling awaiting the music and then the finished cards/CDs. When they eventually came, I was delighted with the end result and so proud of all those folks who had put so much effort into achieving such a wonderful card and CD.
"At the end of the day, we sold about 50,000 cards/CDs and we expect to sell the remaining cards/CDs this year. We use a fulfilment company who handle the logistics of storage and distribution and we are able to supply packs of 500, 100 and 10 cards/CDs. For 2008 we have improved our MP3s on our website so it no longer sounds as if you are listening to music underwater. Also we have introduced a PayPal system which enables people to purchase direct from the website. It is reckoned that this is the best selling Shetland CD of all time! We calculate that the artists on the album have produced about 13 or 14 CDs between them. Ian Anderson who hosts a very influential late night show on Radio Scotland featuring mostly singers/songwriters chose the CD as his album of the week. Unfortunately it was on the week of Christmas, which meant it could do little for us sales-wise and also he had trouble getting his head around the fact that it was a Christmas card and that it didn't have a title.
"The price of the card, particularly when purchased in larger quantities, is very competitive alongside quality cards purchased on the High Street. When Christmas time comes around, most people not only accept, but welcome Christmas cards. Ironically, even agnostics and atheists will not only receive them but also display them in their homes, many of the cards proclaiming the Christian advent message. What an outreach opportunity for Christians. For most people, there is something special about carols at Christmas time, and a Christmas card that provides a CD has a high perceived value beyond its actual price of between 50p and £1. We believe that the Beacon card/CD is greater than the sum of its parts. The extra element we believe, and this is in no way to imply hyper-spirituality, is that we were privileged to be led by God to produce it."

The opinions expressed in this article are not necessarily those held by Cross Rhythms. Any expressed views were accurate at the time of publishing but may or may not reflect the views of the individuals concerned at a later date.
About Tony Cummings

Tony Cummings
is the music editor for Cross Rhythms website and attends Grace Church in Stoke-on-Trent.

Reader Comments
We welcome your opinions but libellous and abusive comments are not allowed.