16 year old CCM singer BETHANY DILLON has packed in a lot in her few years in music. She spoke to Mike Rimmer.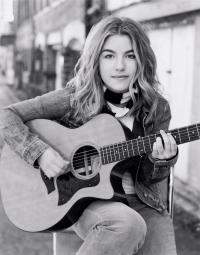 SWEET SIXTEEN: Bethany Dillon
16 year old Bethany Dillon is standing on a low stage at Spring Harvest in Skegness playing an after hours show to a subdued audience. It's late night and they are sprawled on the carpeted floor listening as she sings some songs from her debut album, amiably chatting with the crowd. From the things she's saying, she's obviously excited visiting England for the first time although she was a little disappointed that Buckingham Palace wasn't grander.
Still, it's a long way to London for a small town Ohio girl. She comes from a close knit community surrounded by a large extended family and many friends. "A lot of people have never seen the ocean, or been out of Ohio," she confesses. "It's a really strange thing, I really love going to other places; and even in Europe just for the first time has been incredible. Just because I think it has opened my mind up and broadened my capacity to realise that there's so much more. But at the same time, there's something in me that's really attached to where I grew up. I think it's wrong to despise where you've come from and to wish for something more."
She was raised listening to some good role models for anyone pursuing Christian music! "My mom actually went to school with Rich Mullins so I grew up listening to him and Keith Green," she shares. "I think they were the two biggest people that I listened to. But then I think when I was about 10 I discovered Jennifer Knapp, and freaked out! I started playing guitar because I knew she played guitar and I wanted to be as cool as her. Someday I'll get there! I think the other person that's really inspired me as a writer is Sara Groves."
Bethany continues, "When I sit down and listen to Rich's music I feel like I'm watching my favourite scene in a movie. It's so epic and it's so otherworldly. I just love the phrases that he came up with. Something just about his music is really eternal. I love it." So if she likes Jennifer Knapp, does she want to be a rock chick? She laughs, "I think I figured out a couple of years ago that I am meant for folk music! And that's fine with me. Electric guitars intimidate me. I just loved that she was a girl and that she was writing. I just love the 'girl power' thing! But now I'm just in love with her songs."
Like many Christian music artists from America, Bethany was brought up in a Christian household but unlike many of her teenage peers from a similar background, there is less room for her to manoeuvre and question. She admits, "A lot of my friends that have grown up in church are going through that time of asking whether they believe because it's been the right thing to do. Honestly, faith isn't easy but God's Spirit is near to me because I have Jesus in my heart and that helps. Friends of mine who have come from awful situations at home and then found Jesus understand grace a lot better than I do. There's part of me that wishes I knew that."
A lot of artists who were signed up as early teenagers seem to struggle when they get into their 20s. Recently both Rachel Lampa and Jaci Velasquez have gone on record to share their own struggles. Bethany recorded her first album aged 12 and was courted by a record label at 13. Does she recognise that there might be a later cost for her current choices? "All the time," she says honestly. "I've been so busy this year. Just because the record came out and the more people you're in front of, the better off the record is and all of that. I've had so many restless nights just thinking about it and worrying about it. I was really worried about just going crazy someday! My mom and I talk about it and she's like, 'Well, you probably will do some day.' And we laugh about it. But honestly, there's a lot of big things going on and I just think I'm so worried about holding it all in right now and then some day, just completely going batty!"
Continues Bethany, "Really, I know God is faithful. I think God is very involved with what's going on and I'm dependent on him. I know that I'm a flawed person and you know what? Someday I might go through something, just have a season where I can't be on the road, or I can't make a record and I just need to cry all day, or go through some counselling. I don't want to be afraid of it because God is mighty and he's bigger than all of my worries. And I know, without a doubt, that his plans for me are to give me a future and a hope and not to harm me at all. So I trust him, I really do. And I trust that this is where he wants me right now. We'll be as discerning as we can be but we can't do it perfectly and I know that God's grace will be there."

The opinions expressed in this article are not necessarily those held by Cross Rhythms. Any expressed views were accurate at the time of publishing but may or may not reflect the views of the individuals concerned at a later date.
Reader Comments
We welcome your opinions but libellous and abusive comments are not allowed.