Chris Mountford spoke to Tim Jupp, the founder of BIG CHURCH DAY OUT
Capesthorne Hall
Down the years Christian music and gospel lovers have seen Big Church Day Out held at Wiston House, West Sussex, rise and rise to become Europe's biggest and most widely supported Christian music and gospel event. Now in 2017 the event, this year featuring such top names as Switchfoot, Bethel Music, Rend Collective, Casting Crowns, Mary Mary, Newsboys, Reuben Morgan & Hillsong Music, LZ7, Tim Hughes & Worship Central, Audrey Assad and dozens more acts will be performing not only at Wiston House but at a sister event Big Church Day Out North at Capesthorne Hall, Cheshire, on 2nd and 3rd June. Chris Mountford spoke to BCDO's founder Tim Jupp to fill in some detail.
Chris: We've seen Big Church Day Out grow incrementally year by year.
Tim: We've always had a massive vision for the event to be as big as it could be and to impact as many people's lives and I think, obviously, holding it as far south in the UK made it unattractive to some people living so far away. In fact, it's been exciting over the last few years to have so many people from the north of England, Scotland and even beyond, even from mainland Europe, come to the event every year. But there have been others who would have found such a long journey too challenging plus we have been bringing over so many American Christian artists, we felt we had a capacity to keep them here for another weekend. So for the last three or four years we've been keeping our eyes open, looking for a suitable additional site. We finally found it in Cheshire which is 20 minutes from Manchester airport, Capesthorne Hall. So we're very excited to be able to launch Big Church Day Out North there in 2017.
Chris: So basically it's the same festival, the same event over two weekends at two separate sites.
Tim: Yes, very much so. We're really making that message clear Big Church Day Out is just one of them that happens in two places; same content, same artists. I know sometimes there has been a history with some festivals where the second event feels like the poor brother of the 'main' one. We certainly don't want that to be the case with Big Church Day Out so we're going all guns blazing hoping to have an amazing time up in the northwest.
Chris: You've attracted well over 20,000 people to what is now the south venue. Are you hoping for equally big numbers in Cheshire?
Tim: We'd love to see that. Maybe we might not quite hit that in year one but we're certainly doing all we can to try and let everybody know it's happening. We've got a team of people out on the road. I think the main thing I'd want to say to anybody who is able to get to the thing if you can help support us by coming along, bring all your friends, bring your family, bring your church groups with you, friends who aren't even in church with you. We need everybody to do their bit to make this work. If we can push this across the line in year one, our vision is to create a space for the Church to come together, it could be around for many years to come in that part of the world. It could grow and grow each year and be hugely impactful on many people's lives over the next few years.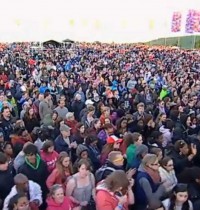 Chris: Now, with having the additional venue you will hopefully be attracting people who've actually never visited Big Church Day Out before. For those people can you tell us what BCDO is all about?
Tim: Well, the first thing is the Big Church Day Out is not one day! It's a two day event. We really throw our net wide in terms of churchmanship and age group so really, whatever your age, this is an event for you; for younger people, for young families, for parents, for grandparents. It's an event for everybody. And our heart is really just to create a space for churches of all denominations and all ages to come together. We have lots of fun and lots of things going on. The main part of our content is music and worship and that happens on both the two days. At the end of each day, the last couple of hours, everybody comes together at the main stage in the main arena. We have two hours of worship, we give a short gospel message so it's great if you bring friends with you. Really the event is just a huge expression of unity across the Church.
Chris: We know about Bethel Music, Rend Collective and Newsboys, etc, but there are a lot more artists at the event, aren't there?
Tim: You've mentioned some of the bigger names who are there on the main stage but we've also got some amazing people coming in on some of the other spaces. There are artists like Chip Kendall Band, Lou Fellingham, River & Robots, Marc James, Speak, Brother, J Vessel, Joshua Luke Smith, Dire Pitan and another 30 or so other acts! We also have Our Kingdom Come worship tent which is six or seven hours of non-stop worship each day. We've got lots of worship leaders in there. Then, one of my favourite spaces is the Tea Tent. There are people like Stuart Townend in there; we've got a gospel choir, Kings Chamber Orchestra. We've got a special event we're calling Songs of Praise which happens for an hour each day where we're singing many of the well-known hymns. There's really something for everybody.
Chris: OK, so where can people find out more about BCDO?
Tim: Go to our website which is bigchurchdayout.com. You can buy your tickets there. More and more people are coming to the event as a group. You or someone in your church can organize a group on line where everyone kinds of signs up to the group and buys the tickets. That's the cheapest and easiest way to come to Big Church Day Out.
Chris: How did you come to chose the venue, Capesthorne Hall?
Tim: We were looking around for places and I'd got this friend who used to be the fine art curator for Sotheby's, believe it or not. Part of his job involved travelling around the UK visiting all these stately homes, valuing all their fine art. I went to see this friend and said, 'I'm looking for a place for the Big Church Day Out, have you got any ideas?' He mentioned this place Capesthorne Hall. I got on Google, looked at Capesthorne Hall, found the facebook page of the owner of Capesthorne Hall and he had a photograph of a bunch of guys who had been out on a shoot, dressed up in their plus fours and the whole thing. I looked at the photo and one of those guys was a friend of mine. I thought, that's amazing, there's a connection. I phoned my friend and said, 'Do you know the owner of Capesthorne Hall?' He said, 'Oh yes, he's a great friend.' So he hooked us up and one thing led to another, I met the family, got on really well and that was the beginning of the Big Church Day Out North.

The opinions expressed in this article are not necessarily those held by Cross Rhythms. Any expressed views were accurate at the time of publishing but may or may not reflect the views of the individuals concerned at a later date.
About Chris Mountford
Chris Mountford
is Programme Controller and Production Manager for the Cross Rhythms radio station in Stoke-on-Trent.
Reader Comments
We welcome your opinions but libellous and abusive comments are not allowed.