Wednesday 3rd August 2011
Tony Cummings reports on the welcome comeback of post-hardcore heroes BLINDSIDE
Blindside
For lovers of hard music, the return - after four years - of Sweden's Blindside to the CD racks is news of monumental proportions. HM magazine might have been overstating the case when they called Blindside's absence from the scene as "a disappearance of the magnitude of Amelia Earhart's" - but there's no denying that the band once signed to Elektra and who toured with acts like Linkin Park and Papa Roach left behind a legion of fans when in 2007 the Stockholm-based post-hardcore band decided to step back from the music industry. Their return with the album 'With Shivering Hearts We Wait' for INO Records given a "worldwide release" on 7th June has already brought them fresh accolades. The theywillrockyou website wrote, "With shivering hearts we have waited for new music from Blindside and they have not disappointed" while Christianity Today observed, "Producer Howard Benson gives the Swedish foursome a newfound accessibility thanks to electronic and string accompaniment, but never at the expense of menacing screams, bone-crunching guitars and aggressive percussion" while Jesusfreakhideout enthused, "Dynamically, the album is stunning, the harder parts are harder and the softer parts are softer."
Guitarist Simon Grenehed spoke to HM magazine about 'With Shivering Hearts We Wait'. "I think people who have followed this band know that we don't follow patterns. This is the longest time we've had between recordings and thus we've had an opportunity to go in one direction and then throw it out the window and start over. The new album is the end of a five-year search for the right songs according to our hearts. It's up to anyone interested to look into our new world and see if they feel it or not."
The band is fully aware of the crucial role the producer has in the making of a top rate album. Grenehed told www.christianrock123, "The one thing that we did have this time was that we wanted a really good production that sounded pretty powerful. That is why we contacted Howard Benson and his team. We have been working on this record and writing songs for more or less five years. Over that time, we have been going back and forth a little bit; but I think we narrowed it in in the last year to what we wanted to do. Musically, we just found a direction that felt fresh for us. It is always like that for this band. We just try to follow our heart and see what comes out. This time we have had a little bit longer to work through that process. We were very happy with the response that came out. As far as the extra string material, that was a dream for us to incorporate it into this record. It just came together in a great way. We actually recorded all the strings in Sweden, after we were done recording. We are very happy with how it came out. As far as diversity, we write the music that comes out, and just go from there."
Simon spoke to Jesusfreakhideout about the arresting 'With Shivering Hearts We Wait' title. "We've had a hard time finding the right title for this album. We felt we had to have a strong title to come back with and I think we nailed it through that song lyric. It defines our feelings towards being a band driven by faith. It is excitement and passion with a touch of fear of what you put yourself into. It's also fitting considering the fact that we've been away for such a long time so we hope that the people that wanted us to keep going and waited for us can relate to that title."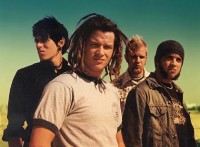 Blindside c 2002
The origins of Blindside go back to 1994. Growing up in Sweden's heavy rock scene vocalist Christian Lindskog, guitarist Simon Grenehed, bassist Tomah Naslund and drummer Marcus Dahlstrom formed the band Underfree. After two years the quartet changed their name to Blindside and released an EP 'Empty Box', produced by Lasse Marten for Day-Glo Records. A year later the band's debut full length 'Blindside' was picked up for US distribution by Tooth & Nail/Solid State Records. The interest from the Seattle label surprised everyone, the band included. Grenehed told HM magazine, "I think with the first album we were really young and we were basically having fun. It was supposed to be a demo. We were totally surprised by the reaction to it." Blindside's second album, 'A Thought Crushed My Mind', was released by Solid State in 2000 and found the group pursuing a more sonically fractious, even avant-garde approach. As Lindskog said, "We had toured the States with a lot of hardcore bands. We were inspired by that and the way their live music works. We really wanted to make a heavy record and experiment as well. That's what was in our hearts at that time and we really didn't know what would come out. But we're really proud of that record because that was right for us at that time."
A breakthrough for Blindside occurred in 2001 when the Swedish band were asked by P.O.D. to tour with them. Remembered Grenehed, "When we were on the P.O.D. tour we had quite a lot of labels come up to us and in the end we got signed to Elektra."
The years of moshpit mayhem and tireless touring had brought the band to a place that thousands of unsigned acts dream about, but only a handful achieve - a record deal with a major. But the band's next move surprised many in the industry. Lindskog told HM magazine about what happened next. "We actually took time before this [album] to study the Bible for a year, and that was really helpful for us. We just found ourselves talking, and something just hit us, 'Man, I think we need to get deeper into the Word and just to explore God more,' you know what I mean? So we put a lot of things on the side for awhile." He admitted that from a worldly perspective their year of study was "kind of dumb, to have things going on for the band, and we just put them on the side," but he thought it important to "prepare ourselves spiritually. If we're going to do this full time and get on a big label, we thought we should lay down roots and know what we're about."
With a major label behind them, and a sympathetic producer in Howard Benson, the band's 'Silence' album was duly recorded. At the time of its release in 2002 Grenehed told HM magazine, "We wanted to go more toward the songwriting. It came together really well with the producer [Howard Benson] and everything. If we would have recorded the last album with this producer, it wouldn't have worked at all, I think, because that's not what we wanted to do. But now we're pretty much on the same page all the time." Lindskog impressed that Benson and Blindside had much of the same sonic agenda from the start of their studio partnership. "We pretty much knew what we wanted to do, so he didn't really make us into any new direction like that. He just stepped down and listened to the songs. Sometimes he liked the songs, and sometimes he didn't; but most of the time it went really good."
Blindside c 2005
Grenehed admitted that compared with previous albums 'Silence' was less dark. "This one has more hope in it. Still, it talks about going through hard stuff, but it always has a glimpse of hope in it."
'Silence' number 83 in America's mainstream album chart and with the band touring with Hoobastank to support the album they seemed set to become another P.O.D., plucked from the Christian hard music underground to become mainstream hitmakers. But, like many artists before and since who've signed with a major, their contract proved to be something of a poison chalice. In 2003 the owners of Elektra, the Warner Music Group, were sold to private investors and the band found themselves with a label who showed no interest in the group. The band had recorded 'About A Burning Fire' but were met with no interest by Elektra's new executives. The band's frontman Christian Lindskog told Rock Sound magazine, "They weren't even going to put it in stores but they wouldn't let us go in case we wrote a hit. Eventually they did the right thing [and let us go]."
'About A Burning Fire' did generate a minor hit in "All Of Us", but not sufficient to impress Elektra. The album showed the band toying with their diversity as they threw in techno elements in "Where The Sun Never Dies" and yodelling Swedish vocals in the ethereal "Shekina" - a song about the manifest presence of God. "Shekina" was used on World Wrestling Entertainment DVD 'Cheating Death, Stealing Life: The Eddie Guerrero Story' while another track from the album "Hooray, It's LA!" featured the guitar and backing vocals of Billy Corgan, recorded during his recession from The Smashing Pumpkins.
In 2005 Blindside re-released their two Solid State albums, issued the DVD 'Ten Years Running Blind' and put out the independent album 'The Great Depression'. That project again showed the band integrating new sounds into their style. There were jazz elements on "My Alibi" and "City Lights" while guest vocalists Ilkka (from Benea Beach and Selfminded) and J Jamte gave the group a broader sweep of vocal approaches. The Cross Rhythms reviewer was fulsome in his praise. "This is the best work the Swedish hard rockers have done for years. 'We're All Gonna Die' is a rock 'n' roll anthem against dangerous excess, while the similarly styled but slower tempoed 'Bleeding Under Your Eyelids' must have some of the most beautiful closing moments of any rock song ever recorded."
Blindside c 2009
In 2007 the band released 'The Black Rose EP' featuring five new songs and three live recordings but was only for sale at Blindside's Swedish concerts and on-line. And then came the great hiatus. Grenehed was asked by christianrock123 whether the band had considered folding completely. "Yeah, of course. For us, being in a band and also having families, we have mostly built our fan base in the States. It is a big step to go over there and spend time away from your families. We didn't have a record deal for awhile. It was very hard to motivate for your family, to go on a tour and see if we came back with the rent. I think as far as the band goes, we needed to step away a little bit and find our own identities. Also, we needed to figure out if there was more in store, and if we could contribute anything more. We prayed about it for a long time and discussed it. At the end, we felt like we had more stuff that we could do. I think it was a good decision, after having done this record. We really felt that we had more. Even when this record ['With Shivering Hearts We Wait'] is done, we still have the inspiration to write more."
One of the impressive things about Blindside is that through all their highs and lows they have kept the same lineup. Said Grenehed, "I think for us it has been a mutual respect. We have always tried to listen to each other, and also listen to the families' needs. We are four very different individuals. But, somehow when we get in a room together and make music, we just love it. We feel like it is a gift. We learned to play together. I don't think we could even keep going as a band if we lost one member. In some ways, we feel like this has and will always be the band and lineup."
Blindside are planning a tour of the USA in September. Said Grenehed, "That tour in the United States will decide a lot of things. We are up and running again. We are very excited about it. I don't see us stopping or taking it too slow. What we did before of touring 11 months straight, that is not going to happen again. But, we are definitely going to try to move as much as possible."

The opinions expressed in this article are not necessarily those held by Cross Rhythms. Any expressed views were accurate at the time of publishing but may or may not reflect the views of the individuals concerned at a later date.
About Tony Cummings

Tony Cummings
is the music editor for Cross Rhythms website and attends Grace Church in Stoke-on-Trent.
We welcome your opinions but libellous and abusive comments are not allowed.