Sunday 18th December 2011
Lins Honeyman caught up with the highly rated new student band BOY WITH COMPASS
Boy With Compass
It would be natural to assume that recent success might have gone to the heads of Aberdeen-based student trio Boy With Compass in a year that has seen the band showcase their own organic brand of alternative pop through the release of an accomplished self-produced EP as well as some relatively high profile gigs. In reality, nothing could be further from the truth as they make sure their collective university studies take main priority amidst ever-increasing acclaim for their musical work.
Having met at Aberdeen University in 2009, band members Don Thomas and Samuel Tranter, both from south of the border, met up with fellow theology student David Roy from Edinburgh and soon recognised a mutual interest in all things musical. After finding themselves occasionally playing together at their term-time place of worship, all three decided to bite the bullet at the start of this year and pull their resources to form a band.
Within a matter of months, and with literally no publicity or demos to hand, prestigious support slots for the likes of Scottish multi-instrumentalist Chris Lee-Mar's Esperi project and acclaimed singer/songwriter Lucy Rose were secured and word began to spread about Boy With Compass' quirky appeal. After roughly six months of building up a following, Thomas, Tranter and Roy decided it was time to sit down and record a collection of songs and, largely due to a limited budget as much as a love for unconventional ways of recording, the following weeks saw the boys in various church spaces and houses putting down what would become their debut EP 'This Dear City'.
I catch up with the band as they take a break from their studies in the café of the Aberdeen University library to ask them to elaborate on how it all came together. "We all study Theology at Aberdeen University and we all go to church together," offers main songwriter, vocalist and guitarist Don Thomas. "We were playing lots of music together at church but we wanted to find another outlet as I had been writing some songs. We got together and played through some of my songs and then we'd get a gig here and there and we gradually turned into a band. It got to the point where people started asking what we were called and if we had any recordings. It was more for marketing purposes that we had to come up with a name. We were really happy with it being a loose connection and nothing too serious.
"We were getting bookings for gigs through word of mouth and people passing on details," he continues. "We did the EP because we wanted something that people could listen to if they hadn't yet come to one of our gigs. We didn't have time to do a whole album as we only had a couple of weeks recording time after we finished our exams at the start of the summer."
It seems that each band member has found himself experimenting with more unusual instruments during the recording process. "We started off not actually playing our original instruments," confirms David Roy. "For example, I started to play harmonium and a bit of glockenspiel and mandolin instead of bass. Our drummer, Sam, even uses a typewriter on the opening track 'Abandoned Factories'! We've just been trying to work out the best sound by experimenting a little."
With a myriad of idiosyncratic instruments in use during the recording process, I wonder if it was a deliberate ploy to make Boy With Compass something of a leftfield band. "I'm not sure how much we've set out intentionally to do something a bit niche and side of the market," points out drummer Samuel Tranter. "I guess we just jammed together and things happened." Adds Don, "We tend to develop our own style from gig to gig. You might find that, if you come to hear us at one gig, we'll have a full set up with drum kit and then we might do a smaller acoustic set where we've got a 'cello involved. I guess we feel like we don't exactly know what we're doing yet and that's what we quite enjoy about the whole thing. I think people who hear us like that too because it means they get something different out of each show."
I ask what the reaction to 'This Dear City' has been. "It's been really positive," confirms Don. "I think a lot of people don't quite know how to describe our music but it's a blessing for us that people are enjoying what we do and are asking when we're going to be recording and gigging more."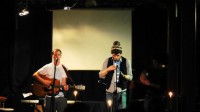 Not that this acclaim has changed them, as Samuel points out. "It's pretty much still us having some fun. I guess the difference is now we've got something concrete to let people hear and take home to mull over which goes beyond just the gig experience. Nothing has changed in the sense that we have to make our studies our top priority. If we've got a gig on the Tuesday, we might be listening to a lecture on a German theologian on the Wednesday morning. You've got to be real about it!"
With the songs on 'This Dear City' tending to lean more to the mainstream market - tracks like "Crux" and "Almost Home" subtly point towards matters of faith in a subjective sense - I ask the band how they feel about portraying their Christian beliefs through their work. "In terms of playing gigs and meeting people, we just love talking to folks and quite a lot of people have said that there is quite a lot of hope in Don's lyrics," explains David.
Adds Samuel, "In the future, we may have more of a Christian content in our lyrics but, at the moment, we're prepared to express things honestly and if that comes out as something people take as Christian or not, we're not too worried. It's all about how we do it and the way we interact with people - attempting to be Christ-like in all those things. It's only good in as much as it is glorifying God and encouraging people."
"I think we all find it very encouraging that we're able to play at different venues like pubs, bars and clubs," states Don. "It's great just to be able to sing these songs over people. We had a gig at one of our favourite pubs in Aberdeen and there were maybe about 90 people there and everyone was just chatting away, having a pint and chilling out. We were singing these songs whilst people enjoyed themselves and afterwards we were able to chat to people about music and where they're at."
With things most definitely on the up, I ask what the immediate future holds for Boy With Compass. "Well, Don and I are both in the third year of a four year degree so we've got another year to kick around," says Samuel. "David's in his last year so he's got some choices to make. We don't really know where it's going to go and we're quite happy in the sense that, if it's bringing enjoyment to other people in a way that's more than just fleeting, then that's great. I think we'll have a look at playing some festivals in the summer and we're also collaborating with Chris Lee-Mar from Esperi again."
I finish by asking the meaning of the band's name. "I had a dream about a boy who had a compass and he was exploring everywhere," explains Don. "When I woke up, I thought that that would be a great band name because we wanted to be really creative and get out there to meet new people." And, for Boy With Compass, it seems that this is exactly what has happened.

The opinions expressed in this article are not necessarily those held by Cross Rhythms. Any expressed views were accurate at the time of publishing but may or may not reflect the views of the individuals concerned at a later date.
About Lins Honeyman

Lins Honeyman
is a Perthshire-based singer/songwriter and currently presents The Gospel Blues Train on Cross Rhythms Radio on Saturday nights from 11pm and on Listen Again.
We welcome your opinions but libellous and abusive comments are not allowed.