When not gigging and recording with wife Julie and a host of Nashville's finest BUDDY MILLER has found time to make an album or two of his own. He spoke to Sammy Horner at his Nashville studio.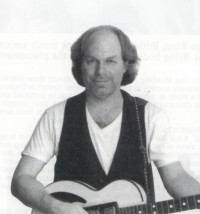 Buddy Miller
I've always loved the scene from the Blues Brothers when Jake and Elwood discuss how the old Bluesmobile had been swapped for a microphone, 'cause when you love R&B that's a fair deal! "Why mention your best loved movie clips during a story on Buddy Miller?" I hear you ask. Well, mainly because it reminds me that Buddy Miller is to country music what Jake and Elwood are to R&B. "I remember trading my old Volkswagen Bug (that's a Beetle to us Brits) for a pair of cowboy boots. . . They were real good boots though," says Buddy. And the stage is set for an interview with the Nashville based singer, musician and producer Buddy Miller.
Born in Ohio, Steven Miller's grandpa gave him the nickname Buddy and, "It just kinda stuck. I've always played music and after leaving school I began playing in country bands to make some money. I did try working in a lumberyard for about three months, but decided that music was more the kinda thing that I wanted to do, so I left the yard and started to play again. It was three months before I could play properly again, the work at the yard made my fingers swell up so much."
Buddy explains his draw to country music. "I'm drawn to music that moves me emotionally. Good music should express the heart of the writer/singer."
Buddy became a Christian after playing the Honky Tonks and bars for years and is best known in this country for his work with his wife Julie, but if you look hard you will find his name appearing on the credits of albums by The Choir, Mark Heard, Dan Smith and Nina Astrom. Even as you sit in his living room you are constantly disturbed by phone calls asking the man for something, and you may even be lucky enough to have Al Perkins, Victoria Williams (and Mollie the dog) or Emmylou Harris drop by for a session or a visit. Apart from the work with Julie, and his occasional guest spots on other people's albums, what exactly keeps Buddy occupied? "Well, I do a fair bit of production work in my own studio and I get some freelance engineering work at some Nashville studios. I play guitar for some people and tour a little bit as well." The 'some people' Buddy failed to mention by name happen to be the likes of Emmylou Harris and Jim Lauderdale. He has opened for Johnny Cash, Dwight Yokam, Vince Gill and Mary Chapin Carpenter, but Mr Miller is no namedropper and sees all his work as very matter of fact.
During the time I was in Nashville Buddy and Julie got an invitation from Victoria Williams to play a song with her at her Nashville gig, which they did brilliantly.
On Buddy's debut solo album 'Man On The Moon', released in Europe by GMI, Buddy plays guitar, bass, mandolin, bouzouki and banjo. It's a down-the-line country album with, in Buddy's opinion, very simple country and traces of blues. The album credit Buddy Miller And The Sacred Cows stands for sacred = gospel and cows = country. Just to keep things simple you know. Very special to Buddy is his relationship with Julie. One of his most favourite things is working on music together with Julie.
"Julie is a great country singer and songwriter," says Buddy. "Not too many folks know that. She also broadens my musical taste and makes me play rockier music. In fact, we used to play country and blues. When we became Christians we put music aside for a while and became involved in a 'ministry'. Later on we continued being singers/songwriters.
According to his wife Buddy Miller is a man of few words and not self-analytical enough to describe himself extensively but one thing is for sure, he likes Indian food a lot and has a lot of humour as well. His main wish, that one day he hopes that he will be able to pay his back taxes, must not be taken too seriously, although...!
Buddy Miller has not the usual story to tell. He was not a 'seeker'. He was not on a spiritual search when he came to Jesus. Says Buddy, "Jesus has reached out to me and let me see his love for me when I didn't even acknowledge him. People should know that no matter what they might think about God, it doesn't change the fact that he is real and wants to be close to us in all things and all aspects of life. I'm a happy man because I like knowing that all things are in God's hands."
Even as we speak Buddy is hard at work on his new album 'Your Love And Other Lies' for the secular label Hightone. "I'm really enjoying working on this album. I've got Al Perkins in to play pedal steel and Emmylou is going to do some background vocals for me. Over the next few months I will be recording with Jim Lauderdale again and starting work on some new kids albums." (Buddy is the producer of the Jungle Jam series for kids.) And will we Brits get a chance to hear any of his new stuff live? "Yeah, I hope so. There's a possibility of a UK tour later in '95."
Here's hoping that the gigs happen and we get a chance to see the nicest guy in country music here in the UK.

The opinions expressed in this article are not necessarily those held by Cross Rhythms. Any expressed views were accurate at the time of publishing but may or may not reflect the views of the individuals concerned at a later date.
We welcome your opinions but libellous and abusive comments are not allowed.