An underground revolution is underway in the States with gospel hip hop and R&B. Tony Cummings spoke to Matthew Abraham, head of New Jersey company CMN DISTRIBUTORS, to find out more.
Mike-E
The phrase American CCM in many people's minds conjures up a picture of safe, predominantly white, music released by Nashville-based arms of huge multi-nationals with the marketing muscle and radio clout to make tracks off them into national "hits". But what British fans are increasingly becoming aware are what discerning American music buffs have known for some time - that like an iceberg with much of its mass hidden below the water, there is a huge amount of Christian music talent and commitment to ministry just below the surface of the CCM peaks.
In the US Christian music scene today there are all manner of niche markets and musical undergrounds that though denied the benefits of the exposure and the big money enjoyed by the Nashville high flyers, can still be highly effective in making music of the highest quality. Unencumbered by an over-reliance on achieving huge six figure sales, these ministries can make music that continually pushes back the boundaries of musical creativity. A key company in achieving this, particularly in the areas of hip hop and urban/R&B gospel music, is CMN Distributors. Based in Teaneck, New Jersey (the town that gave the world the Isley Brothers), CMN has been running four years and has today run up a formidable inventory of albums and labels distributed. Now representing over 20 independent record companies, CMN has built up a formidable armoury of cutting edge music from the hip hop and R&B tip. Amongst its current best sellers is Big Doggie Records' YWFC (Young Warriors For The Cause), an astonishing young R&B team whose ages range from nine to 14; Voice Of Thunder Records' Even Steven, a new artist who mixes hip hop, funk, alternative and rock; Zepvado Records' Paul Middleton who weighs in with slinky smooth soul; Fresh Wine Records' Eddie James And The Phoenix Mass Choir, a hot traditional gospel choir who defied all the laws of marketing to reach number three in Billboard's black gospel chart; Goodnews Records' Regina Wingate, an intriguing R&B gospel set with a strong reggae feel; and Big Doggie's Mike-E, whose searing P-funk hip hop has already earned him an overseas reputation.
I asked CMN Distributors founder Matthew Abraham what had gotten him involved in starting the company. "It was simply finding that so much of the music that was on the edge creatively and spiritually simply wasn't in the shops. The first label that we picked up for distribution was Grapetree Records, started by a young man called Rubadub who had a real vision to reach the lost through hip hop. Now at that time there were still a lot of Christian bookstores who thought gospel hip hop was of the Devil - such attitudes are still to be found today - but we persevered and started building up the label, getting the products out there into the shops."
With the national concern Spring Arbor handling their shipping, billing and stock supply to the shops, CMN gradually grew. Other labels began to come on board. Slowly but surely the word began to spread that CMN was the place for quality gospel hip hop and R&B. As the business grew so did the encouragements. "I'd gone into this business very much with a heart for ministry. When I started seeing letters from people, for instance from prisoners, testifying to how their whole lives had been transformed by one of our albums, it was a huge encouragement. I realised that there was an anointing of some of these grassroots ministries that sometimes wasn't on the big money, high profile CCM acts."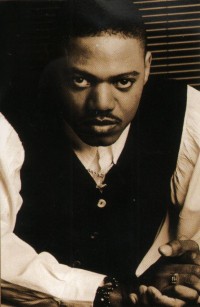 Paul Middleton
CMN's attitude has always been that if the quality of music is there and the anointing is there they are prepared to take on an album, even if it's the first release by an unknown on an unknown label. "If we recognise an album's validity and the integrity of the ministry we'll get it out there. It's hard for a new artist; it's hard for them to recoup their recording and production costs. It's hard to sell even 4,000 when nobody's heard of you. But we have a commitment to see beyond the profit margins, to work with artists, building up their ministry, hopefully taking them to a place where they become established. There has to be more to Christian music than purely the dollar bill."
I asked Matthew whether he was disappointed that Grapetree, having had CMN establish the label in many retail outlets, had left for a bigger distributor, Diamante. "I recognise that there is always going to be a tendency for company's to make decisions that they believe makes the best business sense. I praise God for what is being achieved through Grapetree, who after all have been pioneers in gospel hip hop, and wish them every blessing."
British fans with hip hop and R&B tastes have in the past been starved of albums that didn't filter through to the major Christian labels. So the news that CMN have concluded a deal with new UK independent Awake Records to put a stream of CMN distributed albums into both Britain's Christian bookshops and record stores will come as welcome news. Says Matthew, "I recognise that despite being a relatively small market for CCM, there is a real, underground feel for R&B and hip hop both in the Christian and non-Christian community in the UK. I'm thrilled that the British public are going to get a chance to hear artists like Mike-E and Eddie Jones. Some of the music we have in store in the coming months is absolutely devastating."

The opinions expressed in this article are not necessarily those held by Cross Rhythms. Any expressed views were accurate at the time of publishing but may or may not reflect the views of the individuals concerned at a later date.
About Tony Cummings

Tony Cummings
is the music editor for Cross Rhythms website and attends Grace Church in Stoke-on-Trent.
We welcome your opinions but libellous and abusive comments are not allowed.