Our society is undergoing radical change and the Church needs to respond in fresh ways. Cross Rhythms founder CHRIS COLE spells out the change affecting us all.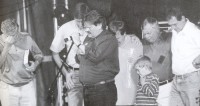 Chris Cole
One of the most significant Christian meetings in recent years took place in London in May, called Prayer For The Nations, hosted by Rod and Julie Anderson. Under the scrutiny of God Digital's TV cameras, some of the most powerfully anointed prayer intercessors and prophets in the international Church met to storm the heavenlies on Britain's behalf. Significantly, two of the topics singled out for intercessory prayer by Cindy Jacobs, Dutch Sheets and the other powerful men and women of God were British youth and the role of the media in our nation. Considering Cross Rhythms have been actively involved for almost two decades in media initiatives directed at Britain's youth such recognition of the strategic importance of youth media by these Fathers of the Church was encouraging.
But more importantly, such clear-sighted spiritual focus acts as a wake up call for the whole of the British Church. For decades the Church has slumbered while huge changes have occurred in the social and political structures and attitudes in our nation, changes that attack the very fabric of a nation whose constitution has for hundreds of years been based on the Christian faith. Put simply, we have moved from being a multi-cultural society to a multi-faith one. Even more worryingly, our nation has opened itself up to the gospel of secular humanism and in the headlong pursuit of greater tolerance has become virulently antagonistic towards any social group it perceives as a force of bigotry and prejudice. The Church is now caught in the crossfire, having to defend itself for taking up historic biblical stances on faith and morals by a society that is tolerant of anything except "intolerance".
This quantum change in our society is visibly reflected in the kind of mass media we currently find, or don't find, in our nation. While witches and strippers, gay activists and astrologers, are given almost daily access to our broadcast media, living Christian faith is largely ignored. We desperately need Christianity presented, not as one option from the smorgasbord of faiths and philosophies, but as the only faith that can transform the heroin addict (see The Called article on page 62), challenge a corrupt political system (James Mawdsley, page 14), or inspire the fastest growing genre of music in the record industry. Currently many of our politicians and bureaucrats fail to see the huge social value of Christian faith. Jack Straw may have been deeply impressed by The Message 2000 (see the 2K1 - THE URBAN ADVENTURE article, page 18) but many others continue to marginalise believers as reactionary bigots. Where this current situation points to is the stark reality that the Church is very much under spiritual attack. Having awoken to this, we must now take up spiritual weapons, above all prayer, and then seek the Lord's leading as to what additional action God may be calling us to.
Those who have been on the particular journey of Cross Rhythms down the years will know that one of the themes I have spoken about in the past is the sense of British youth being part of King David's rather than King Saul's generation. The British Church is today in transition, and it's a very painful transition. Like anything in reformation, there's a question of dismantling and looking at foundations before things can be built. We're in a time of real foundational work and it's a difficult time because the responsibility is on individual believers to find their own purposes in God. If we're saying that this is a priesthood of all believers, we've got to realise that in Saul's structure many people abdicated their spiritual responsibility to Saul. In David's structure, though he led from the front, it was a pluralistic leadership with people taking responsibility for their own hearing and their own calling. Today's young Christians urgently need to do this but without abandoning relationship to the corporate. David never rebelled against Saul, he still did what Saul told him to do, he never rebelled against religion. He waited for his season to happen. As we know, he went into the desert for a number of years in the persecution of religion. That's probably the heart of all reformation. Reformation is a process of polite persecution in the Church. We've often heard the Scripture, the end of Malachi, we're in a season of the spirit of Elijah turning the hearts of the children to the Father and the Father to the children. In a sense it's that spirit of Elijah that contested religion, Elijah contested Jezebel, contested a corrupt society. But it was a painful transition and those that are really desperate for God must carry that attitude and character of Christ and not rebel against the old, but prove in their own journey that they are Christlike, regardless of the persecution they may go through.
We at Cross Rhythms have personal experiences of how strong the forces of King Saul can still be in some local churches. When I began broadcasting on Plymouth Sound back in 1982 with Britain's first contemporary Christian music radio programme, my pastor's response was, "This music is not of God." More recently, we've had to struggle against forces within the Church, who fail to recognise the gifts of the musical evangelist or prophet and within the world where, particularly in America, all manner of compromise from musicians and businessmen is tolerated in the headlong race to maximize profits. But now, as the title of this year's Cross Rhythms festival indicates, we at Cross Rhythms have the potential of experiencing a degree of breakthrough. This is true for all British Christians. The Church is in transition and if we will seek God, we can yet see it become the radical culture-changing Church that will wrench this nation away from the abyss.
For Cross Rhythms' part, we have experienced tremendous growth in the last few years as we've sought to be a radical voice for Christ to Britain's youth. But this is also the time when we need favour and support from our readers and festival goers - prayer support and financial support. God has certainly led and brought us to a point today where we are becoming an increasingly effective youth Christian media organisation. But, as most people now know, since October Cross Rhythms has had to almost relaunch itself, stepping back from our relationship with United Christian Broadcasters. We explored the idea of amalgamation, but didn't believe it was right and felt that God was saying to both boards that man plans his ways but God orders his steps and if we made the right moves then both ministries would be blessed. A month after we made that decision God miraculously provided us with the BBC Radio Stoke building, which is a massive 12,000 square foot, brilliantly built radio and television studio setup. We've managed to pay the deposit and we are starting on this real sense of partnership with our readers and festival goers. These are really exciting times for the future. But it is important for people to understand that, although we strive for a professional presentation, we are not playing at media at Cross Rhythms. This is a very real strategy from Christ to reach a generation with a relevant Christian faith that can put some things into context, be cool about the art, yet still carry that anointing. I am very passionate that people understand that Cross Rhythms is the cup and the water. We need both. The cup is the media but the water is the cross of Christ and the anointing of his Spirit on all that we carry.
Cross Rhythms represents the whole Church, not a particular denomination or stream. Therefore our difficulty in the past was that we have not been connected to any main support from any church. We now need the grassroots to partner with us and become Friends Of Cross Rhythms so that we can maximize on the opportunities that God is giving us. Most of the support in the Christian media now emerging in Britain will have to come through a donor-base. We are never going to sell enough festival tickets or magazines to resource creatively what we want to do. As everyone knows, media is a very expensive process. Cross Rhythms needs people who resonate with our vision to partner with us and, if they feel it in God, to sow, either through prayer or finance into our ministry. Then, by God's grace, we can get the job done and truly be a sound vision for changing times.

The opinions expressed in this article are not necessarily those held by Cross Rhythms. Any expressed views were accurate at the time of publishing but may or may not reflect the views of the individuals concerned at a later date.
We welcome your opinions but libellous and abusive comments are not allowed.