Tony Cummings reports on the "back to his roots" move of Australia's much-loved COLIN BUCHANAN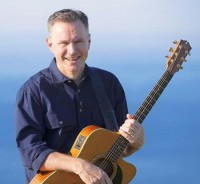 Colin Buchanan
When Cross Rhythms last spoke to the Australian-based Colin Buchanan, we talked mainly about his children's ministry and how his flood of albums and videos have taken his witty, musically eclectic songs around the world. In our talk, we did touch on Colin's musical origins and discovered that even before he wrote and sang songs targeted at children, Colin was an award-winning country singer with several well received albums. So it's not entirely surprising that Colin has returned to his first love of country music. 2017's 'Calvary Road' album is about to get UK distribution through Authentic Media. He spoke to Insights magazine about 'Calvary Road'.
"I didn't want it to be an 'in house' Christian record. In other words, to sing a worship song, that's clearly 'in house'." He's referring to contemporary Christian songs designed to be sung at churches or gatherings where people "want to praise God." Instead, 'Calvary Road' is a collection of personal stories at "the wild frontier" of faith.
He continued, "The album has stories of imperfect people and I feel stories have a potency. Anyone who listens to 'Calvary Road', I'd love it to erode the preconceptions they might have about the real, gritty difference Jesus makes in our real, gritty lives. I think the Gospels paint the picture of Jesus in the flesh. He left footprints. And that's an arresting thing for me to consider as a Christian. Perhaps the encrusted religion that I bury him in, I ought to let him burst out of that rubble and just be re-confronted again by the truth, the power and the potency of Jesus as God's man. You know, he is the model and the means of salvation."
He finished by saying, "I wonder whether sometimes Christians shouldn't just share the imperfect, untidy comfort they find in Christ. They could be sharing that authentic truth of the Gospel percolating into their life, rather than a pre-fabbed feeling that. . .can just sound like they're telling people what they should do."

The opinions expressed in this article are not necessarily those held by Cross Rhythms. Any expressed views were accurate at the time of publishing but may or may not reflect the views of the individuals concerned at a later date.
About Tony Cummings

Tony Cummings
is the music editor for Cross Rhythms website and attends Grace Church in Stoke-on-Trent.
We welcome your opinions but libellous and abusive comments are not allowed.