CREATION FEST 2012 is due to take place at the Royal Cornwall Showground. Tony Cummings spoke to organiser Phil Pechonis.
Phil Pechonis
It's troubled times for Christian music in the UK. Record companies have ceased trading, several of the top UK acts have called it a day and Britain's longest running Christian arts festival seems to book fewer Christian acts every year. One event, however, courageously continues to buck this decline. Creation Fest, held at the Royal Cornwall Showground near Wadebridge, goes from strength to strength and has clearly established itself as Britain's leading free festival. Now in its 10th year, if anything this year's music programme is its strongest ever with a very impressive lineup of British and American artists. The acts set to play Creation Fest 2012, to be held from 4th-10th August, include CCM hitmakers Leeland, former thebandwithnoname man Chip Kendall, popular worship man Ben Cantelon, American singer/songwriter Sarah MacIntosh, New Zealand's popular Parachute Band, worship aggregation Lou Fellingham and Phatfish, children's ministry specialists The Bear Hug Band, radical worship collective Chaos Curb, Californian Evan Wickham - the brother of Phil Wickham, Irish groundbreaking worshippers Rend Collective Experiment, popular UK rock team Empire Nation, US jazz rock outfit Proto Evangelion, urban music unit LZ7, South Africa-born worship leader Brenton Brown, electro-pop/hip-hop group L.E.D., progressive bluegrass singer Chelsea Moon and Irish rock worship band Bluetree.
Amazingly, for a UK event the finance to put on Creation Fest comes from America. The Calvary Chapel stream of churches which, under the leadership of Chuck Smith have long been recognised as one of the creative and spiritual foundation stones of contemporary Christian music, have invested large sums of money and a large team of volunteer helpers to put on the annual event. Phil Pechonis, the co-founder of Creation Fest and a pastor of a Calvary Chapel church in Cornwall, explained, "We would love to see it even more dependent on UK finance, but God in his infinite wisdom has chosen to use American finance to fund it. It's certainly a blessing, as we have seen some magnificent things happen over the years. It just continues to show us that God is faithful and it's his project."
Clocking up 10 years with a free festival is a major achievement. Has there ever been a time when Phil thought that a particular Creation Fest would be the last? "That's a great question. I've felt that we would continue on year after year, with the exception of 2008. We were really wondering what God would have in store for us next. The festival had outgrown its site in Woolacombe, Devon. We felt the Lord was going to do something a bit different, so we handed it back to him with all our heart, mind and strength. He gave us an answer in the beginning of 2008. He literally spoke to Brian Broderson and myself, saying he wanted us to continue this event. It was an incredibly fruitful event - we had done a lot of Creation Fest Roadshows all across the land. The two largest ones were probably Barnstaple and Exeter. We were wondering what was next. He asked us to continue on, and then opened the door for us to take the event to the Royal Cornwall Showground in Wadebridge. It was a daunting decision, but looking back, especially as we are taking over the entire showground for 2012 - it's incredible that we have come this far."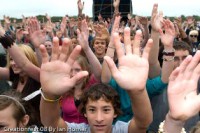 Even with this year's event featuring a large number of powerful worship ministries, Creation Fest is renowned for being an event at which many non-Christians - both locals and holiday makers - can drop in for a day, hear some great music and in the process hear the message of Christ. Said Phil, "The original vision is really evangelism; equipping and getting Christians to work together in community. In essence, it's stirring up the pot, trying to wake up apathy in the land. . . We have really wanted to remind people of the glorious Gospel, both to those who have heard it and those who haven't. Also, we want to proclaim the authority of Scripture. This is something I have found essential over the years, in letting people know that God's word is final. It has hit at so many levels beyond our imagination. There have been people coming back to minister to others, giving their lives to Jesus, marriages restored. We also want to run foundational classes this year to teach the basis of the faith. So essentially, it's about evangelism, discipleship and churches working together to make the event happen."
This year Creation Fest coincides with the Olympics. Recognising the competing draw of the sporting feast, Creation Fest have partnered with More Than Gold where a tent will show the Olympics on a giant screen. Other non-music attractions are a daily Movie After Dark venue where punters can enjoy a family-friendly film. There will also be a full sports programme where everything from skateboarding to football and frisbees will be on offer. But it's the music which will attract many of the 3,000 plus people expected to attend.
The kind of acts that Phil gets most excited about are those who make an unequivocal declaration of their faith. Commented the pastor-cum-festival organiser, "I would love to see more musicians, in fact more people generally, praying for boldness, as the believers in Acts 4. There are some groups out now that have been quite bold, and I'm encouraged by that. I was personally influenced by a band called dc Talk back in 1991. In 1992, they played at Night Of Joy at Disneyworld,Florida. I went to this particular event and was watching this group of young men on the stage. I was really on the fence in my faith and looking to see something tangible, to show me this whole Christian thing is real. I saw Toby Mac, Michael Tate and Kevin Max and they were so bold. Some of the lyrics were 'saved, you've gotta be saved' and I thought to myself, this whole Christian thing has to be real. I would never, ever have said that on stage as a musician, never mind what I thought about God. Only God can inspire people to be that bold. That was actually the night I met this beautiful young lady who ended up being my wife, and on the drive home from Disney to South Florida we chatted about God. By the time I got out the car, I realised there was something special about this girl and 18 months later we were married. That was a real turning point, and dc Talk were a big part of that."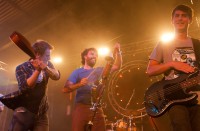 Rend Collective Experiment
It's intriguing that Cornwall should have been chosen as the location for Creation Fest. Many church leaders and evangelists have down the years admitted that the West Country, particularly Cornwall, is a tough place to evangelise. But unseen by many there has also been a growing spiritual groundswell. Said Phil, "There has been a lot of prayer in Cornwall - there's an initiative where they have prayed for the land. They have been asking for something to reach the young and the old for almost 10 years. When we came in, it was obvious God had been before us. We don't even know what we are building. It's almost like Noah building the Ark - how much did he know whilst he was building it? Did he really know the magnitude of what was happening? We really don't know. Is there going to be a second week? We haven't filled the site yet but it will happen. So you have to ponder this, how do you set it up? I don't like to scare my staff in the interview, but I have often wondered if there won't be a second week on the horizon, which would mean you'd need more volunteers. But I think it's an amazing place to come and be fed the Word of God, because of the atmosphere there. It's very relaxing, beautiful, and I don't want to lose the vibe we have. We have all been to packed events, whereas ours is quite laidback. You look around and realise there are more people than you ever imagined, but it never has that mob mentality. I don't want to lose that. It would be fun for Creation Fest to have a second week."

The opinions expressed in this article are not necessarily those held by Cross Rhythms. Any expressed views were accurate at the time of publishing but may or may not reflect the views of the individuals concerned at a later date.
About Tony Cummings

Tony Cummings
is the music editor for Cross Rhythms website and attends Grace Church in Stoke-on-Trent.
Reader Comments
We welcome your opinions but libellous and abusive comments are not allowed.