Wednesday 13th March 2013
Tony Cummings reports on American singer/songwriter DANEN KANE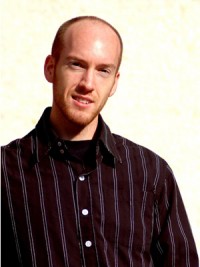 Danen Kane
The haunting tones of "Inheritance" by American singer/songwriter Danen Kane may be new to most Cross Rhythms radio listeners but in fact this most gifted of songsmiths has built up a large following in Wisconsin and has opened for such acts as BarlowGirl, Leeland and Shawn McDonald. The website crosswalk.com reviewed Danen's 'Love Is Waiting' of 2011 from which "Inheritance" emerged and succinctly summed up what makes Kane stand out from the hundreds of other Christian singer/songwriters. "Press material hype makes a music reviewer suspicious, but doggone if the description of independent artist Danen Kane's 'unique ability to tear down the walls between traditional worship songs and songs about everyday life' isn't spot on. The Wisconsin singer/songwriter is neither flashy nor formal; his acoustic-based work is elevated by how he puts a range of complex emotions into elegantly simple words. As such, 'Love Is Waiting' feels spiritual but not so much religious, more Saturday afternoon than Sunday morning. Stylistically, Danen wouldn't be out of place on a concert bill with Brandon Heath, but his lack of record label polish gives these tracks a more free-spirited, collegiate vibe."
Wisconsin native Danen came to faith early. He told titletrack.com, "I was introduced to the Lord by my mom at a young age. He has been real to me and a real part of my life ever since then. But I grew the most when I started really reading the Bible on a regular basis and really digging in to his character and what he was really asking me to do with this life he has given me. Getting involved with Campus Crusade For Christ at my college and meeting other people my own age that were wanting the same things as I did was a huge part of my growth with God. Fellowship and reading the Bible daily really took my relationship with him to the next level."
Unlike many of his compatriots, Danen made a relative late start in music. "My journey just began helping lead worship for my college ministry and a couple churches in my college town. Every once in a while I would do a concert at a local coffee shop playing little songs that I had written. It seemed that every time I did that someone was there saying 'you should come play at my church/ministry/school etc'. So I just took all the little opportunities that came my way and played everywhere and anywhere I could. God slowly built a really good underground indie following of people that liked my music and I have just been touring the country from place to place ever since."
In 2003 Danen released his first independent album 'Take Glory From Our Praise' and in the following years released 'Transparent' (2004) and 'She' (2006). The latter album featured the song "I Want You To Believe" which resulted in Danen receiving letters daily from all over the country in response to the song. But within months of the album's release the singer/songwriter decided to take a step back from life on the road. He explained, "For about four years straight I was on the road constantly, much of it in a van driving by myself going from city to city. It was an incredible time of growth for me and my ministry, but I realised at the end of it I had let a lot of my relationships in life fall through the cracks. I had become really disconnected from living day-to-day life with people, which is really huge and a big part of what God calls us to do. So I have taken the last few years off from extended touring to replant myself and spend that time back in day-to-day community. I needed it very much."
In 2009 Danen released the 'Awakening EP' which was described as a "soulful blend of funk, folk, European pop rock and a stunningly anointed heard of worship." Commenting on the recording process Danen said, "I love the studio for its space to create, try new things, collaborate and hopefully make something great. But it is also very stressful because I am a perfectionist! On the other hand, I love meeting new people, expressing myself on stage, worshipping and experiencing the fruit of my hard work, seeing lives changed and inspired. But travelling can take its toll really quickly!"
Talking about his 'Love Is Waiting' album Danen said, "I didn't set out to write anything with a set theme. I think there is a lot of variety in the topics and feelings on the album. But I would say if there was a theme it would be just a longing to know the Love of God more. I spend a lot of my days chasing after love in my life. Chasing after things that I think will satisfy me, or take away my loneliness. And they always disappoint and they never end up filling me like I hope. What I am learning most of all in this season of life is that truly the only thing that will fulfil me is God himself. His love is truly faithful, pure, perfect, and the thing my heart longs for. And so the reality is I am not waiting for love to come into my life, love is waiting for me to just embrace Him and all that He has for me."
When asked if there was any message that he hoped people would take away from the album the songsmith responded, "That it is okay to be broken. That is okay to be honest. That it is okay to feel. And most of all, I hope people come away feeling a greater love for God and more loved by God. And I hope that inspires real heart change and a desire to live a life that is different than what is normal in this world and that matters for him. My favourite song on the new album is 'Take It All'. My desire is to see great things done in this life, to see the masses come to the Lord, the sick healed and the dead raised. I want to see God move in this place like he moves in remote places where people need to rely on him for every meal and every night of sleep. I want to see the Church be willing to really live lives of worship. I want to see us live out the Great Commission."
Danen loves his music but it's not everything to him. He commented, "Most artists are extremely passionate about music itself. Music is something that I love to do. I love writing and playing, but it's definitely not what drives me. I use music as a vehicle to do what I feel God has called me to do. It has allowed me to meet thousands of people that I would have never met, so I love music, but I love music more because it allows me a platform to share the Lord with people."

The opinions expressed in this article are not necessarily those held by Cross Rhythms. Any expressed views were accurate at the time of publishing but may or may not reflect the views of the individuals concerned at a later date.
About Tony Cummings

Tony Cummings
is the music editor for Cross Rhythms website and attends Grace Church in Stoke-on-Trent.
We welcome your opinions but libellous and abusive comments are not allowed.