Wednesday 7th January 2015
Composer, multi-instrumentalist and producer DAVE BAINBRIDGE talks us through the tracks on his new album 'Celestial Fire'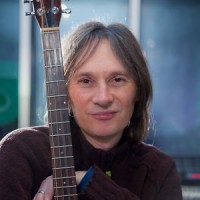 Dave Bainbridge
"Heavenfield"
Heavenfield is a place in one of the counties I love the most in England - Northumberland (or Northumbria) - somewhere I visit every year with my family. It was the scene of a decisive battle in AD 635, which, against fierce invaders and incredible odds, established Oswald as king of Northumbria. One of Oswald's first acts was to invite the monks of Iona to set up a monastery in the Kingdom. This they did at Lindisfarne or Holy Island, under the guidance of Saint Aidan, and from there the good news of the Gospel spread throughout the whole nation. What I think is significant, and indeed relevant in a contemporary context about this battle is that it was perceived not only as a battle against fierce invaders, but that Oswald recognised that there was a spiritual dimension to the battle. Had the invaders won, it may well be that the whole course of British history may have been different. Christianity may well have been stamped out before it had really been established.
I see contemporary parallels with the rise of Islamic Extremist groups such as Islamic State, whose goal is to establish a "caliphate" throughout the world by means of extreme violence and eradicate Christianity and all other of the world's belief systems, including those of Muslims who don't adhere to their interpretation of Islam. I think St Paul's words from the 1st century AD are so relevant today: "For our struggle is not against flesh and blood, but against the rulers, against the powers, against the world forces of this darkness, against the spiritual forces of wickedness in the heavenly places." St Paul - 1st Century AD
Musically this wouldn't have been out of place on an Iona album, with Troy's fantastic, soaring uilleann pipes - it's even slightly reminiscent of the opening piece which I wrote on Iona's debut album. I wanted the piece to sound timeless and ancient, so I had Sally singing open 5ths to add to the stark feel. This melody re-occurs several times throughout the album.
"Celestial Fire"
The lyrics for the title track are in part based on the beautiful passage in CS Lewis' book The Magician's Nephew, where Aslan sings creation into being. I thought that was an amazing image. Then I thought about how the sun is responsible for sustaining life on earth and that our lives are intrinsically linked with this huge ball of fire in the heavens. Then I thought about the characteristics attributed to God in the Bible (who, in the Old Testament appears as a pillar of fire) and how infinitely powerful he must be, yet also so passionate about his creation. There are a lot of ways in which things can be described with reference to fire: burning passion, all consuming, intense, purifying, etc, so I used some of these ideas in the lyrics for the piece. Musically I want this piece to start with a blast of energy and I used the short descending theme throughout the piece in different forms (ie, later on it comes back as a slow theme over ½ time drum phrasing).
"See What I See"
I think the lyrics to this are fairly self-explanatory. On a human level it could be taken as the conversation between a pessimist and an optimist. But actually I was trying to contrast how the same circumstances could perhaps be viewed so differently from a heavenly perspective than from an earthly one. Sometimes when we're in a difficult situation we're so close to it that can't see a way out, but looking from a different angle the same situation can be seen as an opportunity rather than as a negative.
"The First Autumn"
This track and the track "Innocence Found" are linked by the same story, which I heard from a lady called Margaret Barker who is a respected Methodist theologian, when I was the composer/musician in residence for a St Paul's Cathedral retreat a few years ago. A story widely told in the oriental church was that when Adam and Eve rejected Wisdom and so lost Paradise, angels gave Adam three treasures to remember Eden; gold, frankincense and myrrh. So when the wise men brought these gifts to Jesus, it was symbolic of the restoration of all that had been lost. So in essence these two songs are songs of hope and restoration. I then had the thought of what it might be like if Adam and Eve had experienced the first autumn after leaving paradise. I imagined the confusion and alarm at seeing the leaves dying around them, the air becoming colder. And yet in this season of change there was already the promise of the hope and restoration that was to come. I was up in Seahouses in Northumberland on holiday with the family in 2010 when I recorded the original demos of both of these songs (I had my guitar and laptop with me!). At the time I didn't know whether they would be instrumental pieces or turn into vocal songs.
"For Such A Time As This"
This was one of the first pieces to really take shape for the album and the arrangement was more or less completed towards the end of 2012. I was really pleased with the guitar solo on this track. Quite often I come up with chord sequences or time signatures for guitar solo sections that are quite complicated, but on this track I wanted a straightforward sequence that I could just blast over without having to think about what comes next! I think I should do this more often!
"Innocence Found"
The lyrics in this song are more directly related to the story I mentioned above in the notes for "The First Autumn". I play a number of different instruments on this, including bouzouki, mandolin, acoustic and electric guitars, piano, keyboards and all the percussive elements. Julia Malyasova does the main vocal and her deep, emotional voice is perfect for this kind of storytelling song. Sally Minnear does the end vocal lead. I really like the middle section build up on this track. I was after the sound of a Salvation Army brass band and even considered approaching a local band to record them for this section, but in the end my great friend David Fitzgerald multi-layered alto, tenor and baritone saxophones and I added some brass instrument samples and we got a similar effect.
"Love Remains"
This piece started out with the opening piano idea, based on the arpeggio figure which I came up with back in 2007. I couldn't see how this would work in the context of Iona, but I enjoyed playing it. After a lot of work I came up with various variations on the arpeggio idea using different harmonies and began to think of it as a recurring theme that could form the basis of a longer piece which would also include vocal sections. The whole thing began to solidify when the idea came to me to base the lyrics on the beautiful passage in 1 Corinthians 13 about love. For example I used the line "If I speak with the tongues of men and of angels, but do not have love, I have become a noisy gong or a clanging cymbal" fairly literally in the passage with Joanne Hoggs's otherworldly vocals - you can hear gongs and cymbals in the background! This is one of my favourite pieces on the album. I just love Collin and Randy's drum and bass playing on this track, which is so good it always makes me smile! Damian's vocals are also stellar.
"In The Moment"
The six note phrase that is the basis of the big instrumental theme in this track was written during some sessions in 2008 for a possible album I was planning with a new band called Open Sky, with Gabriel and Andrea Alonso, Andy Green and later Steve Lawson (Iona was having a year off at Jo's request). We spent several days recording ideas at The Chairworks Studio in Castleford, West Yorkshire, but the record label we'd had talks with pulled out of funding it, so nothing was ever finished. However, we recorded some great ideas and this fragment of melody was one of them. It was originally recorded by Andrea as a layered vocal piece (you can hear some of those vocals in a couple of places on the track) and also as a flute piece, also played by Andrea.
One of the things I wanted to include on the album was at least one steaming rock organ solo, in memory of the great Jon Lord whose playing I loved! I came up with a riff that turned out to be in 15/16 time which was great to build and solo over. It really takes off on this track with Collin and Randy's superb playing and Sally's soaring vocal doubling the guitar melody - another of my favourite moments on the album.
The lyrics for this piece were inspired by some amazing events that took place in the USA in 1997/98 which were directly inspired by the track "Reels"' from the Iona album 'Heaven's Bright Sun'. Briefly, the young people of a small Christian youth group during a prayer meeting suddenly felt the presence of angels in their midst as they were dancing to "Reels". They felt the wind of their wings dancing around them, even though it was a small room with no air conditioning in it. This continued for several weeks and spread across churches in several neighbouring states, triggering what you might call a sort of revival as hundreds of young people just enjoyed God's presence and the angelic visitations!
"Heavenfield Reprise"
I had the idea of using the opening melody from "Heavenfield" in several places throughout the album. This short snatch of the melody over Frank's beautiful, shimmering strings is actually just the last part of what was a longer piece of improvised guitar over a string accompaniment. I cut it down because the album was already very long and also I needed to record some additional live celli to really complete the piece. I'll definitely release the longer version at some point.
"On The Edge Of Glory"
I originally wrote this as a possible piece for Iona's 'Another Realm' album and Martin (uilleann pipes/whistle) and I recorded it in February 2009 in Northern Ireland at Joanne's place. It wasn't used on the Iona album, but I really liked the melody and thought it would make a great ending piece for 'Celestial Fire'. The Ireland recording had the basic melody on pipes and whistle and just a keyboard pad. All the other parts (autoharp, guitar, pipe organ, vocal layers, Randy's Taurus pedals, Gabriel's orchestral percussion and David's additional whistle part) were added during the main 'Celestial Fire' sessions, to create the grand, more orchestral repeat of the melody.
The title came later as well and is inspired by David Adam's book The Edge Of Glory. "To walk the edge of glory and see for oneself the ever abiding presence, that never leaves us or forsakes us."

The opinions expressed in this article are not necessarily those held by Cross Rhythms. Any expressed views were accurate at the time of publishing but may or may not reflect the views of the individuals concerned at a later date.
Reader Comments
We welcome your opinions but libellous and abusive comments are not allowed.