Tony Cummings interviewed Matt Stevenson about the pioneering electronic group DIGITAL PILGRIMZ
Digital Pilgrimz
The relentless rise in popularity of dubstep has now, of course, reached international proportions. The electronic music form that originated in South London and grew out of two-step and dub and with its gigantic bass lines, reverberant drum patterns and ability to ride between simplistic floor fillers and wild exercises in electronic experimentation has produced both a vibrant club scene and influenced all kinds of pop, R&B and hip-hop acts from Rihanna through to Snoop Dog.
Christian producers of dubstep have been relatively slow to emerge on the scene but today there is an ever-growing list of believers working in the dubstep underground. The recently released album 'Something From The Future' features tracks from believers Rogue, Traxione, Product74, River Accorsi and Sketi. But possibly the best track on the compilation is "Shogun" by the Digital Pilgrimz who have really been a groundbreaking duo in dubstep involvement. The Pilgrimz consist of DJs Danjahrous, and Rekreate (Matt Stevenson). As it turns out Matt has an involvement with various forms of dance music that goes through the dance decades. I spoke at length to Matt to get his story.
Matt grew up in the '80s. His father was a club deejay so it was not altogether surprising that by his teenage years London-born Matt was a passionate follower of the latest club music. He admitted, "I always had this appreciation for vinyl - just the sound and the smell and the feel of it. It wasn't long before I got my hands on my first set of decks. I was buying vinyl with every spare bit of cash that I had. One of the major record shops that I spent most of my time in was Big Apple Records in Croydon. Anybody who knows anything about the dubstep scene will tell you how fundamental Big Apple Records was in that area, because you had the likes of Benga, Skream & Artwork and DJ Hatcha all came from that record shop. My office was in Surrey Street, Croydon, literally opposite Big Apple. I worked there for five years and I got very close to all the people at Big Apple Records. They knew me, first name terms. In fact, I used to walk into the record shop and I would have first pickings of all the promos there that had just arrived. They'd say, 'Matt, come and listen to these ones! These just came in. Check these out.' I'd play these promos that nobody else had: there'd be 10 copies of this tune! I've still got them, obviously, stacked away somewhere. These are absolute anthem dance tunes that if I put them on Discogs or something like that they'd give me several hundred pounds or something, but I can't get rid of them."
So for Matt was dance music a profession, a hobby or an obsession? "It's an interesting sort of blend between all of them, actually. It started off as an obsession - got some decks, and once I got my first pair of Technics I'd spent a thousand pounds on my kit, so I thought I'd better take it more seriously. I'd invested in it, basically. I got signed up to a London DJ agency, who got me gigs. I worked out in Ibiza a couple of times - and other countries, not just Ibiza. There's a lot of scenes popping up: Majorca, France, Germany - different parts of Europe, and I was getting bookings to play there. It involved a bit of travel."
Looking back, Matt is quite outspoken about his years as a dance music deejay. "I loved the music but I also loved the whole package, girls, drugs, money, partying my life away. At the time I thought I was having the best time in the world, but in the end it was just destroying me. There was no purpose in it, other than self-enjoyment and hedonism. It took a lot out of me, actually, and I got into quite a state. That's where God found me."
Like many people Matt had a hazy idea about who God was. He admitted, "I would say I had an image of what God was like in my head - and that was absolutely nothing like the real God that we know. I thought he was literally a detached entity in some amazing club room that I'm never going to be allowed into, because it's some VIP area. I didn't know God, I didn't know how to access him. I wanted to have an understanding, and it was a deep friend of mine Jimmy - who I credit for that. He became a Christian before I did. I was able to relate to him, as he was my mate anyway. Jimmy and I had been up all night, doing what we do - sitting around, talking, smoking, listening to tunes - and he was telling me the Gospel, basically. I trusted him when he said to me, 'God's all right, mate. God is good, in fact. I'm there now. I know the truth, and I can tell you it's all right.'
At that stage in my life, God must've known that was the way He was going to reach me. He couldn't really get some ordinary guy to give me a tract and expect me just to take that as being my entrance into knowing Him. I had seen a tract before, and I had read it, so I think partly along the way God had maybe left some little trails towards Him. You don't see them, you don't recognise that God's trying to reach you: it's not only you reaching Him, it's him reaching you.
At that moment on that night t hit me, the truth that is. It was only when I accepted it and believed the truth, that my eyes and ears were opened. I gave my life to Jesus, and I can tell you nothing's been the same since. I've not looked back."
I remember my first church as a Christian was in Clapham; it is funny, because we literally went, 'Which church do we go to?' We hadn't got a clue. So we looked up 'church' in the Yellow Pages. We thought, 'We'll look under C, and we'll just pick out a church'. We literally just put a pen on the page and thought, 'That one - Bonneville Christian Centre in Clapham, South London - that is where we're going to go'.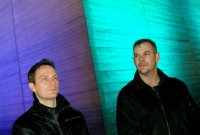 "You know God works in little confirmations, because you know he's working when he does things like this. Back then I was a right fashion monkey: I'd go out and buy the latest labels, whatever it was, didn't matter how much it cost. Making all this money DJing, you've got to have the finest clothes, of course. I thought, 'I'm going to go to church, so I'm going to buy a nice jacket to look all smart going into church'. As far as I was concerned, it was an occasion you dressed up for. I didn't know what you do in church. So I went out and bought this top jacket - two hundred odd quid. I got to the church and the jacket I'd bought that day was made by Bonneville. It was like God saying to me, 'You want labels? I'll give you labels.' I walked in the door I thought, 'I know I'm supposed to be here!' I can only describe the overwhelming sense of God: it's like fountains of the purest form of love, that knocks MDMA right out the window. There's nothing else like it: it's truly pure. I wanted that, I wanted to accept Jesus and all that he did for me so that I can have a relationship with God again, despite all my sins."
Filled with the Holy Spirit, Matt threw himself passionately into church life. However, one thing he struggled with was the music he heard there. "I was thinking, 'There's got to be more to Christian music than praise and worship'. So I went looking for it, and I came across some of Scott Blackwell's work. What struck me with Scott, and some of the American breed of music coming over that was Christian, was that it really strove to be absolutely authentic to the genre. The production level was up there. I could've played it alongside a lot of tunes had it actually been on vinyl, which would've been even better. A lot of Christian dance music only came over on CD. It was rare to get decent Christian dance music on vinyl at the time (Kenny Mitchell's was one of the only albums I got). CDs back then weren't all that, I wasn't into them. I'd put that on in my bedroom to listen to it, reflect, maybe have a bit of a praise time at home, but very rarely did I actually get a chance to play it out in the clubs, which is a real shame."
For five years Matt left the club music scene. He landed a job as a studio technician for a music college in Surrey. "I began learning the basic principles of sound, what button does what: I was micing up drum kits, trying to understand the dynamics of separate track recording; I was exposed to cubase. The very early stages of my music development was really good, because it was the absolute basics, starting from scratch. But I was working for four other people, which maybe gave me that appreciation for people's artforms. To be good at something, you've got to work at it. It's not just going to arrive, day one, and you're just going to become famous: some skills take time. If you work for it, you can actually get it. It's taken me five years to knock a decent tune together - and I did, a couple of good ones went out. One was used on TV, so I was quite impressed with that one."
A breakthrough of sorts occurred when the emerging producer was "commissioned" to supply the music for a Sky Sports event. He admitted ruefully, "When I say commissioned, I mean I was asked to do it and I did it and it was played on Sky - I'm not sure I got any money for it, which was partly a management issue, from my point of view. But it was well received, and it did get used. So it proved I'd got to a credible level. Then there was a space of about 10 years of not doing any music - purely, I would say, because of the expense associated and attached to having the equipment to do it. 10 years ago equipment was a lot of money: you'd have to buy a sampler, you'd have to buy the computer, various rack-mounted stuff, all the outboard equipment - or the studio-time, which was very expensive. Nothing like it is now, where you get a studio in a box. It's a case of partly myself saying, 'I'm going to save for it; once I'm comfortable with the finances I've got, I'll invest in it'. Also, it was literally about God saying, 'Put it down for a moment. Do a lot of listening, a lot of playing. Get your contacts together, and the time will come.' I feel that's now. The last three years I've been making music solidly."
When living in London Matt attended Grace, an alternative christian fellowship, that meet in Ealing on Saturday nights (more familiar to club culture), Matt was commissioned by Grace to work on an ambient compilation alubm, 'Landskapes'. Straight after its release Matt received a prophetic word which was to change his attitude towards music making. He explained, "The word said, 'You're instrumental in the part of inspiring people - to lift music up to God that is praise-worthy but is also dance-worthy, credible enough to be played in that context'. That's important to have that sort of seal of approval. If I produce tracks that are going to inspire somebody listening to this right now to go out and produce something in two years time, that also lifts up praise, I'd just say, 'It's been worth it'."
Joining forces with Dave 'Danjahrous' Michael, Digital Pilgrimz were formed. The first release was a download EP 'Sci-Tech', released through iTunes. That was followed in 2011 by the download and physical EP 'Mindfire' which received rave reviews. Matt spoke about those early months of recording basslines, so intrinsic to dubstep, into the computer. "We're not talking about getting a double bass out, or a bass guitar, we're talking about weird simulation of bass. It's almost scientific. There's levels and levels and levels of bass. Think of it like shelves of sound there's a low frequency, then there's a mid-low frequency, then there's a high-mid frequency. Understanding all that, and actually putting it together, takes some doing. When Digital Pilgrimz started there weren't tutorials on YouTube and now when you search for 'create a dubstep bassline' you'll see a plethora of tutorials, which I could've done with years ago. But we learnt for ourselves, and we did it, we cracked it."
Now the accolades are coming thick and fast. The 'Something From The Future' compilation made into the top 50 on the Beatport Download Charts with the label Future Follower Records and a publishing company 3Soul Music Group, Digital Pilgrimz are going from strength to strength. Working alongside Middlesbrough-based dubstep DJ Naza, and DJ / Studio producer Futureflex, Matt is involved in everything from production to label/publishing management. For those with more commercial dubstep-flavoured tastes there's a track with Ad-Apt (one-time thebandwithnoname rapper) in the pipeline while cuts like "Shogun" are keeping those dubstep underground devotees, crazy for 'the drop', fully charged. Future Follower Records are releasing new dubstep tunes online every two weeks. It is very encouraging to see the increasing numbers of believers stepping into the dubstep arena.
"We are also working with secular producers. I see us being at that credible level where we should be able to mix in with artists of our ilk - confidently be able to produce alongside these people. If that means some work in reaching other labels, partnering with other labels, we're happy to do that. Likewise, we're happy to support small events, if we've got a heart for the cause; we'll work for it. But above all, it's really important to stay in the call, in everything you do - humbly coming before God every step of the way. I said to God around the time of the 'Mindfire' EP, 'If this EP is the sum total, just to bless, just to encourage people out there to listen to new forms of music and new expressions of praise in a different way, then job done'. But likewise, if God wants to take us to the next level and the next level after that, we're ready. I'm praying that God would be the manager, he would be the one that's present in all the meetings. God is the God of dubstep."

The opinions expressed in this article are not necessarily those held by Cross Rhythms. Any expressed views were accurate at the time of publishing but may or may not reflect the views of the individuals concerned at a later date.
About Tony Cummings

Tony Cummings
is the music editor for Cross Rhythms website and attends Grace Church in Stoke-on-Trent.
Reader Comments
We welcome your opinions but libellous and abusive comments are not allowed.