Eridge Estate, nr Tunbridge Wells, Kent, 9th July 2005. Reviewed by Greg Sammons.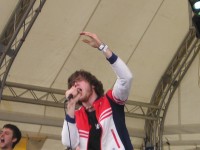 The rock press recently were quick to proclaim that as soon as Trivium took to the main stage at this year's Download festival in Donnington and played "Pull Harder On The Strings Of The Martyr" that a new legend was born. Any eagle-eyed rock fan would have heard them, read about them and seen them live prior to Download (I know I had) but the point still remains, that one performance cemented them as the world's most exciting new metal band. So on a much smaller level, I couldn't help comparing it to when those zany rock iconoclasts from Coventry [dweeb] took to the main stage at Grassrootz; announcing they had a pirate in their midst, their sadness at the splitting up of the Spice Girls and their wonderful fondness for cheese. The crowd absolutely lapped up their stage antics and produced the kind of reaction and admiration that only Yfriday could match; suddenly [dweeb] was everyone's favourite new band.
Though Grassrootz had a couple of thousand rather than Download's hundreds of thousands, [dweeb] had made a giant step forward. There were so many other great acts that also got a good reception at this year's Grassrootz. Funk outfit No More Horses played one of their last ever gigs in the warm early evening, leading up to singer/songwriter Nicky Rogers taking to the stage. I must admit at this point I was watching and then interviewing Soulcry but by all accounts she went down very well.
I know for sure that she sounded brilliant as one of the many co-conspirators working alongside Dan Wheeler during his talent-laden set in the Performance Café. It was in the café that we also witnessed Prelude take forever on their sound check but their brand of indie sounded pretty well polished once they did start for real. Local act Adam And The Previous People had a rather diminished audience as it clashed with a bigger crowd at the main stage; Four Kornerz had no such problem though as they provided the gap between Nicky Rogers and headliners Yfriday. Their old school funk and high octane raps warmed up the crowd well for the main feature.
Over at the ID Stage, the other main music tent, the final of the inter-school battle of the bands took up the morning. The deserved winner were Wearing Mary, an emo/britrock outfit who got the opportunity to play a few tracks on the main stage as part of their prize. It intriguingly followed straight after the final of I*Diva, where each finalist got to sing Joss Stone at us until every member of the crowd had overload! It was however a big crowd puller as the judges were David and Carrie Grant, while some of the girls singing really did have strong voices.
Also at the ID Stage, were local act the Tehillah Commission, who seemed to have a loyal fan base, and Soulcry who I always enjoy watching, if only for their wonderful song "Forever Falling". Their new bassist seems to have taken up his role fairly easily. Like [dweeb], they came close to winning the Ultimate Showcase and now have a strong chance of winning another national talent contest (bravenewbands.co.uk). But the highlight of the day at the ID Stage was, again, [dweeb] who unplugged acoustic, well almost unplugged, won over the crowd with their jovial antics.
Before we go onto the headline act, it's worth mentioning a few more notables that I was unable to catch. At the performance café, Stuart Henderson read some of his hard hitting poetry, while the Psalm Drummers were joined by a packed out tent full of people wanting to join in with the drumming experience - twice! Also, the main stage was opened by hip-hop crew Greenjade and followed up by two DJ's whose names escape me!
Yfriday kicked off at a warm dusk and ended at a much cooler 11pm but the vast majority of the crowd stuck with them throughout. All their classics were played with one or two fresher tracks as well. I was amazed by how well their newer material was received, one song had literally been written days before and got one of the biggest cheers of the night as the crowd realised just how privileged they were to hear it. It was fantastic to experience the full impact of the Newcastle band's worship ministry and see how hungry the crowd were to feel more of God's power and majesty. Many were obviously moved by the experience and I myself felt a strong sense of God's Spirit. Yfriday's powerful performance perfectly capped off a wonderful day where so many artists shared their faith with considerable artistic integrity. Roll on Grassrootz 2006.


The opinions expressed in this article are not necessarily those held by Cross Rhythms. Any expressed views were accurate at the time of publishing but may or may not reflect the views of the individuals concerned at a later date.
We welcome your opinions but libellous and abusive comments are not allowed.