Wednesday 27th August 2008
In what is now an annual service to Greenbelt goers and Christian music buffs generally, from 22nd to 25th August Cross Rhythms had a team of reviewers at Cheltenham Racecourse to report on Greenbelt '08. Here is the final version of their reviews.
FRIDAY, 22nd August
[dweeb] (photo by Mark Goodge)
[DWEEB] - Mainstage - 6.00pm
After a short delay due to a health and safety issue concerning the front barrier, [dweeb] got Greenbelt 2008 off to a fantastic start. They approached their live act with the comic eccentricity of cartoon characters and the musical ability of superheroes, interspersing their songs with audio announcements in the style of film trailers. After their album title 'It Came From Outer Space' was announced in this fashion it took only a matter of seconds for lead guitarist Badgerman to scale the amps as frontman Tim Alford ran onstage dressed all-in-white and danced ferociously along to the beat. Badgerman's jagged and jazzy guitar playing followed the tight grooves of Matt Donald on bass and Dave Ashworth on drums while Tim constantly engaged the audience with the raspy delivery of his offbeat lyrics. It took a while for the Mainstage crowd to warm up but [dweeb]'s punchy performance of wonderfully quirky harmonies, sing-along choruses and the usual blend of humour soon worked its magic. Not content with a short snippet of a cover of Black Eyed Peas' "Shut Up", Tim sprung a surprise on his band-mates with a further cover of Estelle's dangerously catchy "American Boy". Their competence suggested they could sing a new song at the drop of a hat! The band finished with their Christ-centred manifesto tune "What It Is To Breathe", inducing foot stomping and hand clapping across the Mainstage field. Bold and prowling they said goodbye. for little more than three quarters of an hour, when they courageously filled a blank slot at the Underground with what was undoubtedly another energetic affair. They love to play. We love to listen.
Tom Whitman
Starfield (photo by Stuart Keegan/Greenbelt 2008)
STARFIELD - Mainstage - 7.00pm
Canadian quartet Starfield will be no strangers to Cross Rhythms' radio listeners, but their first appearance at Greenbelt (as part of a lengthy European tour) in front of a crowd that mostly hadn't heard them before meant they had to work hard for their appearance money. But, fortunately, the sun shone over a warm Cheltenham evening and the band's trademark melodic rock worship soon warmed the audience up too. An eclectic setlist featured songs from their latest album, 'I Will Go', and their own back catalogue - including the radio hits "Revolution" and "I Want To Hold The Hand That Holds The World" - as well as cover versions of some popular worship songs, giving themselves a good introduction to their listeners. The gig felt a bit like a worship service, too, with lead singer Tim Neufeld taking time between songs to encourage festival-goers to open themselves to the Holy Spirit's leading over the weekend and introducing the final song with a lengthy prayer for God's blessing on the event - followed by a typically amusing Greenbelt moment where Tim led the audience in the traditional charismatic end-of-prayer call and response: Tim: "Amen". Crowd: [silence]. Tim (louder): "I said 'Amen'!". Crowd: "Amen!" This may have been their first Greenbelt visit, but I suspect they'll be back.
Mark Goodge
Mor Karbasi (photo by Andy Stonehouse/Greenbelt 2008)
MOR KARBASI - Performance Café - 8.00pm
Slowly swooning across the stage with her long black dress and flowing dark hair, Mor Karbasi began her set with the trademark flamenco style that she loves to keep alive. A haunting introduction grabbed the audience's attention as her warbling weaved its otherworldly wings to our ears. The power of her performance suggested the ability of music delivered in different languages to stride over such potential barriers. With the long-fingered Joe Taylor on classical guitar and vocal harmonies, Mor Karbasi was free to explore tales of love and woe with her wonderfully controlled voice. Introducing a song originating from 15th century Spain she said: "The main subject is love.What can I say about love? We are always checking our pockets to see if we still have it, to make sure we haven't lost it." Indeed, and it is by the same eloquent turn of phrase with which Mor Karbasi deservedly brought the packed Café to a hushed silence. It was a strikingly sensual performance of poise, both visually and aurally.
Tom Whitman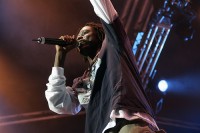 Emmanuel Jal (photo by Elaine Duigenan/Greenbelt 2008)
EMMANUEL JAL - Mainstage - 8.10pm
The lengthy soundcheck ate into the performance time, presumably the deejay/technician providing most of the accompaniment was having trouble with his samples. But when Emmanuel announced to the restless crowd "we gotta go with what we have" it was worth the wait. The one time Sudanese child soldier has grown into a powerfully passionate rapper and his songs, largely taken from his latest 'Warchild' album, made their point with pulverising power. Emmanuel's voice rang out with the authority of an Old Testament prophet. Phrases and images poured forth to lodge in the listener's grey matter. "I stand here because somebody cared," "50 Cent is being played by The Man," "I'm in a different war fighting for the children of Darfur." Sometimes his images were so shocking that they stunned even the libertine Greenbelt audience; like his breathtaking attack on the oil and mining companies' brutal exploitation of Africa. "To Mr Oil, Diamond and Gold Miner/Stop treating Mama Africa like a vagina/She's not your whore, not anymore/You take your riches and leave the people poor." One of Emmanuel's two backing singers, a rotund chap from the Bahamas, talked passionately about the need to resist gun and knife crime on our cities streets. Then Emmanuel explained he wanted to "take us deep." He launched into a breathtaking, unaccompanied version of "Forced To Sin" which was the most powerful piece of poetic militancy since I heard the Last Poets back in the '60s. Emmanuel's searing images of eating the rotting flesh of his comrades in a senseless and savage jungle war were gruesome but demanded attention. He closed his epic by explaining, rather unnecessarily, that "That is my story, God bless you." After the stunned applause the rapper continued by explaining he liked to close his set with some faster songs because, "Normally I dance my pain out." And dance he did, careering across the stage to the phat Afrobeat rhythms after he brought some folk from the crowd onto the stage including a cute little girl aged about nine. At the close Emmanuel had the crowd at the front of the stage close to dancing delirium as he took giant steps like he was stomping on Satan's head. I'm sure that's just what he did.
Tony Cummings
ELECTRALYTE - Underground - 8.50pm
Having seen Electralyte last year as a three piece, I was surprised to see they had added an extra guitarist. This may have been the extra boost that they needed as their style has changed subtly since 'Breakout', as can be heard on their brand new CD 'Scratch Beneath The Surface'. Wearing their trademark shirts and ties, they look like office workers on their lunch-break. Albeit ones who can pump out some excellent indie anthems. They play like a new band that has everything to prove, even though they have been going since 2005 and have three CDs under their belts. Sweat (and musical talent) oozes from every pore as they mix old and new songs throughout the set. The sound seems to be more consistent as they have ditched some of the quieter songs from their repertoire. The first half of the set showcased the new songs from 'Scratch Beneath The Surface', with the second half including old favourites "Book Club" and "White Suit". Great stuff.
Peter Willoughby
Michael Franti (photo by Stuart Keegan/Greenbelt 2008)
MICHAEL FRANTI AND SPEARHEAD - Mainstage - 9.35pm
After witnessing their headlining slot at Greenbelt in 2006 and becoming a fan of Michael Franti And Spearhead I had high expectations this time around. They didn't disappoint. Armed with politically themed yet extremely catchy songs it was clear that when they took to the stage that the party was about to get started for Greenbelt 2008. With a new album having just been released the crowd were treated to the album in almost its entirety which clearly shows the faith and confidence that Michael Franti has in his own material. With the traditional reggae sounds of "Rude Boys Back in Town" and "All I Want Is You" to the funk rhythms of "A Little Bit Of Riddem" there wasn't a body in the audience that wasn't left dancing or clapping. A few Franti classics were also thrown in for good measure in the form of "Hello Bon Jour", "Yell Fire" and "East To The West" from his last album, and even older songs in the form of "Everyone Deserves Music" and "Bomb The World" both of which showcase Franti's ability to craft songs that are not only thought provoking but also very uplifting. Here is a songsmith able to communicate hope in the midst of all of the injustice, scandal and war that blight our world. The atmosphere seemed to grow more electrifying the longer the band's set went on and even at the close people were left singing the songs, which shows why Michael Franti And Spearhead were invited back for a return visit.
Gavin Owen
JULIET TURNER - Performance Café - 10.00pm
It has been two years since Juliet Turner has performed at Greenbelt. Her career highlights include opening for greats like U2 and Bob Dylan, and partly for this reason I expected a more impressive set. Her acoustic songs play around a confessional story-telling style, with an added slice of self-aware humour. She's certainly not afraid of her critics, telling the audience how in a fit of boredom she Google'd her name only to discover the website www.amiright.com, whose slogan is "making fun of music, one song at a time." One of her songs "I Do Not Like Thee Dr Fell" was posted on the website along with a description of how silly and odd it is. While her lyrics may not be groundbreaking their innocent catchiness is charming and her voice is both piercing and soft, and very true to her Northern Irish accent. The set grew with confidence as she entered high point "Tuesday Night Ladies". Written at a time when she moved from city living to country life it surrounds the monthly meeting of a group of local ladies in her new town sharing their stories and gossip. It hung wonderfully on the simple yet poignant hook "Sometimes it all comes together and sometimes it all falls apart." The guitar playing from accomplice Brian Grace was as splendid throughout as Turner's voice, yet, considering her Greenbelt popularity, I expected a stronger collection of songs.
Tom Whitman
SATURDAY, 23rd August
The Rising With Martyn Joseph (photo by Jonathon Watkins/Greenbelt 2008)
THE RISING WITH MARTYN JOSEPH - Centaur - 12.00noon
The Rising was one of the must see events at Greenbelt and was packed out to hear Martyn Joseph talk to Julie Lee, Stewart Henderson and Yvonne Long about their craft and inspiration. Joseph kicked off with "The Weight Of The World", one of his collaborations with guest and poet Stewart Henderson. It was nice to see the other artists tap their feet in time to this bluesy number with lyrics of great colour and conscience. American artist Julie Lee was first up for a chat, explaining how her best songs come as a strong visual picture. With her classic American voice she shared a song from her latest EP 'Will There Really Be A Morning', named after the Emily Dickinson poem she was inspired to write music to. She had clearly sculpted a most beautiful tune to the affecting words of the great 18th century poet. Next up was living poet Stewart Henderson who together with Martyn Joseph has written roughly 25 songs, of which it was interestingly revealed that none have been written in the same room. It was fascinating to hear them discuss the nature of collaboration and the skill of being polite with criticism. He shared one of his recent poems with the theme "If I knew I was going to live this long". It was inspired by the deaths of people he had interviewed in his capacity as a journalist. His sense of humour was displayed by the line where he says he would've told Bob Marley to admit to shooting the deputy too, and complimented by the poignancy of his admission that he would've taken the opportunity to be more humble. Scottish songwriter Yvonne Lyon sang a song birthed while she was waiting at a red light in the town of Greenock. Seeing a disabled girl and her mum cross in front of her, the girl shone a beaming smile straight at her, giving the line "all eternity is wrapped up in her smile." The optimistic song saw Martyn Joseph picking beautifully along, and Lyon returned the compliment on Martyn Joseph's equally beautiful "Whoever It Was That Brought Me Here Will Have To Take Me Home". The relaxed atmosphere, musical craft and deep insight of The Rising had made it for many an essential part of the Greenbelt experience.
Tom Whitman
JIM JONES - Performance Café - 12.30pm
To clear up any misunderstandings, Jim is neither the cult leader or the Bishop of Liverpool. This Jim is a South West-based acoustic singer/songwriter. A sunny Greenbelt saw a good vibe in the Performance Cafe. As Jim took to the stage, there were no seats left inside, crowds sat outside the tent enjoying his relaxing set. Jim was gracious to his audience and clearly glad to be there. The highlights of the half hour were the two songs he seemed happiest to play - "Treading Water" and "Holding On" both made use of Damien Rice style dynamics and were the strongest tunes on offer here. A second guitar played identical chords and rhythms, filling out the sound but adding disappointingly little in terms of riffs, counter melodies or alternative arrangement. The appeal largely lay in Jim's voice which was on fine form - a reflective whisper one moment, filling the tent the next. Set closer "Real Life", a song from Jim's work with band Small Town Mentality, was not as strong a note to end on as it should have been, but it provided an upbeat conclusion to a solid performance.
Ewan Jones
THE RESPONSE COLLECTIVE - Underground - 1.00pm
Having listened to this band on Myspace and liking what I heard I was curious as to how they would pull it off live. The Response Collective offer a unique mix of electronica dance beats and guitar riffs, fitting in somewhere between the Chemical Brothers and Royskopp. With a nice mix of ambient sounds and guitar riffs they clearly won the accolade as one of the more diverse and inventive bands at this year's fest. The group played a very tight set which sadly wasn't seen by that many people. But a small audience didn't stop the group putting on a great performance and showcasing their skills on both the guitar and the decks. The range in their set was definitely one of the group's main strengths as they demonstrated an unerring ability to skip between upbeat electronica numbers to more lush sounding ambient songs. The Response Collective's music should definitely be investigated both by fans of ambient electronic sounds and those who enjoy music that doesn't fit into a neat stylistic niche.
Gavin Owen
LES PASSAGERS - Performance Café - 1.30pm
A seven-piece fronted by a burly chap with a shock of black hair pounded out a funky, acoustic folk rock song. The song's lyric dealt with the subject of fear. Not many in the Performance Café audience picked up the message of the song as Les Passagers sing mainly in French. Their sound, driven by a tight rhythm section with embellishments from a skilled fiddler/keys player, is a veritable pot pourri of styles. The next song sounded like something you might hear drifting from a Parisian sidewalk café. Then Lorenzo Monge (the front man) introduced an English language song, Police's "Message In A Bottle". Later in the set there was another British classic, U2's "I Still Haven't Found What I'm Looking For". But mainly it's various songs from the band's 'Majuscule' independent album which make up Les Passagers' set. One particular gem was "Certitudes" with fine interplay among the different instruments and some nice BVs from the girls in the band. Clearly the enthusiastic audience response showed that the majority of those present clambered over the language barrier. This eclectic team of good-vibe music makers are clearly a band with genuine international appeal.
Tony Cummings
THE EXCUSES - Underground - 1.50pm
The Excuses' brand of acoustic led indie rock were definitely a welcome addition to the Greenbelt line up this year. They've clearly perfected their style and know how to craft a decent song, many of their songs wouldn't sound out of place among those of mainstream acts like the Kooks or Magic Numbers. Based on their performance here if they continue along this path they could easily hold their own alongside any of the acts mentioned above, the annoying date clash between Leeds/Reading and Greenbelt could easily see them at the former next year rather than the latter. Their songs range from wanting to leave a dead end town to tales of lost love, all of which are things that countless individuals can identify with which is part of the appeal of The Excuses. The songs are simple and you would easily find yourself humming them for days after, meaning their ability to craft simple catchy songs could easily lead the band on to bigger and better things and if they do it is more than well deserved.
Gavin Owen

Reader Comments
We welcome your opinions but libellous and abusive comments are not allowed.