The tenth installment of music reviews from the GREENBELT festival held at Cheltenham Racecourse, 26th to 29th August.
Continued from page 4
DUKE SPECIAL - Mainstage - 8:15pm
Belfast's idiosyncratic 'vaudeville' artist delivered his music hall style to the Greenbelt throng with some twinkling piano riffs and a display of quirky and consistently clever songwriting. Accompanied by eccentric drummer 'Temperance Society' Chip Bailey, renowned for his use of cheese graters and whisks as percussion instruments, amongst other diverse instrumentalists, the Duke's toe-tapping compositions, artfully evocative lyrics and interaction with the crowd engaged everybody, getting the audience to all join in with the black humour chorus of "Digging An Early Grave". Song themes ranged from pitiful longing and desperation to spirituality, with the latter featuring heavily in many, like the bouncy "Salvation Tambourine", about searching for God. Mr Special was joined onstage by previous Mainstage performer Gordon Gano for the slower "Why Does Anybody Love?" to rapturous applause. However, the inclusion of a saxophone within the performance didn't work. The set closed on a cover of Joy Division's "Love Will Tear Us Apart", during which the Duke challenged the denominational nature of Christianity and how squabbling over small theological details has torn the body of Christ into fragments. "God is bigger than that," Duke boldly stated.
Andrew Townend
Idlewild (Drew McLellan / Greenbelt Festival)
IDLEWILD - Mainstage - 9:30pm
With no new album to promote and with their best days long behind them, Scotland's alt rockers Idlewild seemed a bizarre choice for Sunday's Mainstage headline slot - the band themselves even seemed a little baffled as to what they were doing there. "We're out of retirement for one night only," offered frontman Roddy Woomble by way of introduction before the band sleepwalked their way through a pedestrian set of bland indie stodge. Spikier material from the group's 1998 debut 'Captain' at least broke up the monotony and hits "American English" and "You Held The World In Your Arms" did sound good played on the large outdoor stage. Unfortunately though, Roddy's attempts to connect with the audience fell a little flat; "Is that a horse or a donkey?" he half-heartedly enquired about a soft toy held aloft in the crowd and he later complained when a guitar tuning issue once again meant he had to address the GB throng. It's hard to complain about Greenbelt's choice of headliners when the majestic Mavis Staples, the charming Billy Bragg and the sublime Get Cape. Wear Cape. Fly featured, but here's hoping next year's selection doesn't include any Britpop has-beens.
Peter Timmis
HOPE AND SOCIAL - Performance Café - 10:00pm
Stood onstage at the start of their set were five men in blue blazer attire looking very smart and very coordinated. The band have been described by The Independent as "one of the UK's top five live bands" and from the moment their crisp rhythms and masterly harmonies kicked in it was clear they intended to live up to such accolades. An array of clever mixed songs, their own "The Road Is Long" with Paul McCartney's "Blackbird" thrown in was unexpected but absolutely worked! Their banter revealed that three members have been in the band for 12 years but they then recruited more musicians and changed the name four years ago. Another song "The Family Man" penned by Hope And Social's Simon Wainwright, had written this about his own personal journey. Their set featured three very strong lead singers who manage to share out the songs with no hint of rivalry while their quirky and fascinating keys player Ed Waring wore a hat with lights! The set finished with a humble announcement that CDs were being sold in the G-Music Tent but offered at a price of whatever the audience felt fit to pay. A great offer from a great band.
Jojo Meadows
JAX WALKER - Underground - 10.00pm
Jax Walker and band pull out all the stops for their Underground set, bringing a tight, pop-funk vibe that doesn't let up until the very end. Up against Idlewild on mainstage, the turn-out was disappointing, but what the crowd lacked in quantity they made up in jumping and dancing for the entire set. Jax is an amiable host, grateful to the crowd, proud of his band with a cracking image.The combination of hip hop and indie works well with plenty of 80s references both musically and lyrically peppered along the way, the most satisfying being a adaptation of the lyrics from Ray Parker's 'Ghostbusters'. Satisfyingly, here was one of the tightest bands that I've seen over the weekend. The sound was fantastic:swathes of retro 80s synths, keyboard brass stabs, the odd 808 tom and a drummer with a constant bass foot and solid beats. The guitars were spiky and singer Sol has energy and a great voice. The bassist not only has, for my money THE best mustache of GB11, but also a great funk sensibility, pounding out solid grooves that brought to mind Stevie Wonder and Michael Jackson, particularly on the track 'Money'.The Jackson link was confirmed for 'Pack Of Lies', the baseline is surely a homage to 'Billie Jean' and Jax encouraged the crowd were encouraged to do their best MJ impression. A foray into 'scuzzy electro' didn't do much for me and while there was plenty of imagination and flair in the set, there was not much scope for a change of pace. Still, new track 'Tentacles' is a sign of good things to come for Walker's next release and he clearly intends to bring the party spirit and keep it, and that he did, commendably so. For what it's worth, the elderly gentleman next to me declares their set to be 'much better than Duke Special'. If you weren't there, you missed out.
Ewan Jones
MONDAY, 29th August
MYTH OF BEN - Underground - 11.00am
A rather small crowd stood motionless to watch a fairly catchy and pretty tight alt rock band from Clapham kick things off for Monday's Meltdown Sessions. It's hard to criticise the band in any individual aspect except that their own brand of melodic post hardcore just didn't massively grab me, nor did it seem to have much of an effect on the crowd assembled. The band members member seems to be from somewhere else, each claim to bring their own unique influences, maybe this explains why they don't yet have a coherent overall sound. Fans of Further Seems Forever and Thrice will appreciate that the band clearly has taken an influence from them but will then go back to listening to Further Seems Forever and Thrice. Having said all that this was a solid start for a fairly new band; all they need to do now is write a few more memorable songs.
Greg Sammons
RISEN FROM RUINS - Underground - 11.40am
These guys have clearly come a good distance since I first saw them, putting on a tight and engaging performance which included a couple of genuinely good songs. They still, to my mind, haven't quite worked out what their sound is though. It's got an ethereal quality, plenty of classic rock/metal vibes, slightly celtic/folky tones in places and a progressive edge as well. Put them all together and it just doesn't quite (yet) gel. Lead vocalist Ian Jervis and son Ed both put in some excellent axework in places, only bettered at Greenbelt by the mighty Paul May in my opinion. The rhythm section was tight, Danielle Jervis recently joined on bass making it four out five of the members being from the same family, whilst the drummer really showed his wares on their standout track Alive. Poor old Lisa was rather left out on keys and backing vocals, maybe the soundman didn't spot her as the keyboard only become audible in their penultimate song and her vocals on their last. It's a shame as her slightly gothic and ethereal sound adds a really nice layer to their music and allows the band's more progressive side to develop. The musicianship is pretty high and there are some great moments within their set but who their target audience is and what their sound will end up as is anybody's guess.
Greg Sammons
SAEED HASHEM - Performance Café - 11:45am
Poet and songwriter Saeed Awaz Hashemi was born in the Bamyan region of Afghanistan but was persecuted and imprisoned for his faith by the ruling Taliban before managing to escape and flee to England where he now lives with some of his family. Saeed took to the Performance Café stage and sang in a Persian dialect called Hazaragi while playing dutar (a long-necked lute with two strings). To western ears the sound produced may not have been too harmonious but those sitting in the packed venue were clearly fascinated. After a couple of lengthy numbers the 70 year old musician was clearly exhausted so his son came onstage to be interviewed by a compere. The young man explained his father's life story and also told of his own imprisonment by the Taliban which ended with a daring escape where he crawled through a toilet and swam across a river to secure his freedom. Saeed took to the stage to perform one more of his compositions and was clearly moved at the positive reaction he received from the crowd.
Peter Timmis
THE ORIGIN - Underground - 12.20pm
With their female lead singer and their accessible emo vibe it'd be all too easy to compare them to Paramore and now I've gone and done it. In all honestly it is a useful starting point in terms of comparison, made all the more obvious when their lead singer has dyed (at least I think it's dyed) her hair ginger ala Hayley Williams. I've known about these guys for a good while and through their drummer Al King have been kept regularly up to date with their developments. Here is a band with drive, passion and goals; not only that but they are relevant to a large section of today's young people. A series of well structured and tightly performed tracks quickly took us to a new track they'd written just a few days prior, they said it didn't have a name but it clearly should be called "I Can't Breathe". Whilst they may not be blazing a new musical trail they have produced a solid set of tunes and ended with the best of the lot, "Ghosts".
Greg Sammons
LIAM BLAKE - Performance Café - 1:00pm
This was one of the sets I'd most wanted to see at Greenbelt. Those who've so far heard it are of one voice in proclaiming Liam's 'You And Other Stories' one of the best albums of the year and all that was left for this reviewer to decide was whether Liam could deliver before a three quarters full Performance Café tent already thinking of prosaic matters like packing up tents and the journey home. In fact Liam triumphed, with the razor-sharpness of a singer/songwriter whose music is just what Phil Jupitus called it "achingly lovely". Maybe it's Liam's rich, smooth voice with its arresting swoops into falsetto which draws us in. Or maybe Liam's ability to weave evocative pictures with his lyrics yet never resorting to strained metaphor or tired cliché. Or perhaps Liam's lilting folk pop - at the Café ably filled out by electric guitar, bass and percussion - which makes this songsmith so special. But special he is and everything about Laim's set conveyed a gentle warmth that immediately engaged the audience, and after some of the angry polemic projected by other Greenbelt acts, demonstrated that sometimes gentle reflection generates more than angry rants. Some of the songs, like the evocative "For Your Sake" are from his album. Others like the eerily enigmatic "Strange Town" are newly minted. "Gypsy Fireflies" deftly depicts a girl's ability to captivate ("He's chasing all the dreams she's weaving") while "Heart & Soul", Liam's next single, was lifted by one of several fine electric guitar solos from his accompanists. Liam's set prompted the man next to me to bay loudly for an encore (little chance on the tightly-scheduled Performance Café). I asked the fan where he'd heard of Liam and was told Radio 2. He raved over Liam's live performance, calling it "very Fleetwood Mac". Don't know about the description but his enthusiasm bodes well for Liam's future.
Tony Cummings
RISING FROM DEATH - Underground - 1.00pm
It's been a tough ride for Swindon's Rising From Death, various setbacks and personal (and personnel) problems have slowed down their progression at times. Now, though, they seem to be rejuvenated and at their best. The evolution from metalcore to tough guy hardcore seems to be complete and the band seemed to have grown up a lot this set is markedly different from their previous performance at Cheltenham Racecourse in 2008. A good use of samples went down a treat, including a warning of the Hellish consequences that so many face and C3PO's invitation to a beatdown. The brothers Derry set the benchmark for showmanship this year, working hard to get the crowd moving and singing, this including getting us to sing "Ti Amo" during a Spanish language song which I think translated as "To The One I Love". The lads weren't afraid to use the stage as a platform to preach not just about Jesus, and pretty blatantly I might add, but also in favour of Straight Edge. The sXe spiel concluded with a massive round of applause to John's case for Jesus being the only sure way to overcome addictions, crutches and insecurities. Naturally this led to "Straight Edge Is For Life, Not Just For XXXMas", recently recorded with Alex Grieg of Malokai at his studio. Rising From Death's rousing set ended on "A Call To Glory" which was marred by Chris Derry's voice being almost completely shot, making his melodic vocals extremely strained. Also his failed stage dive at the end added an unintentionally comedy moment.
Greg Sammons
FISCHY MUSIC - Mainstage - 1:00pm
A Scottish charity aimed at working with Primary Schools and Churches, Fischy Music under the expert stewardship of Steve Fischbacker brought their popular brand of positive children's songs to Mainstage for a sunny afternoon and I brought my 18 month old boy to gauge his reaction. He's a little under the target age but he happily danced around as a children's choir, sign language interpreter, dancers and band took to the stage to provide an entertaining show. The songs are as popular with adults as they are with children and the singers were great at getting everyone in the field involved. For my part I enjoyed second-guessing which pop and rock bands the musicians were giving a cheeky nod too (Queen? check. T-Rex? check. Santana? check.) At times the set felt too much like a sales pitch to the adults with the aim of getting the resources into schools and churches. What I found more frustrating was that the songs had little to no Gospel content. I'm more than aware of the nature of what you can and can't say and promote in schools and of the need to be sensitive and sensible in how messages are communicated. But songs like "Someone Is With You" just don't really make any sense if you don't know who the "someone" is. If you're not going to specify who you're singing about it's a song that feels frustratingly empty. Messages like "the bad times don't last forever", "we will find a way", "you are a star just the way you are" and "you'll be stronger every time you get back up" are all well and good but suggest that we are the strong and positive solutions to all our problems and fail to point to a greater need - or a greater hope.
Ewan Jones
BACK POCKET PROPHET - Underground - 1.40pm
In the UK Christian hard music scene this has been one of the most anticipated moments of the year, the launch of Back Pocket Prophet's debut album 1:4. The taster track on their myspace did them no favours at all but thankfully the live show more than made up for it. Vocalist Dan Random is now fully bedded into the band and was showing his excellent range to full effect. His stagework extended to a couple of circuits around the crowd, they seemed to absolutely lap it up. What's held back the band over the last couple of years has been a fluctuating line-up, the album was due to be released months ago, but their solution at Greenbelt was inspired. After wowing Greenbelt last year in A.N.D, Paul May was back with his bespoke headless white guitar. Once again Paul was noodling his way through specially formulated song breaks, allowing him to demonstrate to us lot just how good he is at making six strings sing. This set had been clearly well rehearsed as each song slickly went into the next, fitting now classics alongside some of their newer stuff. Bizarrely their weakest moment was during a switch of vocals during their best known song, How Can I Deny You. 2007 saw them debut their 80s thrash sound at Greenbelt, in 2008 they returned and introduced the zombie conga to Greenbelt, 2011 sees Back Pocket Prophet come of age.
Gregg Sammons
PETER AND THE WULF - Performance Café - 1:45pm
Rather strangely, Peter And The Wulf are nothing to do with Prokofiev but are a guy called Peter (guitars, mandolin) and a bloke calling himself Wulf (double bass) plus a fiddle player called Jill. I was sadly disappointed. The stage presence was dull and dreary, there seemed to be a depressing weight that hovered over the room like a cloud. I had enough rain at Greenbelt not to sit in a tent feeling it was raining outside and out! I tried to persevere tuning my ear to their English folk set but it truly was all pretty dreary.
Jojo Meadows
GENTRY MORRIS - Performance Café - 2:30pm
It was a rather breathless Gentry Morris on stage at the Performance Cafe, having only arrived on site at lunchtime following a lengthy journey which started in Belfast at 3am and included a road closure induced diversion which resulted in getting lost in the Cotswolds. But if Gentry had to suffer for his art, we were the beneficiaries as the following 40 minutes demonstrated precisely why his most recent album, the independently released 'Awake O Sleeper', was given a 10 square review by Cross Rhythms. Originally from Georgia and recording in Nashville, Gentry Morris now lives in Northern Ireland and his songwriting reflects that mixture of influences. Accompanied by Stephen Macartney on resonator guitar and backing vocals, most of the songs were from Gentry's current album including the exquisitely beautiful title track. This is music that was made for the intimate setting of the Performance Cafe, and the appreciative audience were lapping it up.
Mark Goodge
GREENBELT JAZZ ORCHESTRA - Centaur - 2:30pm
One of Greenbelt's more adventurous and exciting ideas for this year's festival was a couple of scratch band performances. Talented festivalites were invited to become part of this band under the direction of American band leader Scott Stroman. Scott has an impressive CV, having worked with Dizzy Gillespie, Billy Cobham, Phil Collins and many others. He currently directs the London Jazz Orchestra, the Guildhall Jazz Band And Jazz Singers and the Eclectic Voices Choir. This band of around 15 Greenbelters had two rehearsals and then were thrust straight into the gig. As you might expect the players were of varying standards, but Scott clearly possessed the gift of getting the best out of people, using the ensemble to build a perfect foundation for soloists and giving them plenty of chances to show off their jazz chops. The set focused on the works of Duke Ellington, opening with "Ko-Ko", a fast tempo piece with plenty of soloing opportunities. This was followed by Stan Kenton's "Here's That Rainy Day", a subtle piano intro built through a strong crescendo into a powerful, slow band piece. As the set progressed Scott took the opportunity to teach the crowd a little about how the touring bands used to build their repertoire and evolve their arrangements on the road. This was illustrated to us in Count Basie's "One O'Clock Jump" as the band had three set riffs for the song and Scott brought them each in underneath the melody and solos as the mood took him. This fantastic set was brought to a close by three more Duke Ellington classics, "Caravan", "Prelude To A Kiss" and finally "Rockin' In Rhythm". The musicians certainly enjoyed themselves. So did the audience.
Andy Long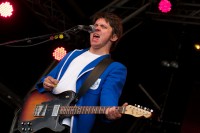 Hope And Social (Drew McLellan / Greenbelt Festival)
HOPE AND SOCIAL - Mainstage - 2:45pm
For their third and final show of Greenbelt '11 Hope And Social took to the Mainstage in their trademark blue blazers in front of a large crowd there to enjoy the afternoon sunshine but also keen to check out the critically acclaimed group. The guys weren't feeling at their best though after what they described as "an incident with a Kentucky Fried Chicken". Having said that, the Leeds-based band put on a great show with group members sharing vocal duties and clearly enjoying the Mainstage experience. "Pitching Far Too High" included some hilarious improvised lyrics about KFC and the rocking "Family Man" was enhanced by some great contributions from the three-piece brass section. The best song of the set though was the banjo-led "A Darkness Now Is Coming" which, despite the title, was a goodtime country rocker which suited the mood of the day perfectly.
Peter Timmis
AHAB - Mainstage - 3:45pm
North London four piece Ahab followed breakout festival stars Hope And Social onto Mainstage and continued to keep people on their feet with their upbeat brand of country folk. Close harmonies were beautifully realised and were as much Crosby, Stills & Nash as Mumford And Sons. Ahab actually did well in maintaining a consistent style that was really more informed by American country than footstomping Brit folk. Never were Ahab's Americana leanings clearer than in the closing Old Crow Medicine Show cover "Wagon Wheel" ("Rock me mama like a wagon wheel"). You really would have sworn you were listening to a band straight out of Nashville. The full band compliment of drums, bass, two acoustic guitars and mandolin made for an energetic set that benefited from the much improved Mainstage PA. Obligatory instrument swaps and a "no off-mic discussion" policy led for some entertaining, and possibly rehearsed, conversation and while there were no standout tracks Ahab proved to be easy listening for a bank holiday afternoon.
Ewan Jones
CHASING OWLS - Underground - 3:50pm
A quiet buzz had been whispering its way around the festival in anticipation of this band's appearance, so it was no surprise to see that they had drawn a good sized crowd to Greenbelt's newly located Underground venue. The Edinburgh-based four-piece play an energetic yet intimate brand of folky pop tunes and the crowd were quick to pick up on this energy and get involved. Their sound brought back the glory days of Greenbelt favourites Eden Burning along with their mandolin twanging friends Why? and my personal favourites The Pink Dandelions. Chasing Owls bring together beautiful harmonies, artful musicianship and that elusive ability to write memorable songs. I am going to have to check out their debut release, 'We Began', very soon. If you haven't yet heard Chasing Owls you can find some great examples of their skills on Youtube.
Andy Long
MAJOR MAJOR - Underground - 5:10pm
Over the past few years this young Liverpool-based band have gained a reputation as a fantastic live act and in 2008 they played in front of 5000 people at their hometown's Capital Of Culture opening event, so it's surprising that so few people made their way to the Underground venue to see them. Major Major didn't seem fazed by the low turnout though and as they took to the stage confident frontman Conor Clarke commented, "You lucky five people!" The band played an energetic set full of great pop hooks, choppy guitar riffs and big choruses with hints of Franz Ferdinand and Dr Feelgood. Guitarist Neil Owen even played with such vigour that his fingers began to bleed over his instrument! Highlights of the set were the thumping "We're Coming Alive", the danceable "Popular Boys" and "The Dirtiest Word" ("This one features no swearing, despite the name," explained Clarke). A short set but one that showed great potential.
Peter Timmis
KATE RUSBY - Mainstage - 5:50pm
Back at Greenbelt eight years after her first appearance in 2003, Kate Rusby attracted a sizeable early evening crowd at Mainstage. A set comprised mostly of songs from her recent album, 'Make The Light' was interspersed with what, like every cliche peddling reviewer, I can now describe as her trademark Yorkshire wit and warmth and provided an uplifting contrast to the distinctly unseasonal chill in the air. It's difficult to pick out any particular highlights since it was all uniformly good, but the juxtaposition of an older track, "The Good Man", telling of a cuckolded husband, with "The Wishing Wife" from the current album, a song about a wife having to put up with (and ultimately deal with) a selfish husband was something which certainly brought a smile to my face. Much of Kate Rusby's material is self-penned (including all of "Make The Light"), and yet it fits in very well with the traditional folk songs that are also a part of her repertoire. In fact, probably the biggest change since her previous Greenbelt appearance has been her emergence as a songwriter of note as well as a performer. As with all traditional music forms, contemporary folk is hard to pitch right as a composer; if the new material is too different then it strays too far from the genre while if it sticks too closely to the formula then it's little more than pastiche. Ms Rusby's songwriting slips neatly into the sweet spot between those two extremes. As a fellow member of the audience commented, "It were dead good".
Mark Goodge
RON SEXSMITH - Mainstage - 7:00pm
A small but dedicated group of fans waited at Mainstage with great anticipation for Mojo magazine's favourite Canadian singer/songwriter. The evening air began to chill and while Ron's set was a pleasant enough listen it didn't do much to warm up those of us who had benefited from the more upbeat vibe that the afternoon had so far offered. The band performed mid-tempo, Radio 2-friendly Americana that was faultless in its presentation but failed to draw a large crowd. Starting gently and enjoying some friendly rapport with the fans, Sexsmith seemed to enjoy playing host for half an hour, wryly joking about his resemblance to Shrek as the set progressed he did shift up a gear. Highlights were the bluesy "Jazz At The Bookstore" that put me in mind of 'Wild Wood' era Paul Weller, "Impossible World", a beautifully constructed tune that was added to the setlist after a request via the website and "Love Shines", the title of the film made about Ron's attempts to find commercial recognition. All pleasant enough but one couldn't help feel Ron's set would have been better placed in the Centaur or Big Top.
Ewan Jones
SOUNDS OF SALVATION - Underground - 7:00pm
One of the highlights of last year's Greenbelt festival was an incredibly lively performance by Reading-based ska punk aggregation Sounds Of Salvation and this year they were even better! The nine-piece group's ska-based sound also takes in punk, worship and rap laced with brass and backed by some seriously funky rhythms. Soon everyone in the packed Underground venue was having a great time with many singing along, clapping, skanking and even playing air-guitar to vibrant and fun songs like "You Are". A highlight of the set was a number with which Cross Rhythms Radio listeners will already be well familiar, "The Facebook Song" with hilarious lyrics like "Even Tim Hughes is on Facebook. . . and he is my best friend". Frontman Michael Whiteman was extremely passionate and entertaining between songs describing the band's fusion of rap metal with ska as "skrap metal" and Eddie Edwards' trumpet solos were excellent throughout. SOS also took time to perform a short worship set where they added a ska influence to numbers like "Jesus Saves" and "Hosanna". A fun-filled show but one with a strong message.
Peter Timmis
ANDREAS SANDLUND - Performance Café - 7:00pm
Andreas Sandlund is a keyboard player and songwriter hailing from Stockholm who has released two albums. Aided by his deftly played keys his songs were worshipful, gentle and in some ways inspirational. They had simple, unspoilt melodies and at times something of an innate beauty. This was Christian radio-friendly material to a 't' and I can see the appeal for many listeners. For me personally I found the low-key performance a little lacking in passion though he is clearly a skilled songsmith. Judging from the enthusiastic reception he received there were a few folk intent on buying his 'Sacred Love' album after the set.
Andy Long
LUKE LEIGHFIELD - Underground - 8:00pm
The weekend's Longest Queue To Get Into A Venue award goes to Southampton-based Luke who, as well as being described as "the busiest man in indie" was also the busiest man at last year's Greenbelt having played no less than four shows at the festival. This year many of the folk who saw one of those excellent performances were keen to experience more of Leighfield's finely crafted piano-driven pop rock and, despite suffering from a sore throat, he did not disappoint. Seeming genuinely surprised by the strong turnout Luke wryly told the packed Underground venue "I want to cram in the 'hits' for you" before launching into the sublime pop perfection of "Have You Got Heart?" and "Every Day". Fans were also treated to never before performed material from Luke's upcoming new album including "It's You" with a huge chorus that looks set to become a live favourite. Luke was joined by a first rate band including a three-piece brass section and duel guitarists that proved effective on a powerful rendition of "60,000 Miles". "Greenbelt has been the highlight of my year" gushed Luke at the end of his set and once again Luke was one of the highlights of Greenbelt.
Peter Timmis
THE UNTHANKS - Mainstage - 8:15pm
If there's one thing I like to close my festival with every year it's a spot of clog dancing at Mainstage! Prior to the headlining set from the legendary Mavis Staples, Monday night had more than a hint of folk about it, what with sets from Kate Rusby and Ron Sexsmith. I had been looking forward to The Unthanks all weekend and they were not about to disappoint me. To my mind the band represent all the best elements of British folk music, quintessential yet contemporary, brimming with the integrity of ancient folk tales and overflowing with musical beauty that has earned them critical acclaim and an eclectic mix of celebrity fans. Their third album 'Last' followed sharply on the heels of its predecessors, bringing together a set of beautiful undiscovered folk tunes with some more contemporary covers. Rachel and Becky's gorgeous voices have a hardy Northern edge and their band are the perfect complement for them, their predominantly traditional sound also carrying elements of jazz, blues and even progressive rock. I loved the set, despite my unfamiliarity with much of the material, an oversight I'm going to have to correct soon. For me it would have been hard for The Unthanks to surpass the quality of their English folk material, but towards the end they pulled a real surprise out of the hat, with a cover of the King Crimson classic, "Starless". The prog rockers are one of my all time favourites and here Crimson's song was treated with reverence and tender appreciation by the folkies. Absolutely beautiful. Oh yes, there genuinely was clog dancing - honest.
Andy Long
REILLY - Performance Café - 9:00pm
I found it refreshing to see Philadelphia's Reilly having great fun affirming the Gospel message, both in the banter and in their songs (on a weekend that characteristically endured some less helpful onstage chat from bands and artists who should have known better). GB'11 marked the band's first appearance in England and they seemed particularly taken with the high quality of choice at the Greenbelt food stalls! Dove nominated guitarist and singer John Reilly was an endearing frontman and performed a genuine and moving rendition of 'It Is Well' that the Performance Café crowd gently joined in with - his prophetic introduction acknowledged that Jesus, the source and hope of forgiveness is "not a very popular topic these days". The majority of the set was kept moving by charismatic Dan Huie and the crowd enjoyed the violin duets (and duels) that he shared with wife and violinist Noele. An impromptu Irish jig kept us engaged while Reilly replaced his second broken string of the day ("This never happens!"). Solid backup came from drummer Jordan Lenhoff playing "the box" and bassist Matthew Bomberger, who stayed in the background. The set continued at a good pace ending with the (somewhat reluctant) audience getting to their feet to join in for "Sunlight". Encouraging lyrics, a positive attitude, a clear spiritual message and an engaging acoustic set marked a pleasant end for me to Greenbelt 2011.
Ewan Jones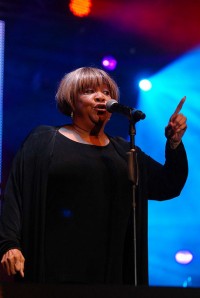 Mavis Staples (Stefan Metzler / Greenbelt Festival)
MAVIS STAPLES - Mainstage - 9:30pm
If you go to a lot of live gigs , once or twice you may be present at a performance of such jaw-dropping magnificence that it will indelibly imprint itself on your mind and you'll be able to recall songs, details and the emotions you experienced decades after the event. Such is the huge aesthetic and spiritual power of great music. And so it becomes my duty, as a faithful chronicler of popular music to suggest that for the second time in my life Mavis Staples convinced me that not only is she the greatest living soul singer but also possesses that rarest of gifts being able to fuse showbiz savvy with Holy Spirit spontaneity to make art that is truly transcendent. The fact that this could be achieved by someone who of the 13,000 or so punters, staff or performers who attended this year's Greenbelt was probably the oldest person there speaks much about our youth-obsessed culture. But the fact is that this 71 year old great grandmother from Mississippi not only delivered the definitive set at Christendom's longest running festival, she performed music which for the second time in my life took me to the heights. My first sublime Mavis Staples experience was in Croydon in 1974 when a two thirds full Fairfield Hall witnessed Mavis, Pops, Cleo and Yvonne pull out all the stops to show just why Stax Records were getting massive R&B hits out of a downhome family group. It was in the '70s of course that the Staple Singers were at their height and their performance then of "I'll Take You There (Come Go With Me)" and "Respect Yourself" showed that ol' Roebuck had raised a group every bit as quintessential to R&B history as AP Carter was to country music with the Carter Family. The memory of Mavis that night in Croydon of wringing every heart-stopping drop of emotion out of O V Wright's "You're Gonna Make Me Cry" has stayed with me ever since. But that was 37 years ago. Pops and Pervis have gone to glory (the latter absurdly noted as a sister in the GB programme). And though Yvonne was still there onstage with her sister together with another lady and a guy (who made a reasonable fist of providing Pop's old vocal parts) who provided backups. In truth, I was expecting little more at Greenbelt '11's Mainstage wrap-up performance than one of those old-hits-for-the-fans run-throughs that veteran performers usually dish out in the autumn of their years. Instead this extraordinary lady took it to church with all the soul power singer's half her age couldn't get close to. From the a cappella opener "Jesus Is Mine", to the powerhouse rendition of "The Weight" (where her superlative accompanists replicated all the gutsy power of The Band) to a fiery rendition of "Freedom Highway" here was music where the Gospel of Jesus Christ , the weight of the human condition, and the heart cry for justice all met in music that exuded passion, anger, pain and exaltant joy. Mavis' astonishing repertoire of growls, octave leaps, moans, shrieks and gasps was as downhome as a chittlin supper while her band with a drummer who looked like a bank manger but played like James Brown's favourite son, and a guitarist able to squeeze torrid blues licks in a style that could switch from Pops to BB King seemingly at will, kept it righteous and right. Curtis Mayfield's "My Country" sounded good, the even older "Too Close To Heaven" even better. By the time Mavis had the Mainstage chanting "You take us there" on the Staples "I'll Take You There" Stax classic it was clear that we were witnessing a musical moment thousands will never forget. Thank you Mavis, thank you Greenbelt.
Tony Cummings

The opinions expressed in this article are not necessarily those held by Cross Rhythms. Any expressed views were accurate at the time of publishing but may or may not reflect the views of the individuals concerned at a later date.

Reader Comments
We welcome your opinions but libellous and abusive comments are not allowed.