The shock revelation that acclaimed rapper JAHAZIEL has moved away from his faith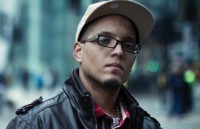 Jahaziel
2015 was the best ever year for British gospel hip-hop. Several UK rappers released outstanding albums and one of them, London's MOBO-winning Guvna B, even made the UK charts (his 'Secret World' album being the only release on the iTunes hip-hop chart not to carry an Explicit Content warning). But alongside the heartening phenomenon of UK Christian rappers, after decades of media neglect, getting acknowledged for their rapping skills, one ongoing news story has rather soured the UK gospel rap scene. The announcement by rapper Jahaziel that he had stepped away from his Christian faith has caused considerable dismay and concern amongst his legion of supporters.
Jahaziel Micah Ben Elliott was born in 1976 and raised in Elephant & Castle, London. H became heavily involved in the gang and drug business in his early teenage years, was stabbed by an assailant who tried to burglarise his house and during his secondary school years was in continual trouble with the police. Then in 1994 at the age of 18 years, the teenager became a Christian. Soon after his conversion he began performing gospel rap, initially under the name Solid R.O.C.K. (even making an appearance under that name on the first Daniel Bedingfield album), later adopting the name of the Old Testament Prophet Jahaziel, and recording his first album 'Ready To Live' in 2007. The following year he was featured in the short TV film Rapping With God and in 2010 a single "Coming For Me" saw Jahaziel joining forces with Guvna B, New Direction Crew, E-Tizz and others. In 2011 his 'Still Living' mixtape was released. For the last three years Jahaziel has been overseer of the Eden Torrington team, the North London church and initiative which runs night pastors, youth clubs, drop-ins for mums and toddlers, works with refugee communities and much more. Despite his work with the charity taking up the majority of his time Jahaziel's rapping skills finally brought him to the attention of an American record label specialising in Christian hip-hop and the emcee signed with Atlanta's Xist Records. Xist released Jahaziel's much praised 'Heads Up' album.
When Tony Cummings interviewed Jahaziel for Cross Rhythms the rapper spoke about the 'Heads Up' track "Falling Stars". Said Jahaziel, "[The song] is talking about celebrities and how human they are backstage, and the pressure to be something in front of everybody leads to a secret life, or some addiction and insecurity. God loves the real you: we don't need to put on a front." In the same interview Jahaziel spoke about his relationship with his uncle, reggae star Maxi Priest, who guested on the album. Said Jahaziel, "Even though he's not a Christian, his mum is a Christian, he was raised in a Christian home. He understands the principal that the solution to these [various urban problems] is not found just in social activism and police and education, but man will find peace with man when he finds peace with God."
It now seems that Jahaziel himself has lost that peace. On Facebook the rapper wrote, "I have left the teachings of Christianity. I now hold to teachings of ancient Africa that have far more history and wisdom. The deities they taught were not literal beings but symbolic of nature." The root of Jahaziel's about-face is his lack of belief in the authority of the Bible. He wrote, "When I first joined Christianity I was told 'you must believe this book is God's infallible word'... Before I'd even read the book!!How can one decide for themselves whether a book is accurate and true BEFORE they have even read and investigated the book thoroughly?! Anyway... Contrary to many opinions I have met some great people in church and learned some great principles from Christianity/the Bible. These principles however are not exclusive to any religion. I have experienced Christianity in literally 100s of contexts so my perspective on Christianity is quite an informed one. I have met many sincere Christians, both church goers and church leaders, and although I have not seen every one of the 40,000 Christian denominations currently in existence I think I have seen enough to personally make a general conclusion regarding Christianity in the broadest sense. Now after 20 years of being vocal about the positives of Christian faith I would like to take some time to be equally vocal about the negatives I have found, ie, Christianity and its controlling dictatorship, its historic blood trail, its plagiarized bible stories characters and concepts, the many human errors of the bible and its contradictions, the brutal nature of its God, it's involvement in the slave trade, the crusades, the inquisition, the witch hunts, it's second class view of women, it's masculinization of God, it's emasculation of men, its financial corruption... You get the drift. My integrity will not allow me to be so passive against mass corruption."
Cross Rhythms' music editor Tony Cummings made a final comment. "I personally find Jahaziel's current position to be extremely sad. When I read some of the Facebook material I could find little or nothing about what is the essence of genuine Christianity - a relationship with Jesus Christ which is empowered and enlivened by an ongoing experience of the Holy Spirit who leads us into truth. Despite Jahaziel's statements the dear man seems in a confused state. As Wikipedia states, 'Reasons for his decision are still not clear despite his statement he made on Instagram.' Believers can only hope and pray that this man who has served the Church for many years will come back to the lover of his soul."

The opinions expressed in this article are not necessarily those held by Cross Rhythms. Any expressed views were accurate at the time of publishing but may or may not reflect the views of the individuals concerned at a later date.
Reader Comments
We welcome your opinions but libellous and abusive comments are not allowed.