Wednesday 24th November 2010
Peter Timmis spoke to Jonny Alpha and Watson G of cutting-edge hip-hoppers KNEW JERU'SLUM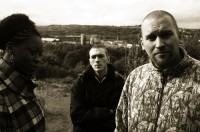 Knew Jeru'slum
Causing a stir on the UK's holy hip-hop scene are a group hailing from West Yorkshire, Knew Jeru'slum. One thing that sets this team apart from the pack is that their cutting-edge and gritty hip-hop is authentically delivered in strong Yorkshire accents. There's an uncompromising Gospel message too, as Mike Rimmer commented in his review of their excellent debut album 'Jeru's & Gentiles', "They are unashamed about the message of God that they want to communicate without descending into the usual holy hip-hop clichés." I recently spoke to main men Jonny Alpha and Watson G and began by asking them how they came up with Knew Jeru'slum's memorable name.
"Thinking of a decent name is a mission n' half!" explained Jonny. "Naturally we wanted something that rang well, that looked fresh when written. Something that said something about our stance, our belief and something that was memorable. We considered New Jerusalem, but then we thought we might get folks thinking we are Jewish so we flipped it up a little. We added the 'K' to say 'knew' because it's our knowledge of all that is heavenly that defines us. We changed Jerusalem to Jeru'slum as we recognise that our earthly lives are mere 'slums' compared to the perfection that awaits us in Christ! Knew Jeru'slum speaks of a future state of perfection, and our hopes are fully in Jesus Christ for that."
Are Jonny and Watson G surprised when people make a big deal out of them rapping in their regional accents? "Funnily enough, only people who don't know that much about hip-hop still see geography and race as an issue in hip-hop. I truly believe hip-hop has evolved since 20 years ago, and the world has become a much smaller place since then."
With that noted, how did the pair get into music in the first place? "My family has always been very musical," said Jonny. "My granddad played organ in church, as did my dad, my mum played the piano. My older brothers and sister played guitar, bass, etc. They played in several punk and metal bands, so my influence has been far and wide. One day on holiday in Cornwall I made the jump into actively writing rhymes. I had started getting into graffiti art and was around all these guys who were actively involved in the emerging UK hip-hop scene. I met a guy called Bane who was really into it already and we started writing tracks together and planning all of what we do now." Watson G: "I got into hip-hop by listening to all the commercial rubbish that I would hate to admit I listened to now. I slowly got into old school and underground hip-hop, and some of the more raw lyrical joints."
How did the MCs come to work together? "We met through a mutual friend at Church Camp - this would have been in 2006 - so we knew each other a little. We then met up again at a church conference and spent the entire time go-karting, rhyming and reciting skits from Ghostface Killah's 'Ironman' album. We wrote our first track together, which never saw the light of day. The love we felt for the music and for God was mutual, so we rolled it out." "I hadn't really been rapping long at that point though," remembered Watson G, "whereas Jonny had been going for a good few years."
Watson G grew up in a Christian home, his dad is a reverend based in Yorkshire, and made the decision to follow Christ aged 10. Jonny too was brought up in the church but in his teens he lost his way. "I left church and church life at 16 to pursue more 'exciting' things. Drink and drugs became a daily habit of mine and became quite serious while I was at university. But then God started talking to me through dreams, many were very nightmarish, but led me to pray once again to God and ask him for refuge. I moved back into my mum and dad's place and locked myself away to make some changes. It was then that I recommitted my life to God, and said to him 'I want to serve you and can run no more, please take me back and go easy on me!' I quit weed and everything else and within six months got involved in the youth ministry in the church."
What are Knew Jeru'slum trying to achieve spiritually? "As part of secular label Don't Talk To Strangers, which we co-run, we work alongside non-Christians, atheists, agnostics and guys who generally have beef with any organised religion. These guys are our friends and we love them and really want to reach them one day, but more than that, we want to reach all those people with our testimonies who share our taste in non-cheesy, real down to earth, grassroots level hip-hop," explained Jonny.
This year Knew Jeru'slum released their debut album 'Jeru's & Gentiles' featuring vocalist (and wife of Jonny Alpha) Belinda Hards. Also involved with the project were Bradford-based producer The Scarlet Pimpernel, ManCHILD from the group Mars ILL and former member of L A Symphony Pigeon John. "The album is based around personal testimony, and comments on our own personal walks with God. Sometimes you have to read between the lines or squint a bit to see the picture," said Jonny. "'One Foot In The World' is a very honest track on the album that looks at the consequences of sitting on the fence, dipping your toes in the waters of righteousness but wanting to remain dry and living for the things of the world. It was inspired by situations in our own lives where we have failed to give God our all."
I caught the group live at this year's Greenbelt festival and was impressed that, despite a low turnout, they still put in a passionate and powerful performance. How do the guys feel about playing to smaller crowds? "We're used to it," shrugged Jonny. "We are relatively unknown to the UK gospel scene but there is only room for growth! We will always play passionately with a sense of urgency. We got a fire in us and we will unleash it wherever we go 'cause Jesus is always in the audience!" "Greenbelt was a treat really, even though it was quiet. It could've been on fire if we weren't competing with burritos, pizzas and The Herbaliser on main stage!" added Watson G.
The hip-hop team are busy planning a new album 'The Threshing Fields', again produced by The Scarlet Pimpernel, due to be released in 2012. What's the inspiration for the project? "We tend to get influenced by the negative opinions and attitudes of those around us. . . we often feel as though we should bite back and take the bait, but in the end we'll just say what needs to be said in our music. On one level we make music to kick back to. On a whole other level, we believe our music is an opportunity to speak to people's hearts and share our testimony. It's fun trying to say things in a way that gets people into what you're saying and rhyming along. . . but you just know they will go home and wonder about what it is they have heard."

The opinions expressed in this article are not necessarily those held by Cross Rhythms. Any expressed views were accurate at the time of publishing but may or may not reflect the views of the individuals concerned at a later date.
About Peter Timmis

Peter Timmis
is a regular contributer to Cross Rhythms and lives in Stoke-on-Trent.
We welcome your opinions but libellous and abusive comments are not allowed.