From the sinuous sounds of salsa to the new wave of Latin pop gospellers, Latin Music is undergoing unprecedented attention. George Luke reports.
Patty Cabrera
Last summer, the world officially went Latino loco - and all the signs are that we haven't yet recovered. For years, there had been some rumbling under the surface (salsa clubs have mushroomed in the UK in the last couple of years), but it was the chart offensive led by Ricky Martin, Jennifer Lopez and Enrique Iglesias that brought it to the surface. The Dutch Ugandan singer Lou Bega got to number one with his version of "Mambo No 5", and even Ginger Spice got in on the act with "Mi Chico Latino" (two years earlier, the Spice's salsa pastiche 'Spice Up Your Life' was one of the year's most annoying records). Artists like Marc Anthony and Victor Manuelle have given salsa youth appeal; Projecto Uno fuse the hot merengue rhythm with hip hop and ragga - you just have to hear it, really.
The effects of last summer are now beginning to be felt in Christian music. According to the US Census Bureau, Hispanic Americans now number more than 30 million, and are expected to be the largest ethnic minority in the USA by 2005. Christianity (and in particular, Catholicism) has always been a strong influence in Latin America. With that in mind, maybe we should be asking why we've never heard that much Christian music from the region before -but more on that later. According to Arturo Allen, director of a lead-g MCL label, Vida Music: Albums by top Latin Christian artists sell more than 100,000 units in Christian churches and bookstores. The spiritual search among Latinos has created a demand for MCL beyond Christian stores."
My first personal experience of gospel music from Latin America was when an Inca group called Kerygma Canta visited my church, way back in 1994. In between songs, they told us of how they'd been the first group of Christians in their native Peru to use traditional Peruvian pan pipe music to worship and evangelize, receiving untold amounts of flak from the religious establishment in the process (now, where have I heard that before?). The first mention of it in Cross Rhythms (and I'll stand corrected on this if wrong) can be found in issue 17 (October/November '93), in an interview with rapper T-Bone, in which he describes his local church: "We reach out more to the Latino community. If you walk in our church, we play like Christian salsa music. Americans go in there just to check it out."
When trying to find info on Latin Christian music, the words "needle" and "haystack" sprang to mind. But your favourite mag has pulled-out-the-stops to bring gringo readers a survey of the Latin music scene.
Long before Ricky Martin stormed the pop] charts, the Spanish speaking community was producing pop stars, from the '50s (Ritchie Valens) to the '90s (Gloria Estefan). CCM too has been enriched by Latin artists.
PATTY CABRERA
Patty Cabrera first came to our attention in '92, with the release of her self-titled debut on Dayspring Records. Back then, the industry's main preoccupation seemed to be finding Christian versions of whoever happened to be hot property on the secular scene - and Patty was heavily marketed as a Christian Gloria Estefan. It didn't work (probably because the real Gloria Estefan had just discovered religion herself at the time), and none of Patty's subsequent recordings were released here. But she has kept at it; her most recent album, 'Always & Forever', came out a couple of years ago and features a song written by former Estefan collaborator Jon Secada. The daughter of Cuban and Puerto Rican parents, Patty grew up hearing salsa, merengue, R&B, and Motown -traces of all of which can be heard in her music. In the past, she used to complain that while the Latin community found her more American, American audiences considered her more Latin. Maybe now Latin music has become trendy, that's not as much of a problem as it used to be -we hope!
JACI VELASQUEZ
Currently the hottest female solo act in Christian pop, Jaci's debut album contained the delightful title track, "Un Lugar Celestial" (A Heavenly Place). When I met her during a promotional tour of Britain back in 1996, she said she planned to record a full Latin album in the near future - a promise she reiterated two years later, at a press conference to launch her second album and her autobiography. Last August, she finally delivered.
The album, titled 'Llegar A Ti' (To Get To You), was released in the US on Sony Discos (Sony's Latin division). It wasted no time climbing to the top of Christian bookstores' sales charts - a first for a Spanish album in the US CCM market - and the title track got to number one in Billboard's Latin singles chart in November, ahead of offerings from UK chart-toppers Ricky Martin and Christina Aguilera. An English translation of it can be heard in the new Meryl Streep film Y Music Of My Heart, and by the time you read this, Jaci might well have won the Best Latin Pop Grammy Award she was nominated for in January (against the likes of Ricky Martin and rock veteran Carlos Santana).
Two years ago, Jaci's father David launched a new label called Briante Records, with the aim of giving exposure to lesser-known Latino acts. David used to sing in a group called the Galileans (they won the Dove Award for Best New Artist in 1970 - nine years before Jaci was born), and decided to start a label after having difficulties finding one for the Galileans to record their 1999 reunion album on. "Christian Latin Americans and Hispanics were not getting a lot of opportunities," he told the CCM Update magazine last year. "Briante is something I've wanted to do for a long, long time." Artists slated to record for the label include Lillian Camarena, 17-year-old Tatiana Beltran, and Chase Adams - an Anglo singer who works with a lot of Latino congregations.
YURI
Known as Mexico's Madonna, Yuri has done a complete U-turn from her former image as Mexico's most shocking entertainer. As well as being a top hi-energy dance-pop diva, she was also a soap opera star with a fan following of millions. Her onstage outbursts were ready headline fodder (among other things, she used to advise teenagers to lose their virginity and would often tell wives, whose husbands had been unfaithful, to have affairs themselves). Today, the singer, who admits she lost count of the men she'd slept with, has had her life completely transformed. Her becoming a Christian a couple of years ago changed her from the suicidal wreck she used to be (despite her immense success) to a much happier person, ready to share her faith with anyone, anywhere - be it on stage or in a taxi. Yuri regularly performs with one of Mexico's most popular CCM bands, Torre Fuerte (Spanish for 'strong tower').
Rap is undoubtedly the one genre within the CCM world which has always had a strong Latino presence, right from its very beginning when two Hispanic rappers - Luis Cruz and Abraham Malave ("Abe-ski the Latin Lyricist") - guested on Michael Peace's 1988 'Rappin' Bold' album. The late D-Boy Rodriguez will always be remembered for his contribution to Christian rap; today his torch is carried by the likes of T-Bone, Geno V, MC Dash and Lady J. When it comes to mixing and scratching skills, few DJs can match Costa Rican DJ Dove of SFC (and, briefly, the Gospel Gangstas). And we can't forget JC & The Boyz, another predominantly Hispanic set of holy hip hop pioneers. It's hardly surprising that specialist hip hop label Grapetree Records now boasts a dedicated Latin subsidiary, GT Latin.
VICO C
One rapper currently making a big impact on the scene is Luis Armando Lozada, better known as Vico C. Prior to his becoming a Christian two years ago, Vico was Puerto Rico's premier rap artist, credited with helping start the whole Spanish-speaking rap scene in the early 1990s. However, fame and fortune couldn't fill an otherwise empty life, and in 1997 Vico took a heroin overdose. It was the timely intervention of his dad - who administered first aid before doctors arrived - which saved his life.
After recovering, Vico relocated to Orlando and started attending an evangelical church, where he later became a Christian. Vico recalls being in a prayer meeting one day and having a flashback of the overdose incident. He told Billboard magazine, "I felt in my heart God was there telling me, That was your earthly father giving you mouth-to-mouth, but I, your Celestial Father, was giving you life all along"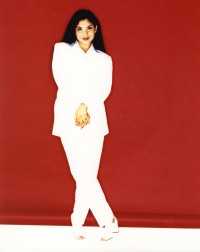 Jaci Velasquez
Vico C's latest album is called 'Aquel Que Habia Muerto' (back from the dead), co-produced by Luis Raul Marrero - aka Funky - a rapper he met after moving to Orlando. Billboard described it as being "laced with repeated references to Jesus Christ." It also has him challenging his old gangsta rap mates to stop rapping about "la misma porqueria" ("the same filth") he used to in the old days. Despite being unashamedly Christian in content, the album hit the Billboard Latin top 20 and has gone down well with Vico's old fans.

Reader Comments
We welcome your opinions but libellous and abusive comments are not allowed.