Tony Cummings spoke to Dave Williams about the pioneering hard music, metal and alternative rock teach-in MELTDOWN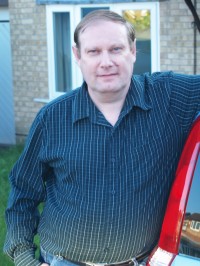 Dave Williams
In Britain Christian events and festivals come and go. 10 years of events is considered a milestone and 20 years a rare achievement. So it's intriguing that one of the smallest events in the UK Christian calendar - at least in terms of attendance - will this year be enjoying its 20th anniversary. Not only that but wherever in the UK you encounter followers of Christian hard music you will hear speak of Meltdown, the annual teach-in event held on the Wales/England border. Over the years Meltdown has played host to a veritable who's who of American hard and alternative rock figures including the Resurrection Band, Michael Sweet (Stryper), Tony Palacios (Guardian), Tim Bushong (Love War), Ted Kirkpatrick (Tourniquet), Monty Colvin (Galactic Cowboys), Doug Van Pelt (HM magazine, Lust Control), Jeff Sheetz, Les Carlson (Bloodgood), Dan Fritz (Johnny Q Public) and many more while there's hardly ANY British hard/alternative Christian band who hasn't featured on the 20 years of Meltdown programmes.
The Meltdown event is run by Dave Williams, who down the years has been the manager of numerous bands including Seventh Angel, Veni Domine, Gen, Gethsemane Rose, NSC and many others and who today runs Greenbelt's Meltdown stage featuring hard and alternative bands at the annual Cheltenham arts festival. Working alongside Dave in a role he describes as "vital" in putting Meltdown together is Lynn Ellison, as well as a dedicated team of friends who shoulder the numerous tasks of staging an event like Meltdown.
I began by asking Dave how he would describe Meltdown to someone who has never been one of the privileged hundred or so who each year journey to the Quinta Centre in Oswestry. He responded, "It's a cross between a Christian teaching conference and a festival, so think Spring Harvest crossed with Greenbelt. And what we focus on is hard music, heavy music, alternative music. Anything that's loud, heavy and hard."
So is a typical Meltdown goer a body-pierced, leather-clad mosh pitter? "Not necessarily. We get people in their teens, and we get people in their 60s. We've even had people in their 70s. People in their 50s, 60s, 70s thinking back to the Led Zeppelin AC/DC days, and the new guys are into Nickleback. At the end of the day music goes round in circles and there's always hard music there."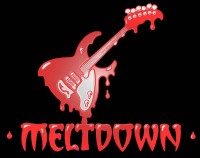 Hard music isn't, of course, a single genre of music but a whole heap of subcategories from classic metal to screamo. Dave acknowledged that there's plenty of diversity in the hard music label. "Many hard music fans are very narrow in their liking for music. It's almost like a hardcore man won't listen to a death metal band; a death metal man won't listen to a punk band. But at the end of the day if you put them in front of a band in a confined space they enjoy it anyway. That's what we've found at Meltdown anyway."
Dave spoke about Meltdown's origins. "Meltdown came together as a concept 20 years ago with the thrash band Seventh Angel who I was managing. Prior to that I'd started touring American bands in the UK. We toured bands like Altar Boys, Bloodgood, Whitecross, Leviticus, Jerusalem, those sorts of bands. We toured them and we found that the kids who were responding to the message at their gigs had nowhere to go because the churches weren't very open to the sort of people who like such music. So we thought an annual Christian teaching event where followers of hard music could all get together and share a bit of fellowship over one weekend would be a good idea. So that's how Meltdown came about. This year the event is 20 years old. Meltdown has been held at the Quinta Christian Centre for 18 of those years."
Dave has vivid memories of the event's early days and how the event's constituency has changed down the years. "I recall Meltdown number one. Probably every single person in the room was wearing a leather jacket. They had long hair. They probably had a Slayer T-shirt on or some other band. Over the years many of those people have grown up and got married and now they come with their kids. Meltdown has changed from being a retreat for people who have just been saved to an event where it is more centred around fellowship. It's much more pastoral and teaching now than it is evangelistic although last year we did see quite a few people come to know the Lord at Meltdown."
Dave continued, "We had Jim LaVerde who had flown in from the States to be with us. Jim was bass player with a band called Barren Cross in the 1980s - a phenomenal band and an absolutely fantastic minister. He was unbelievable. I've never met anybody get around unsaved kids like this man. Last year a church in Wales asked if they could bring a coach load of about 16 or 17 people. They were all young kids who the church had been ministering to on the streets. Some of them had never been away from home before; none of them were born again. The local churches paid for them to be there. Jim met them about 8pm on Friday evening; he was walking around, playing pool with them, chatting to them in the coffee bar. By the Saturday morning seminar he knew their names and was addressing them by name in the seminar which I thought was out of this world. And we saw results over the weekend. I think six or seven of them went away born again. From that quite a few more have come to the Lord since and the church have asked me again this year can they bring some more. Meltdown isn't primarily an evangelistic event. Primarily it's a weekend of like-minded fellowship for people who enjoy their music hard, heavy and alternative so when we have an evangelistic event it is quite an unusual thing. Last year was one of those unusual weekends.
Back Pocket Prophet
Even with the sacrifices of Dave and his team of volunteers, Meltdown has had its share of financial problems. Were there times when Dave thought Meltdown was not going to get to number 20? "Yes. Twice. Once when the Lord made it very clear to us we were to bring in the whole of the Resurrection Band over from Chicago and put them on stage at Salford University. It cost a fortune and by the end of the weekend we were £1800 down. We had no means of income. We didn't make an appeal for cash but people were walking up to us and putting hundreds of pounds in our hands. By the end of the weekend we were in profit and were able to book the conference centre for the following year. And again last year, at the 19th, we really thought last year would be the last but we came out of it really well. So Meltdown 20 is going ahead."
At this year's Meltdown, to be held on 6th-8th November, the British bands attending will be Conduit, Back Pocket Prophet, The Irrelevants, Bosh and the astonishingly named 100 Philistine Foreskins. And coming in from the USA is Michael Bloodgood, fondly remembered for his work with '80s metal band Bloodgood, and Pastor Bob Beeman, the renowned Bible teacher who's been ministering to youth in the metal and alternative music undergrounds for decades. Dave is full of praise for Beeman. "I think if it wasn't for Pastor Bob there wouldn't be a Christian hard music ministry in the world. He was the guy who started it all. He's a wonderful man. He started bringing in bands like Vengeance back in the '80s, you know, the really extreme stuff and he's been there ministering to youth ever since. He goes from festival to festival all around the world."
Back in the '60s and '70s there were many books written and sermons preached denouncing the Church's entrance into the popular music arena. And though such virulent criticism has mostly died down - thanks largely to the adoption of modern worship styles with their rock guitars and drum kits - hard music continues to be rubbished by pockets of misguided Christians. I asked Dave what he thought of the criticisms. "It's almost like a type of racism. Such believers are afraid of the long hair, afraid of leather jackets, afraid of volume, afraid of guitars, afraid of distortion pedals. I even had a guy phone and say he can't possibly come to one of our gigs because we use black speaker cabs and, he said, red and green concert lights and red and green are Satan's favourite colours. Where he got that from goodness only knows. But here we had a Christian guy who had decided to phone, to put me straight. At the end of the day I've been called by God to do this work and that's what I'm doing."
Dave has a myriad of stories of people whose lives have been deeply impacted by the Meltdown ministry. He recalled, "A few years back we started to take a school outreach into the schools of Oswestry on behalf of the local churches. We taught all the RE lessons for a whole week and then we moved our bands into the school hall on Friday night or Saturday night and we used to deliver the Gospel. You aren't allowed to propagate the Gospel in the classroom setting but we could do that during the gig. We did the schools evangelism thing for about six years maybe. Last year at the Quinta Centre they had a new member of staff, a young lady, who told us she was really excited about the Meltdown weekend because she came to Christ during one of our school outreach weekends in the town four, five, six years' back. Now she's working with Quinta Ministries."
Solace The Day
The entire Meltdown event is a labour of love. Dave and his team of helpers don't take a brass farthing for the endless hours they put in and even the bands who play Meltdown pay to be there. Said Dave, "We give bands a discounted rate. So they pay for their bed, their food and they turn up and they play. Which is absolutely phenomenal. We can't thank them enough. One of the good things about Meltdown is that the bands don't just turn up, play and leave. They stay and get to know the people they've been ministering to and it works really, really well."
Occasionally Dave has been able to head off the prejudices of the "heavy metal is of the Devil" brigade. He recounted, "I used to attend a church where they were quite opposed to our ministry. I'll never forget there was a lady there who said to me every week, 'I am going to pray about this and bring things before God because you need to stop doing this.' And she prayed about it and prayed about it and two or three months later she came to me and said, 'Dave, I've prayed about this and the Lord's told me basically to stop whining and get behind you and support you so anytime you need prayer, anytime you want to sit down and have a coffee and a chat about what you're doing at Meltdown. . .' Sometimes people just need to stop thinking in the flesh and ask God about it. I fully understand that Meltdown is not for everyone, of course it isn't. But then again, you wouldn't see me going to a Christian ballet - that's not for me. If Meltdown wasn't there, where would the kids who are currently being rejected by the Church go? Where would they go to meet and fellowship with like-minded people? That's what Meltdown is primarily all about."
Meltdown may offer seminars on discipleship and plenty of ear-shattering music but there's always a place for the unexpected. Last year's event was no exception. "We saw a healing Sunday morning during the My Spoon praise party. Unexpected again. The question I keep being asked is how come Meltdown has lasted for 20 years? And I think my answer is I don't give God an agenda. I book the venue, I book the bands, I book the speaker and I say go and do it. And whatever God does at the weekend, that's what God does. So nothing is planned other than the times of the seminars and the times we eat. Everything else is unscripted."

The opinions expressed in this article are not necessarily those held by Cross Rhythms. Any expressed views were accurate at the time of publishing but may or may not reflect the views of the individuals concerned at a later date.
About Tony Cummings

Tony Cummings
is the music editor for Cross Rhythms website and attends Grace Church in Stoke-on-Trent.
Reader Comments
We welcome your opinions but libellous and abusive comments are not allowed.