Wednesday 18th October 2017
Tony Cummings quizzed Joel Davies about the past and present the NEXUS INSTITUTE OF CREATIVE ARTS
Worshipping together
Nexus Institute Of Creative Arts is a Christian-based college in Coventry which since its inception in 1998 has seen hundreds of Christian musicians pass through its doors. In fact, there was once a band called [dweeb] who actually formed while attending the college and who went on to tour the world and deliver two critically acclaimed EPs and two albums. Plus there are literally hundreds more musicians toiling on the coalface of church ministry or pop star accompanists who received musical training and spiritual focus during their time at Nexus. Nexus recently launched a degree course in Popular Music & Worship, the only one of its kind in Europe. Cross Rhythms felt the time was long overdue to find out a bit more about Nexus and quizzed Nexus' media and communications man Joel Davies.
Tony: Can you give me a potted history of Nexus ICA - what year did it start? What are its main aims? How many students do you have this year?
Joel: Nexus ICA started in 1998 with a one-year music and discipleship course. We had 19 students respond completely on faith as there was nothing to see - just the dream. The main aim was to disciple young musicians, songwriters and worship leaders, equipping them with the skills and understanding needed to serve the purposes of God in their churches, communities and vocations. We were after solid men and women of God who were worshippers first and foremost and who would seek his kingdom first and be prophets to their generation. That aim remains the same today and we have 117 students this year, studying on our Popular Music & Worship degree course.
Tony: Are there any musicians/band members who have passed through your doors who might be known to CR readers?
Bass performance
Joel: [dweeb] might be remembered by some readers/listeners. They met and formed at Nexus and then toured for the next 10 years before returning as tutors; Frans Korpershoek, the lead vocalist for very popular Dutch worship band Selah; Matt Bramall, a keyboard player for pop star Rita Ora; David Guest, the bass player and MD for Gabriella Aplin and Vanessa Mae; Sam Skirrow, the bassist with Clean Bandit; Tom Lane, the drummer at Holy Trinity Brompton and with worship band The Moment; Anthony Hippsley, the bass player with Worship Central; and Lee Mitchell, who plays with Foy Vance. Then there are countless sound engineers working the length and breadth of the country and throughout the world working at festivals and Bible Weeks. There are also so many Nexus alumni working in the industry in the equipment field and dozens working as pastors, vicars, worship leaders and youth ministers.
Tony: How has Nexus changed over the years?
Joel: The course has evolved over the years becoming a vocational degree programme suitable equally for worship musicians and leaders, sound engineers, solo and band artists, and those who are making their careers in a variety of musical and ministry areas. This evolution has happened in part as our vision has become refined but also in response to seeing students choosing to study at Nexus ICA to go into ever more diverse fields of employment and ministry. We want to provide our students with the best learning opportunities to support their pursuit and the call upon each of their lives.
I suppose the shift in Christian music towards modern worship in the Church will have impacted the type of applicants we get by increasing the percentage of students who now want to be worship leaders or play in worship bands. The YouTube phenomenon didn't exist when we started so musicians were not as familiar with what Bethel or Hillsong or IHOP were producing but as these worship "catalysts" emerged and grew in popularity, it raised the bar of expectation for local congregations and worship teams, encouraging more people to seek training.
Band performance
Tony: What would you say to a musician who has reached some level of competence who feels they already have all that they need to enter Christian music ministry without any further training?
Joel: That is difficult to answer without knowing the individual, their strengths, goals, etc. It is true that some people are ready to move on without further training however in our experiences there are often gaps in people's knowledge, skill set or experience that will hinder their progress at some point. We set the preparation bar very high and that is right across the board. Excellence in skill and spiritual zeal is often not enough to sustain individuals in the storms of life, ministry or career. Our goal is to build broad, versatile strong men and woman of God with deep spiritual foundations who can minister as prophets and priests to their generation.
God is scanning for people who can be access points in the earth for him to speak and reveal his nature and purpose to the nations. That "vessel" as the Bible puts it needs to be suitable for just such a task and there are no shortcuts. God is much more interested in quality than "quickly".
Tony: Nexus used to release albums featuring the musical endeavours of students each year. Are you still doing this?

Joel: We don't do whole school albums anymore. Logistically it just became too challenging trying to get 50 or more individuals to participate in an album. With changes in music production in recent years the students are producing more and more music in a more informal, self-guided way, releasing that through a variety of platforms.
Drummer performance
The students do more external playing and gigging as part of their course than before gaining them valuable experience. We did however produce a powerful worship song this year, called "Lord Of All", that was written by students in response to a corporate testimony and prayer time. That is available through Spotify and iTunes at the Nexus ICA pages. I'm sure we will do more like this but it will be when we have something that needs to be heard "beyond the walls".
Tony: In America there is a Christian music college in Memphis called Visible. In the USA there are hundreds if not thousands of opportunities for musicians to get full time employment through their musical gift. But in the UK that doesn't seem to be so. Is Nexus building up the expectations which will be sorely dashed?
Joel: That's a good question. Visible students do have seemingly more opportunities than their Nexus counterparts however I don't think it is an easy road for anyone. Our approach is to prepare our students with the character foundations and transferable skills for successful lives of creative contribution whether that is in the arts or not. In that way, we are fulfilling our biblical mandate found in 2 Timothy 2:2 to pass on Christ-like ways that lead to maturity, giving our students something that so many courses and universities are failing to do - a relevant commodity of equal value in the Church, mission field and workplace.
Tony: Give me your view of the current state of Christian music ministry in the UK.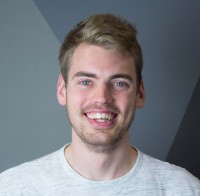 Joel Davies
Joel: I have mixed feelings. Certainly, there are not nearly as many opportunities for bands to play live like there were when I was a young musician, and the lack of playing and income makes it difficult for bands to survive the formative years. Many get discouraged and just pack it in in favour of a more secure route forward. Those that carry on do so without the constant gigging that is so valuable for refining their craft. On the plus side they can now self-produce their music in their homes and have potential to be seen and heard globally.
There has certainly been a steady output of worship songs in the last couple of decades and our hope is that more and more writers would emerge from local churches who are composing songs rooted in Scripture and in response to the specific revelation of God in their communities and contexts and not just "manufacturing" worship because it appears to be an easier way forward.
More and more Christian musicians are finding their output in crossover musical contexts. It used to seem more binary with a secular/sacred or a worship/gigging band divide. We now have situations where many Christian musicians are gigging with mainstream "secular" acts and the concept of ministry is being redefined. If these opportunities were supported by and accountable to local churches and leadership they could have huge impact in previously unreached areas. I genuinely don't think we have a lack of Christians who have musical talent but we need more artists whose identity is defined by Scripture and the speaking of God. As they emerge we will have prophets to this generation who can broadcast the heart of God through a language that literally transcends borders. That's my dream.

The opinions expressed in this article are not necessarily those held by Cross Rhythms. Any expressed views were accurate at the time of publishing but may or may not reflect the views of the individuals concerned at a later date.
About Tony Cummings

Tony Cummings
is the music editor for Cross Rhythms website and attends Grace Church in Stoke-on-Trent.
Reader Comments
We welcome your opinions but libellous and abusive comments are not allowed.