The Standard Triumph Club, Coventry, Saturday 21st January 2017 concert review by Mike Rimmer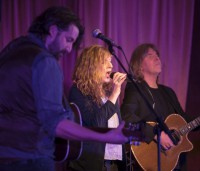 Ashton Lane
The singer/songwriter unleashed his latest album in a Coventry club on a very cold January night. The temperature was very chilly all evening in the venue but there was plenty of heat generated musically. For the new album, Halligan recruited the services of Scottish guitarist and producer Graeme Duffin who is best known as the guitarist with Wet Wet Wet. Duffin is also a member of Ashton Lane who opened up the concert. The group is built around the singing of Esther O'Connor and the harmonies and vocal interaction of Tim O'Connor. The combination of the three of them creates something delicious. Tim played rhythm, Graeme added some very tasty licks along the way and it was all topped by Esther's passionate sweet soulfulness.
It's clear that the trio enjoyed sharing the excellent selection of songs as they wove together songs and stories. Opener "Seventeen" shuffled along in fine poppy fashion and told the story of a memory of teenage first love. The interplay of male and female voices worked exceptionally well. The album they're promoting was greatly inspired by a trip to Nashville and Esther shared how much they appreciated the way that the craft of the songwriter is celebrated and respected in that city. They sang "Nashville Heart", the title track of their album, and Duffin added a gorgeous fluid solo.
They explained that "Little Heartbeat" was a song written with a friend about having very little children. Their harmonies wouldn't be out of place in Nashville's Bluebird Café and "One Kiss Later" was another example of their ability to create sublimely catchy melodies which again demonstrated everything that is great about Ashton Lane.
After a short break and some information about Global Care, the charity being supported by the proceeds from the gig, Rob took to the stage alone armed with an electric guitar. Having had a request from someone in the crowd he opened with "Dancing With Seagulls" during which his band joined him and they kicked into "Caught Up". Another upbeat song "Aint Dead Yet" kept the show flowing.
Through the evening, the musicians on stage were augmented at different points where songs needed it. Keyboard maestro Pete Banks was one constant presence on his customary position at the left of the stage. On the right of the stage Graeme Duffin was a commanding presence and often took the role of band director offering encouragement and subtle direction to others. Halligan is a fine story teller in song and also chat between those songs. Like Ashton Lane he has been to Nashville and told the story of how he discovered in the downtown area that there are shops that just sell cowboy boots. He saw a pair that he really wanted but hesitated buying them because they were too expensive, and he didn't get another chance to buy them. He was told to console himself and write a song about it. "The Boots I Never Wore" has a punchline that his friend went back to the shop and bought them and posted them to Rob in England. That punchline was spoilt by Pete Banks who heckled and pointed out that Halligan was actually wearing the boots on stage.
Rob Halligan
There was an easy camaraderie between Rob and the rest of the band and plenty of fun. There were also plenty of moments during the gig where these new songs came alive. "The Shadow Of Our Home" is a moving story of a refugee whom Halligan met in Lebanon. Songs like "Give Me This Island" and "It Is Good" have a poignancy and that is Halligan's skill as a live performer. He writes and delivers songs that pull the heart strings and engage with the audience.
Halligan spent some time as a singer with After The Fire so there was a change-over of on-stage personnel except for the ever present Banks. Halligan and Banks did a stripped down version of After The Fire's "Time To Think". However there was a faulty cable and some loud pops and clicks. They carried on like the professionals they are and eventually it all settled down and a selection of ATF songs were played. The fast paced "Joy" was performed with less flourishes than normal. After it finished Banks pretended to collapse after the exertion and complained that Rob liked to torture keyboard players while Halligan retorted that Banks used to manage to play it when he was 20! "Billy Billy" went down well and Halligan engaged in a little call and response with the crowd to get them singing along with "Laser Love".
The final part of the set saw Graeme Duffin and others coming back on stage to play more songs from 'Wild Horses' and some of Rob's solo oldies. The title track is a memory of the sea breakers hitting the sea wall at a local beauty spot of his childhood. Somehow it seemed fitting that at this point he interpolated Van Morrison's "Into The Mystic" into the song. Certainly thematically it fit the mystical moment in the song.
A recent passion for learning to dive saw some of his friends from the local diving club attending the gig and Rob said hello to them and pointed out that the excellent "Left Them In The Water" had nothing to do with them. There was time for a couple of solo oldies. There was an incident when he went into the start of "I Can Make You Walk" because the intro sounds like the old country song "Jolene" but before even getting to that point, Duffin stopped proceedings because the band were about to engage in some Cap Jazz. He pointed out that because Rob had forgotten to take off his capo, the rest of the band were about to come in seriously off key or, in his parlance, playing. . . ahem. . . jazz. After averting disaster, the song started again.
For an encore the band closed with a song from Rob's debut album "Streets Of This Town" which was given a makeover and gave a final opportunity for Duffin to demonstrate his excellent guitar skills. Overall this was a great opportunity to hear songs from the new album and although the band were a little ragged in places because of the time constraints for rehearsals, a fine evening was enjoyed by all and Halligan continues to demonstrate that he really is one of Britain's most talented yet underrated songsmiths.

The opinions expressed in this article are not necessarily those held by Cross Rhythms. Any expressed views were accurate at the time of publishing but may or may not reflect the views of the individuals concerned at a later date.
About Mike Rimmer

Mike Rimmer
is a broadcaster and journalist based in Birmingham.
Reader Comments
We welcome your opinions but libellous and abusive comments are not allowed.