Wednesday 30th April 2003
Hard music devotee Marc Lungley reports on the rise of Christian punk music in the UK.
'Punk's not dead!' Well, they've definitely got that right if you look around today. But the thing is, punk is like most of the genres of the alternative music ­ they don't die, they just go underground for a while. Let's get past the images of the Sex Pistols shooting water pistols at chat show hosts and causing anarchy in the Queen's Silver Jubilee year. The Pistol's were just as commercial as any pop band, in my opinion. Like its little brother grunge, punk started as a reaction against the over-indulgences of rock and metal. Punk in the '70s started as a counter-movement to glam rock, while grunge started as a counter to the poodle hair metal of the '80s.
Punk is hard to classify musically, because there are so many different styles and fusions. You can classify it musically in several sub sets, but if you just look at punk from the '90s onward, they can be classed punk rawk (skater punk) or ska punk, to name just two.
Punk rawk (spelt r-a-w-k) is the style of punk that is most popular at the moment with kids. It sometimes goes by the name skater punk, due to the number of people who listen to it and also skate. Punk rawk is the home of the three chord, three minute song. But, boy are they catchy - and they stick in your head. Major secular bands in this style are Green Day, Blink182 and New Found Glory. The Christian bands in this area are well represented too, with several bands getting places on secular tours. Notable bands to look out for, as well as MxPx, who have toured with Less Than Jake, are Slick Shoes, who have got out onto the Vans tour - a large festival that goes around America. One problem with this style of punk is that one band can sound just like another. Dogwood, a major Christian punk band in the US, have a new album 'Seismic', which sounds just like their previous album, 'Building A Better Me'. Sadly, this is a trap that punk rawk bands easily fall into.
Ska punk is similar to ska lite, only it has punk guitars and a massive slice of humour. Ska punk has a similar formula to punk rawk, but they add a horn section to make some of the most enjoyable music, with a sense of humour, you will ever hear. Ska punk is the clown of the punk genre: they have a taste for covering songs in their mad way. For example, Reel Big Fish are known for their cover of Aha's 'Take On Me'. Christian ska punk has never quite reached the level of secular ska punk, but the most successful Christian ska punk band has been Five Iron Frenzy, who will sadly split after Cornerstone 2003.
So, what about the British Christian punk scene? Well, there are several punk bands in the UK who are Christian, but up until recently they have been ignored by the Christian music industry, as labels lean towards safe indie and dance outfits instead. As a result, the bands have had to survive in the secular punk scene or DIE. To their credit, Cephas, Gopherwood and Zedisforzebra have survived. Cephas are known in the Aldershot area for their heavy punk rawk sound, but also their hardcore faith in Jesus, and are respected for it. Punks with a saviour called Jesus have been accepted by the punk scene more than by the Church of Christians for wearing baggy trousers, wallet chains, have a few unusual piercings and tats. In fact, when Americans ask me about the UK Christian punk scene, I say 'What scene?' Punks go out into the secular scene and live out there as salt and light, but there are havens for the Christian Punk who wants to meet with like-minded Christians in the UK.
Here are some websites:
Skank Website
Christcore Collective Website
Meltdown Music Website
These are more of a broad meeting place for Christians into alternative music in general, but there is a site especially for them: Christian Punks (www.christianpunks.co.uk), which has been a great help in writing this article.
So, what is Christian punk about? 'It's about worshipping God with music and an attitude that is uncompromising, radical, militant and loud. Why? Because some of us were made like that.' (Gruff - webmaster of Christian Punks) That just about sums up this old punk rawk guitarist¹s attitude to a T.
Cephas
Cephas
Where can they be found? Aldershot
Line-up: John Peddle, vocals
Adam Bones, guitar
Andy Wilson, bass/backing vocals
Ray Driscoll, drums
Website: www.cephas.info
DISCOGRAPHY
Happy Go Loser, Independent, 1999
Fool On Show, Independent, 2001
New Wave, Independent, 2002
Cephas, like Greenday in the mainstream, brought punk back to the masses. Cephas had been gigging on a local level and getting loads of recognition from various sources for constantly up-staging the headline acts. In fact Cephas' mix of punk rawk with a little shot of ska punk for fun has found them being described as 'Livelier than a 5-year old jacked up on E numbers' by Kerrang! Cephas have a knack for getting in with the right people and are right at the heart of all that¹s going on in Aldershot.
Zedisforzebra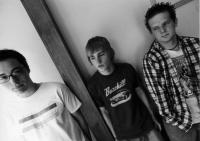 Zedisforzebra
Where can they be found? Halifax
Line-up: Adam Robinson, guitar/vocals
Pete Green, bass/vocals
Chris Smith, drums
Website: www.zedisforzebra.co.uk
DISCOGRAPHY
Welcome to the Fabulous Las Vegas (Demo), Independent, 2002
True Romance, Independent, 2003
Some people might worry about a band who choose their name by looking through a kids alphabet book! But fear ye not. Zedisforzebra represent the punk rawk dream - all in their late teens, all mates who just happened to have the right musical skills to start a band. The band's hard work has won them friends in quite high places - Malcolm Dome, a DJ on TotalRock has interviewed them on three separate occasions. Zedisforzebra's infectious brand of hook-laden punk rawk has been compared on many occasions to the likes of MxPx and Dogwood. This band will go far.
Decapolis
Decapolis
Where can they be found? Cumberland
Line-up: Peter, guitar/backing vocals
Amy, bass/vocals
Dan, drums/vocals
Website: www.decapolis.co.uk
DISCOGRAPHY
Rebel?, Independent, 2002
Decapolis have been around for five years but have only come to public attention with the release of their 'Rebel?' EP. With Amy flying the flag for womankind playing bass (great to see more sisters playing punk), Decapolis have a standard punk rawk sound coupled with a diehard passion for spreading the Gospel which comes out in their songs, even in 'Rebel?'s CD cover which has various pictures of people considered to be rebels (Marilyn Manson, Sid Vicious, Hendrix and Kurt Cobain) and a picture of Jesus circled inferring that Jesus was the true rebel. Decapolis are at a young stage in their development and it will be interesting to see what gigging with bigger punk bands will do to their development.
Gopherwood
Gopherwood
Where can they be found? Glasgow
Line-up: Michael (Mikey) Clayton, guitar/vocals
Simon (Sigh) Fisher, bass/vocals
Matthew Clayton, drums
Website: www.gopherwood.co.uk
DISCOGRAPHY
None yet, MP3s on website
Gopherwood are a punk rawk band from Glasgow who have been steadily touring the Scottish punk scene. They have been known to quietly pop up in England and play a gig, notably Greenbelt 2002 Youth Battle Of The Bands Rock Idol, and they will be making a few more trips in the not too distant future with playing in Reading on May 10th and opening Skankfest 2003 at Stourbridge Rock café. These could be the last times to see them before Mikey heads for a six-month break to America. About their faith they're quite outspoken. 'We don't think that Christianity should be a bunch of religious crap because it's a way of life and a standard by which we try to live.'

The opinions expressed in this article are not necessarily those held by Cross Rhythms. Any expressed views were accurate at the time of publishing but may or may not reflect the views of the individuals concerned at a later date.
Reader Comments
We welcome your opinions but libellous and abusive comments are not allowed.